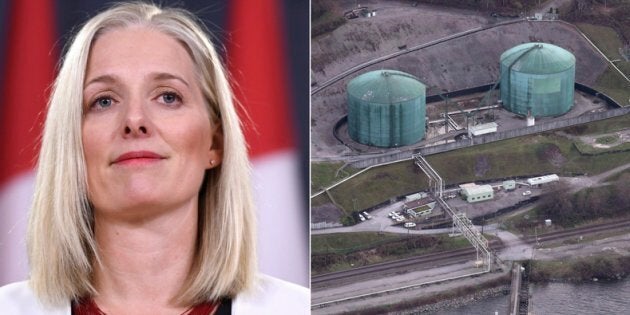 The contentious $7.4-billion project is currently at the centre of an interprovincial dispute between British Columbia and Alberta. The B.C. NDP government proposed restrictions on increased shipments of diluted bitumen from Alberta to the west coast.
"You can expect that it would have been approved," McKenna told reporters at a press conference, calling the pipeline an economic boon for Canada.
"It's going to create good jobs," she said. "We need this project to go ahead."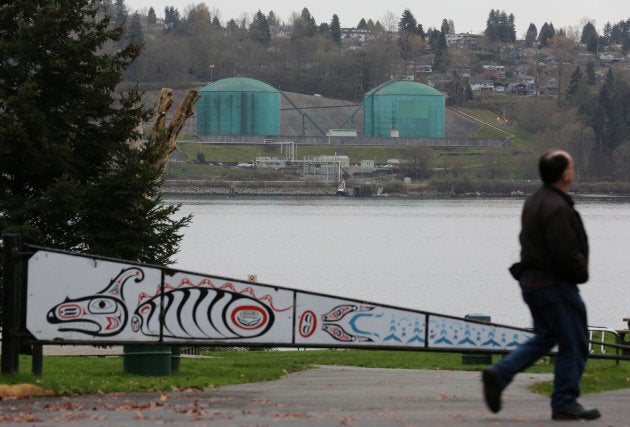 When asked if she thinks the B.C. government's proposal is a way of stalling the project, McKenna reasserted the pipeline is within federal jurisdiction — and said she won't intervene in any mudslinging between the two provinces.
B.C. Premier John Horgan wants to hold the project, which proposes twinning the existing pipeline to increase capacity to 890,000 barrels a day from 300,000, until a further review exploring catastrophic oil spill risks is completed.
On Tuesday, Alberta Premier Rachel Notley announced a ban on the import of B.C. wine into the province. It was a retaliatory gesture that has put further attention on the federal government to act.
"I'm not getting dragged into a spat between British Columbia and Alberta, but we are committed to getting this result," McKenna said.
We need good projects to go ahead. We need jobs.Environment Minister Catherine McKenna
The role of the federal government is to look at the "broader national interest" when it comes to reviewing major resources projects, she explained.
"We're going to have to make hard decisions. We need good projects to go ahead. We need jobs."
Earlier, the government tabled their Impact Assessment Act, a 341-page piece of legislation that proposes a revamped review process for major resource projects.
May not impressed by 'Frankenstein bill'
It comes eight months after a five-member panel released 26 recommendations to modernize the National Energy Board (NEB), the independent agency charged with overseeing interjurisdictional projects.
Some opposition MPs aren't happy that the suite of proposed changes, which include replacing the NEB with the new Canadian Energy Regulator (CER), don't go far enough.
Green Party Leader Elizabeth May called the "omnibus" legislation a "Frankenstein monster of a bill," adding the government's approach won't fix the damage to environmental and regulatory laws changed under the former Conservative government.
Last year, the panel advised the government to dismantle the Calgary-based NEB and set up a new regulatory body in Ottawa. That will not happen. McKenna announced the CER would be based in Calgary.
"This has been a pattern with the Liberals. To convene large and expensive consultation exercises and then ignore their advice," May said.
Alexandre Boulerice, the NDP's environment critic, said the proposed legislation has good and bad elements. But given the size of of the bill, he said, questions obviously still remain.
The Saint-Jean-sur-Richelieu MP praised how someone who isn't directly affected by a project could be allowed to participate in consultation processes.
But it's unclear how the proposed legislation will work in concert with the principles of the United Nations Declaration on the Rights of Indigenous Peoples (UNDRIP).
On Wednesday, the House of Commons passed the second reading of a private member's bill that proposes Canada ensure its laws are consistent with UNDRIP.
The previous Tory government opposed many of its provisions, including the stipulation Indigenous peoples must be given "free, prior and informed consent" before approval of a natural resource project on traditional lands.
McKenna spoke at length about increased consultations with Indigenous communities under the new regulatory framework, suggesting a disconnect with her words and action, Boulerice said.
"Right now, Aboriginal people are quite upset with the Liberal government and we don't see anything that can resolve that in that bill," he said.