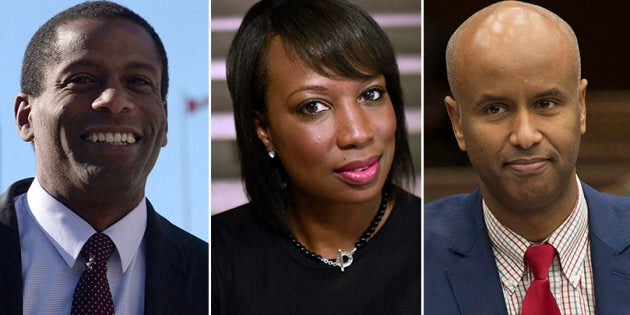 Ahmed Hussen didn't know anything about Viola Desmond until he was in law school. Her name just didn't come up, not even in his undergraduate history class.
Desmond, a Nova Scotia businesswoman and beautician, was arrested, jailed and eventually charged in 1946 for daring to take a seat in a whites-only section of a New Glasgow movie theatre.
Sometimes called "Canada's Rosa Parks," Desmond's act of noble defiance happened nine years before Parks' refusal to surrender her seat on an Alabama bus made her a civil rights icon.
Hussen, now Canada's immigration minister and the only black MP in cabinet, thinks it's a shame more people don't know Desmond's story.
"She's an amazing person, an amazing Canadian who serves as an example to all of us in her ability to display courage in a very difficult time and very difficult circumstance," he told HuffPost Canada.
On the day it was announced that Desmond would be the first Canadian woman to grace the front of a banknote, Quebec Liberal MP Greg Fergus rose in the House of Commons to applaud her quiet courage.
And for Fergus, that included speaking about the first time he was called the N-word. How much it stung, even if he didn't know what it meant. How words and symbols can matter deeply.
"I was four years old. I was outside my house," Fergus later told HuffPost of that day. "Some kids had passed by and they started chanting that word over and over. I knew it was directed at me. And it made me cry."
Fergus doesn't remember how the meaning of that slur was explained to him, but he knows why he wanted to revisit the ugly moment in the House.
"I think things need to be said."
For these black MPs and their colleagues, Black History Month is more than a time to reflect on the sins of the past. It's a platform to shine a spotlight on the accomplishments of their community and the challenges they still face — even as members of Parliament.
I am not the mad black woman. I am not the one who's being oversensitive.Liberal MP Celina Caesar-Chavannes
Ontario MP Celina Caesar-Chavannes says microaggressions are one of the most common challenges she confronts in public life.
The term, coined by Harvard psychiatrist Chester Pierce in 1970, describes subtle words or behaviours — intentional or not — that communicate slights or insults to people of colour.
They feel like "death by a thousand cuts," the Grenada-born MP said in a December Facebook post describing one such incident.
Caesar-Chavannes was in a Parliament Hill washroom, getting ready to head into a photoshoot for a magazine story. She was excited. She was happy. "Joy personified," she wrote at the time.
The feeling quickly evaporated after a woman placed her wallet on the counter, locked eyes with the MP, and said, "Don't steal my wallet, OK?"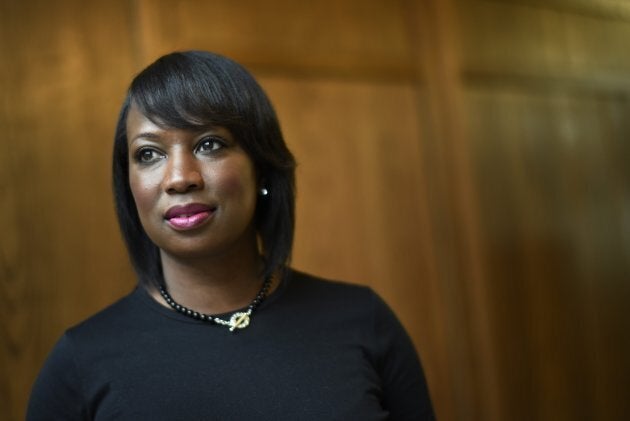 Caesar-Chavannes said she knows that some people might brush it off as a harmless joke. She knows that some might think she takes things too seriously. To her, that makes it all the more urgent to call these instances out.
"It's often the person who's the victim of a microaggression that is told to bear the responsibility and get over it. Why do I have to do that?" she told HuffPost.
"Your jokes are not cool. I am not the mad black woman. I am not the one who's being oversensitive."
These moments get normalized if left unchecked, Caesar-Chavannes said. And as an MP with a "microphone," she feels obliged to speak up.
"I'm going to put it on blast because for many people, they don't have the platform or the opportunity to do that," she said.
Caesar-Chavannes' other black colleagues in the Commons also opened up about lived experiences with discrimination.
They stopped him just because he was black.
Quebec MP Emmanuel Dubourg remembers being a member of the only black family in his community on the south shore of Montreal. He and his wife worried about how their sons dressed, just in case their appearances gave police an excuse to stop them at night.
"You know, profiling," Dubourg said. "Those kinds of things."
Fergus recounts how his dad, a former high school teacher in Montreal, was once stopped by police officers searching for a black, teen suspect.
"My dad said, 'I have a beard, I'm bald, what makes you think I'm a teenager?'" Fergus said. "They stopped him just because he was black. Those are the kinds of things that many members of the community have faced, used to face, and perhaps in some cases still face."
Hussen has also been outspoken about his experiences with discrimination. At a TEDx Toronto event late last year, the minister spoke of his early days in Canada after arriving as a teen refugee from Somalia.
Hussen told the audience that he would routinely get stopped by police officers while walking in Regent Park, the Toronto neighbourhood in which he was living at the time. His black friends and colleagues would, too, he said.
"They make you feel targeted," Hussen told HuffPost. "They make you feel afraid of the very institution that should be protecting you and they make you feel violated because it attacks your dignity when you're pulled over and you are briefly detained simply because of the colour of your skin."
Black History Month is deeply personal to these parliamentarians.
Dubourg came to Canada from Haiti in 1974 and became a manager with the Canada Revenue Agency. He credits receiving a Black History Month award in 2006 as something that "put lights" on his work in his community, spurring him to first run provincially.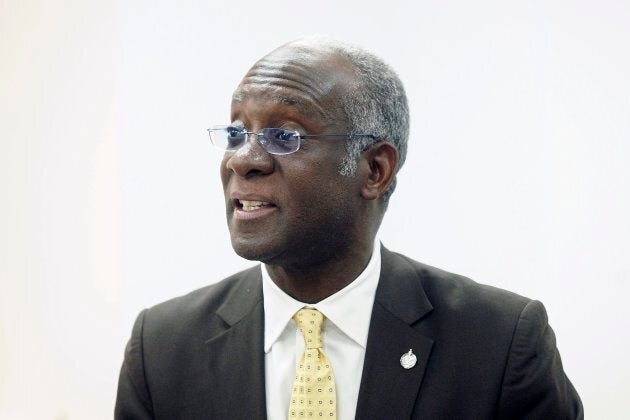 When asked which historical figure he thinks of this month, Dubourg jokes that his pick is "selfish" — his late mom. She raised nine kids after losing her husband, when there was "no light, no projector on her," he said.
"My model, my inspiration, is my mother," Dubourg said. He wears her ring on his finger each day.
Quebec MP Frank Baylis has a similar connection.
In 1964, his mother Gloria, a nurse who immigrated to Canada from Barbados, applied for a job at Montreal's Queen Elizabeth Hotel, run then by the Hilton of Canada chain.
After being told all the positions were filled, she later learned that applications from white nurses were still being accepted.
You don't fight a court case for 12 years for $25. You fight it on principle.Liberal MP Frank Baylis
She contacted the Negro Citizenship Association and a high-profile court case was launched. The hotel was found to have illegally refused her employment.
Though the hotel kept appealing the decision for more than a decade, Gloria did not back down.
"And in the end she had won, and the company that discriminated against her, denied her a job, was fined $25," Baylis said.
"It tells you you don't fight a court case for 12 years for $25. You fight it on principle."
The lawsuit would become the first successful case against racial discrimination in a Canadian workplace. Almost two decades after the case began, Gloria would go on to start her own company, Baylis Medical.
Baylis said his mother's dogged pursuit of justice was instilled in him at an early age. It's one of the reasons he jumped into politics.
"My mother through her actions, and my father who supported her all the way through it, has always said you stand up ... you stand up for what's right," he said. "You stand up and be loud and clear about it, and you hold the line there."
Last year, Baylis rose in the House to pay tribute to his mother's legacy.
"Her story is part of my personal history. It is part of black history. It is a part of Canadian history," Baylis said at the time.
For Black History Month, Caesar-Chavannes wants Canadians to embrace figures like Desmond and Baylis' mother.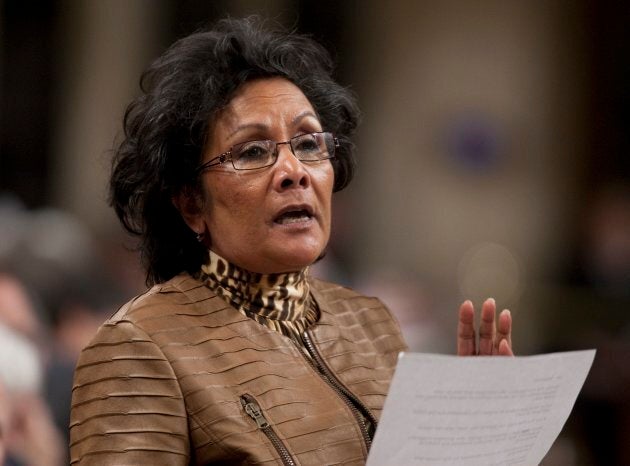 "Take the time to personally invest yourself into black history and not just the month, but black history [in general] — know what it's like, how we've contributed and how it's affected your life," she said.
Vancouver MP Dr. Hedy Fry served as secretary of state for multiculturalism when Canada first recognized Black History Month in 1996, an effort pushed forward by trailblazer Jean Augustine, the first black woman elected to the Commons.
Fry, who was born in Trinidad and Tobago and is now the longest-serving female MP in the House, says the month helps honour a "long group of people who have actually helped to build this nation."
She believes that recognizing the month set the "building blocks" for a current government that champions diversity in every sense.
"One of the things that I've learned from my 24 years here is that progress is incremental," Fry said.
"It's kind of like the penny that started to drop when I started my work is now falling rapidly with this prime minister."
The challenges of leadership
Some MPs concede that standing in the Commons as a member of an underrepresented community can mean a different kind of pressure.
Last summer, Fergus told a press conference in Ottawa that his own government's plans to legalize marijuana must confront how black Canadians have been "disproportionately charged and imprisoned" for pot possession because of systemic racism.
Fergus told HuffPost that once pot is legal, the government needs to look at the issue of pardons through a "racialized lens" that will take into account, among other things, the costs of seeing those records expunged.
"What is the percentage of black Canadians that are remanded into custody as opposed to other demographic groups? Why is there a disproportionate amount? That's not just about marijuana, that's about criminal justice. Period," Fergus said. "That's going to require a lot of work."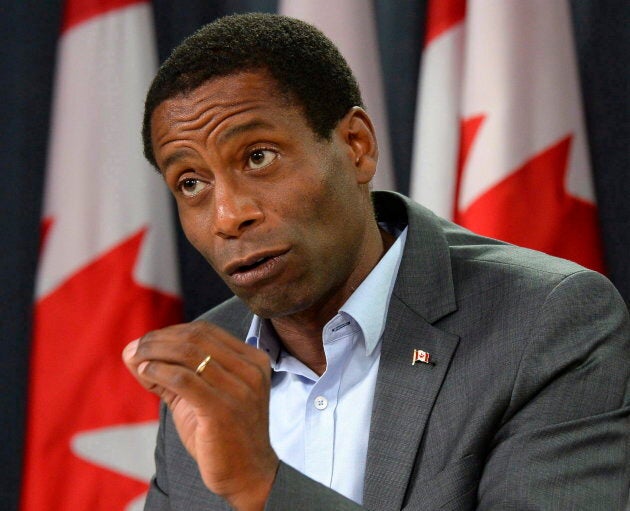 In a speech kicking off Black History Month last week, Prime Minister Justin Trudeau referenced discrimination in policing as a reason why black Canadians are overrepresented in prison.
"The percentage of inmates in federal prisons who are black is 8.6 per cent, despite black Canadians accounting for only 3.5 per cent of the general population," Trudeau said.
The MP, whose riding of Bourassa boasts a sizeable Haitian community, called it a "tough experience for a lot of reasons."
Dubourg says that he wasn't sent to tell Haitians not to come to Canada, but to explain the legal routes to do so through the immigration system. Many were being lied to, he said, quitting their jobs and selling their things ahead of an imagined life in Canada.
"I know there is a lot of Haitians who were not really happy to see me go in there but I'm a Haitian native, I speak Creole, so it was important for me to go there and to tell them the truth," he said.
You can either let that hold you back or you can do like my mother taught us: fight it and go forward.
Dubourg offered a boisterous laugh when asked to react to U.S. President Donald Trump reportedly calling the home country of those desperate people — and his home country — a "shithole."
"When you hear those kinds of things, that's why I feel so proud to be Canadian," Dubourg said. "We feel that we are welcome in Canada."
Though the government is pushing some initiatives aimed at increasing diversity, Hussen said there is still work to be done on issues of systemic racism.
And those conversations will be challenging to "some of the people who may be blind to some of the privileges that they have," he added.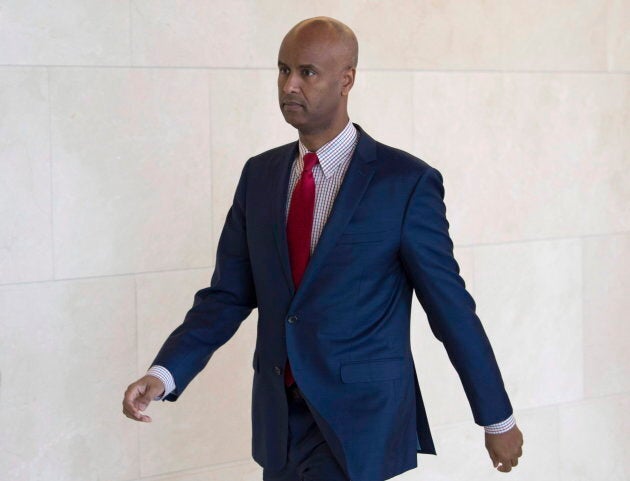 Hussen is proud of a recent initiative, which he helped introduce with Treasury Board President Scott Brison, to "name-blind" applications for jobs within the public service in a pilot project.
Caesar-Chavannes echoed his thoughts.
"We have to get to a point where we're checking our biases, we're checking our privilege and doing these sorts of initiatives [like name-blinding resumés] puts it in people's consciousness that there is a problem with that."
There's no question racism and discrimination are out there, Baylis said.
"You can either let that hold you back or you can do like my mother taught us: fight it and go forward," he said. "And in the long run, you will win."
'We've been here for 400 odd years'
Despite the challenges, Fergus wants to hammer home that the story of black Canadians is a rich one and the "future is grand." A record number of black MPs in the House is just one more sign that barriers are breaking.
"We're entrepreneurs, we're doctors, we're lawyers, we're factory workers, we're teachers, we're poets, we're singers, we're athletes. We're everywhere," Fergus said.
"And we have such a great country, Canada, that is willing to look with a clear eye towards its past and with hopeful eyes towards the future. Despite all the obstacles, I'm so, so, so, so optimistic for our future."
And with that, Fergus recommends another name to think of this month: Mathieu da Costa, a translator who is believed to be the first person of African descent to visit Canada in the early 1600s.
"We've been here for 400 odd years," Fergus said. "We built this country, like everybody else."