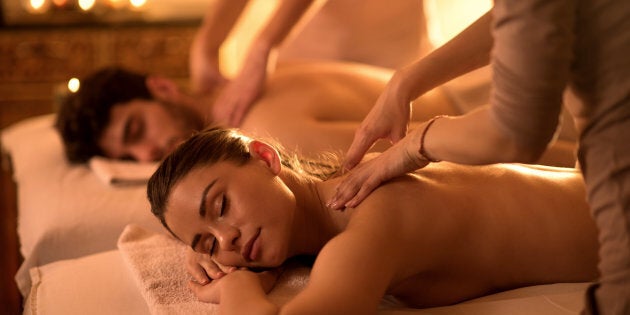 Valentine's Day is fast approaching, and if you're in the mood to celebrate with your loved one, there are several outside-the-heart-shaped-box options we think you should try.
Sure, there's the usual prix fixe dinner, but if you're looking for something more special, we've rounded up some fun, cupid-approved date ideas. Whether you're heading out on a first date or celebrating with your long-term partner, we've road-tested everything from couples massages to soothing reiki sessions.
Check out our list below for the ultimate Valentine's dates and our Coles Notes on what to expect.
You've probably seen this V-Day experience advertised and wondered how exactly a couples massage would go down.
What are the logistics of getting massaged with your special someone; are you side-by-side, do you have to carry on a conversation? Hold hands? We took these questions and the quest for a romantic date to our friends at Laya Spa & Yoga in Toronto, and found that a couples massage is a wonderful way to celebrate an intimate relationship.
Upon arrival, homemade ginger tea is served in a cozy lounge, after which a eucalyptus steam (complimentary with a 60-minute massage) is offered (we recommend arriving early to enjoy this therapeutic respite from the cold!).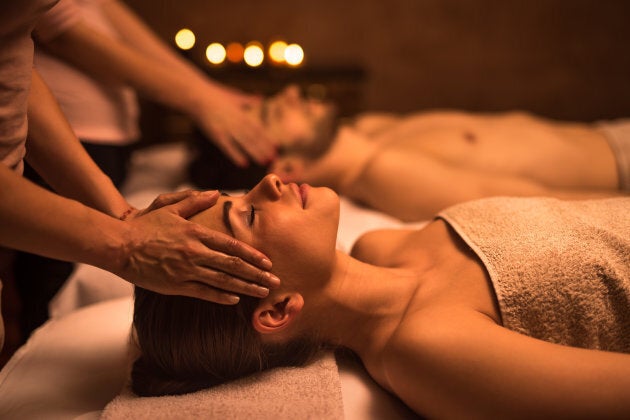 The couple's massage takes place in a beautiful spacious room, with two separate massage tables placed far enough apart that treatments are enjoyed together, but without adding the pressure that you need to interact.
Individual therapists tailor each massage to suit personal preferences, and the visit is rounded out with pressed grapefruit juice and ample time to revel in the shared relaxation.
A couple's massage is perhaps a little more intimate than a first date would require, (a certain amount of nakedness is logically involved), but in our opinion it's a blissful joint experience, and absolutely deserving of a V-Day thumbs up.
For those of us not familiar with reiki, it is a form of energy healing that helps balance the mind and body. Sounds like something we could all use, but would a couple's reiki treatment be as relaxing as a traditional massage, and could it be enjoyed by someone who is not typically into all that namaste stuff?
We headed to the mecca-of-healing, Toronto's The Rock Store, to get answers and, we hoped, find total and utter zen.
Treatments are offered above The Rock Store's retail shop in an aesthetically stunning loft space named the Temple Room, boasting a high wooden beamed ceiling and natural light flooding in through ample windows.
The couples reiki treatment takes place on side-by-side massage tables layered with cozy blankets, nestled below an earthy birchwood art piece. One practitioner treats the couple simultaneously, placing rose quartz crystals on the body to facilitate openness and love, with the additional option of hot stones for extra warmth and relaxation.
It turns out a couples reiki treatment is wonderfully relaxing, and whether your loved one is a dedicated yogi or simply an open-minded valentine, we absolutely suggest gifting your sweetheart this relationship-deepening experience of deep harmonious zen.
So, you love getting bendy, but your partner is more of a sweat-and-grunt-it-out at the gym kinda guy or gal. How then do you gift the healing that yoga has to offer, without the potential intimidation of an active flow class?
Restorative yoga offers a sweat-free, super chill mat session (think lying on the floor wrapped up in blankets), with multiple benefits including calming the mind, and balancing the nervous system.
We heard about a semi-private restorative yoga class being held at The Rock Store, and decided to give this cozy-sounding date a go.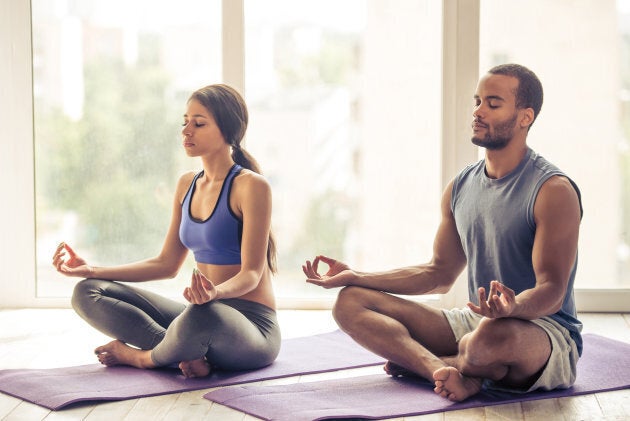 Held in the aforementioned Temple Room, semi-private restorative classes are offered for up to six participants at a time. Using firm rectangular bolster pillows and soft supportive blankets, couples and individuals are guided through a gentle sequence of healing and fully supported postures.
Hot stones are placed on the body for deeper relaxation and welcome warmth (a great way to fight the winter weather!), while the knowledgeable practitioner modifies the poses as necessary to suit individual needs and levels of flexibility.
We love the restorative yoga date for couples and first dates alike; the small group setting remains intimate yet not intimidating, and we think the post-practice tranquility and soothed state of mind is an experience every valentine would want to enjoy.
Motivated by the famous pottery scene in "Ghost," we wanted to find an artisanal workshop to celebrate Valentine's Day, and more importantly, determine if getting our hands dirty was really as steamy as Patrick Swayze and Demi Moore made it out to be.
We found a massage bar workshop put on by The Love Shop, a collaboration between The Good Bar and The Cure Apothecary, which promised a "hands-on workshop (to) get you in the mood for Valentine's Day," so we signed up to see if they would deliver the goods.
The intimate class setting takes place at The Cure Apothecary, a stylish Toronto shop with rustic charm and a healing vibe. Couples are guided through the step-by-step process of making all-natural massage bars, and introduced to aromatherapy and crystals.
Every person in the group gets the opportunity to make their own tray of 12 mini heart bars, complete with custom essential oils and toppers like dried bergamot and lavender. While the bars are setting, instructors explain the pressure points that lead to enhanced sexual pleasure (we can't wait to try out two fingers above the ankle!), as well as tips for using the bars themselves during foreplay.
Was this valentine's date as hot as Demi and Patrick's? Lets just say we'd strongly recommend this massage bar instructional to heat things up once you get home!
Couples tarot card reading
Always on the lookout for answers to life's many questions, we thought a tarot reading could be a fun way to delve into relationship details, and do a little Valentine's Day manifesting while we were at it.
Once again we gladly settled into that magical space at The Rock Store to see if love was in the cards, and to discover whether or not a slight skeptic could enjoy the experience, too.
The tarot reading is conducted in the Temple Room, guided by a single reader who begins by inviting the couple to follow along in a brief and easy meditation. After everyone has relaxed and settled into the space, the reader invites the couple to ask questions about their relationship, and to take turns shuffling and pulling cards, which she then reads and deciphers.
Both individuals are also invited to ask questions of a personal nature, (not necessarily relationship based) — discussion is invited, with the direction of the cards and the knowledge of the reader used as gentle guidance.
Was all revealed in our valentine's tarot reading? Well, we're convinced the cards don't lie, and we'd happily suggest a couple's tarot card reading as a fun, informative, and truly inspiring way to set loving intentions and celebrate the day.