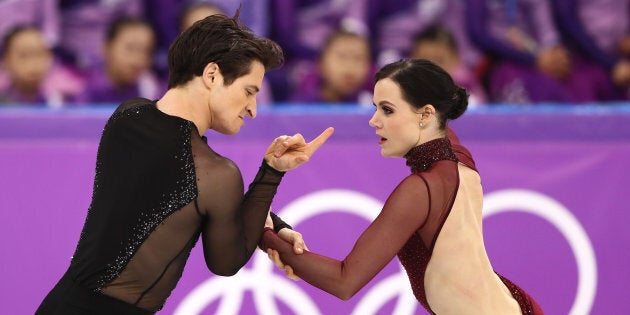 Canadian ice dance darlings Tessa Virtue and Scott Moir are going out on top, ending their illustrious career as the most decorated figure skaters in Olympic history.
In what was likely their final competitive performance, Virtue and Moir won ice dance gold at the Pyeongchang Winter Games after scoring 122.40 points in Tuesday's free skate for a world-best combined score of 206.07.
Fans at the Gangneung Ice Arena roared during Virtue and Moir's steamy skate to music from "Moulin Rouge" and they were all smiles as they took what will likely be the final bows of their career. They have said they will retire after the Games.
"I think it's a nice end to our Olympic career here," Virtue said to CBC moments after the venue ceremony.
"I can't help but think about the 20 years we spent working towards this moment," she added.
France's Gabriella Papadakis and Guillaume Cizeron, the Canadians' training partners who skated to Beethoven's mournful "Moonlight Sonata," recorded a world-best 123.35 in the long program to finish second with a combined score of 205.28.
American siblings Alex and Maia Shibutani finished third with a combined score of 192.59.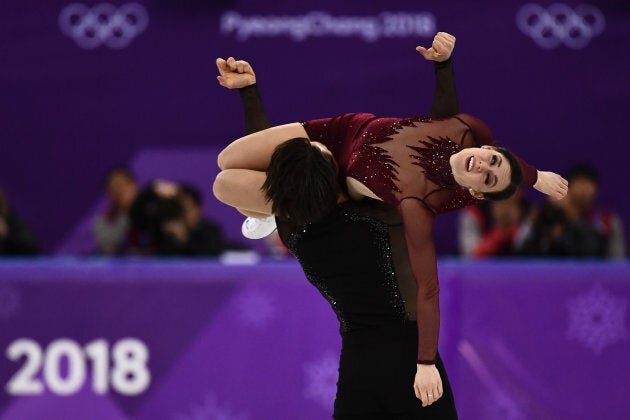 Virtue and Moir also won gold at the 2010 Vancouver Olympics, but settled for silver at the Sochi Games four years ago.
They also helped Canada to gold in the team event last week.
The three-time world champions will retire as the most successful figure skaters in Olympic history with five medals.
Congratulations came in for the duo from Canadians across the country as the duo clinched gold. One tweet showed a crowd cheering in Ilderton, Ont. where Virtue and Moir grew up.
The three-time world champions will retire as the most successful figure skaters in Olympic history with five medals.
"I am thrilled with this competition," said Virtue. "That performance was really special and truly memorable. The gold medal is the cherry on the cake."
Moir said these Olympics were "personal."
"It was for each other, we skated with each other in mind the whole way and we skated with our hearts," he said. "It's extremely fulfilling."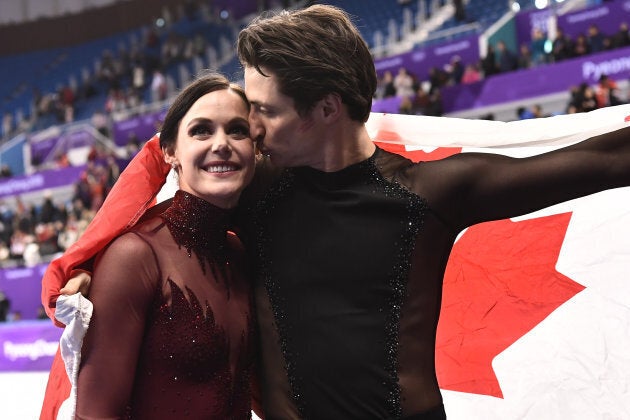 Gold was far from a sure thing heading into Tuesday's free dance.
They roared to a world record in Monday's short dance, but still took a tiny 1.75 lead over Papadakis and Cizeron into the free dance, despite Papadakis skating with a nipple exposed after the hooks on her dress came undone.
'Once in a generation' talent
Virtue and Moir, who carried Canada's flag into the opening ceremonies, came out of retirement last season, gunning to reclaim the gold they lost to Americans Meryl Davis and Charlie White in 2014. They made a spectacular return, rewriting the record books and racking up wins until the Grand Prix Final in December, where they lost to Papadakis and Cizeron by less than two points.
The world's top two teams train together in Montreal and share coaches in Canada's Marie-France Dubreuil and Patrick Lauzon, but they have very different styles. The French skate a simpler style favouring elegance and long lines. Virtue and Moir have pushed the ice dance envelope with their athleticism and intricate spins and footwork.
Lauzon was asked when Canada will see another dance time like Virtue and Moir.
"It will be a long time," he said. "They're a once in a generation talent."
And of course, their palpable chemistry is unparalleled.
The 28-year-old Virtue and Moir, 30, are two of Canada's most recognizable Olympians, and have been melting hearts since they won gold in Vancouver.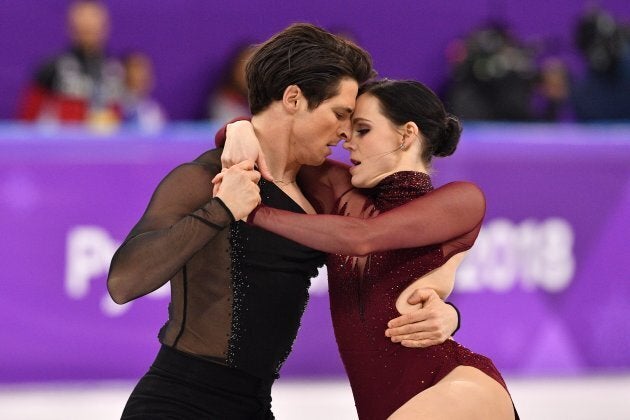 Hours before they took stepped onto the ice Tuesday, fans took took to Twitter lamenting a career that, for them, was ending too soon.
One tweeted: "I need to emotionally prepare for this."
Another posted: "Can this never end."
Canada's favourite couple that isn't a couple, maintained they're friends and "business partners" despite fans' best wishes. They have captivated viewers with their chemistry and storytelling on skates, a byproduct of a partnership that spans 20 years.
Virtue and Moir surpassed Sweden's Gillis Grafstrom, who skated in the 1920s and '30s, and retired Russian star Evgeni Plushenko as the most decorated Olympic skaters with five medals.
Virtue and Moir are among a group of Canadian veterans who are calling it a career after Pyeongchang. Three-time world champion Patrick Chan retired right after finished ninth here, while Meagan Duhamel and Eric Radford, two-time world champs in pairs, won Olympic bronze in their career finale.
With files from HuffPost Canada