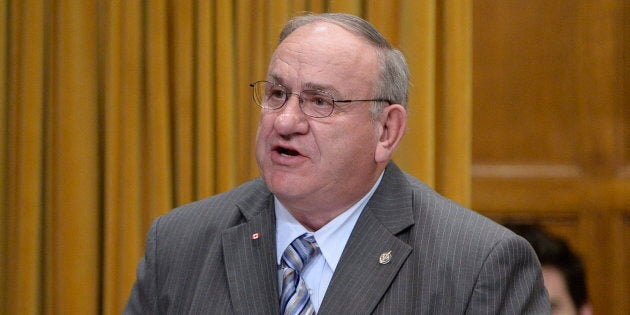 A Conservative MP who says he was among the first RCMP officers to respond to the 1986 assassination attempt of an Indian cabinet minister demanded to know Wednesday why the would-be killer was invited to meet Prime Minister Justin Trudeau.
"The victims of terrorism, they have names," Alberta MP Jim Eglinski said in question period. "They have faces and they have families. To the prime minister: why would he ever meet with Jaspal Atwal?"
Eglinski was in charge of the RCMP detachment in Gold River, B.C. when Indian cabinet minister Malkiat Singh Sidhu was shot more than 30 years ago. B.C. man Jaspal Atwal, a former member of a Sikh separatist group, was convicted of attempted murder in the incident.
Atwal was also charged but not convicted in connection to the 1985 attack on Ujjal Dosanjh, who would go on to become a B.C. premier and federal cabinet minister.
Atwal was invited to attend two events with the prime minister in India last week. Though Atwal's invitation to an event in New Delhi was revoked, he was photographed with Sophie Gregoire Trudeau and Infrastructure Minister Amarjeet Sohi at an earlier reception in Mumbai.
Eglinski, who led off question period for the Official Opposition instead of Tory Leader Andrew Scheer, recounted how he came to Sidhu's aid.
"I helped him and his wife into the ambulance," he said. "It is a day I will never forget."
MP says he 'chased' Atwal
Trudeau thanked the Tory backbencher for his years of service in uniform and reiterated that Atwal's invitation should never have been extended. He said the "MP responsible for it" — B.C. backbencher Randeep Sarai — has apologized. Sarai has stepped down as chair of the Liberals' Pacific caucus over the controversy.
"We will continue to work to stand against violent extremism and terrorism wherever it rears its head around the world," Trudeau said.
Eglinski also opened up in an interview with The Globe and Mail, saying the memories of chasing Atwal down a B.C. highway came back to him when he saw the much-discussed photos last week.
"When I saw that on the news, I said, 'Hey, that's the guy I chased down the road,'" Eglinski told The Globe. "Why would anybody want to be associated with him?"
Tories spent more time in question period hammering Trudeau on the controversy than they did the federal budget, which was tabled Tuesday.
Scheer pounced on how India's government released a statement calling any suggestions it had a hand in Atwal's invitations"baseless and unacceptable."
In a background briefing arranged by the Prime Minister's Office last week, a government official suggested factions within the Indian government arranged Atwal's presence to keep prime minister Narendra Modi from getting close with a Canadian government they see as uncommitted to a united India.
Tories have said the official is Daniel Jean, Trudeau's national security adviser, and are accusing the prime minister of making a member of the non-partisan public service promote a "conspiracy theory" to clean up his mess.
Trudeau added fuel to the fire in the House of Commons this week by saying that "when one of our top diplomats and security officials says something to Canadians, it's because they know it to be true."
Scheer hammers Trudeau on issue
Scheer said Wednesday that Trudeau's "incompetence" has severely damaged Canada's relations with an emerging power in Asia. The prime minister must pony up some proof for "his conspiracy theory," Scheer demanded.
"It seems these Harper Conservatives never learn," Trudeau responded before charging that the previous Tory government consistently disrespected public servants and used them for partisan purposes.
"We will always listen to them, follow their advice, and defend the integrity of our Canadian public service," he said.
Scheer shot back that no Canadian government, Liberal or Conservative, has used a national security adviser to "clean up an embarrassing mess that was self-inflicted by this prime minister."
Trudeau again threw a dig at the legacy of his predecessor, Tory prime minister Stephen Harper.
"For 10 years, the Conservatives opposite torqued our public service every chance it could get for partisan advantage, so I can understand they think everyone behaves that way," he said. "Well, we don't."
Trudeau is using an "independent public service as a human shield for his terrible news cycle," Scheer charged.
The Tory leader asked the prime minister to confirm that no one in the PMO or public service under his control organized the briefing that irked Indian officials. Trudeau said that while governments organize media briefings all the time, only Tories would see something nefarious in them.
"Unlike the previous government we respect in particular the ability of the public service to provide non-partisan advice and support to the government," he said. "All Canadians can be assured that the only interests on which our security agencies focus is the interests of Canadians."
With files from The Canadian Press