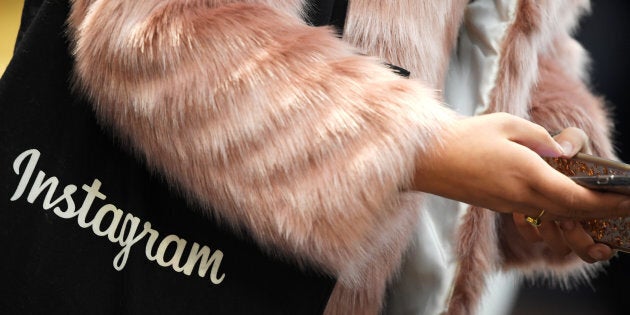 The women's movement on social media empowers women from all backgrounds. They have an open platform to share messages about body positivity, art, inclusivity, equal pay and more. And Instagram showcases their activism, creativity, and personal flair to followers every day — giving women a sense of community online and of personal agency — despite the platform's limited rules on posts like nudity, which once got Rihanna banned. Still, women persist on the platform (and are its majority users) and make sure they are seen and heard loud and clear. This Women's History Month, here are 10 women Instagrammers to follow from around the world. Your feed will thank you.
DJ and writer, Los Angeles
Meet Sanam Sindhi, 26. Before you ask, yes, that is the iconic henchwoman from Rihanna's 2015 "B*tch Better Have My Money" music video. After Rihanna followed, unfollowed, re-followed, and then direct messaged Sindhi, her already established popularity online increased. "I posted one selfie [on Tumblr] that really blew up. I've been on the internet for a really long time. So I really had some kind of a following, but not on this scale," Sidhi said to Vice in 2015. We recognize Sindhi's Insta feed for her fashion sense, powerhouse music-video skills, and all-around 'you can't mess with me' attitude. And we honour her makeup looks with multi-coloured eyeshadows, her lack of patience for men who wrong her — as she details on her Instagram story — and her support for bad b*tch women like herself.
Tyra Banks once famously said, "Hoe, but then make it fashion," on America's Next Top Model. That is exactly the essence Adriana Sahar carries in her show-stopping designs. The 25-year-old began designing from her parents' garage at age 22. Sahar's creations have made it to Style Fashion Week in New York and have been worn by people such as the designer Briana Shaneè Wilson. Her designs look stunning on all body types — they also inspire an essence of body positivity as Sahar and her models flaunt their bodies in the her designs. No matter the body shape or size, Sahar's designs inspire smiles from those who wear it. From her American dollar bill bikini to her feathered bra tops and bottoms, Sahar gives you chic with an edge every single day. "I inspire myself, and I'm also inspired by other girls like me. Any girl who is marching to the beat of their own drum. I like anything different, so when I'm coming up with ideas individuality is the purpose and the inspiration," Sahar said to Galore last month. If you're lucky, she might share some behind-the-scenes of her creations on her Insta story.
The Australia-based DJ and makeup slayer, has supported such artists as SZA and Kaytranada. She has been featured on the Nike Air Max Day Podcast and has acted as a television host for MTV Australia. Most recently she created a playlist on Spotify for musical artist, Tinashe. Flex Mami is constantly booked and busy. She gives us the boss lady inspiration we crave constantly, while her colourful Instagram theme matches her poppin' personality.
Artist and Photographer, Los Angeles
It's Sarah Bahbah's world and we're just living in it, or so it seems when scrolling through her Instagram feed. Her text and photo-based pictures have been reposted all over Tumblr, Instagram, Twitter, and Facebook. Her honest, thought-provoking conversations through her photography tell the story of an artist who needs you to know she is emotional and doesn't really give a fuck. Take her recent image where the text reads, "Do you know how unattainable you are?" with a photo of two women who could clearly not care less. Bahbah's stance on love is one of empowerment. Her photos capture women and men who take control of their own desires, rather have those desires decided for them by their partners. You won't be crying over your ex after seeing her Insta feed.
Her name is Chidera Eggerue, 23, but you can just call her by her Instagram name, Slumflower. Her breasts have been seen around the world, and for a great cause. Eggerue created the hashtag and movement, #SaggyBoobsMatter, as a call-to-action for more representation of breasts that hang low. After she grew up surrounded by images of women with perky, high-set breasts in the media, Eggerue took it upon herself to create a safe space on the internet for women with breasts just like hers. "Due to under-representation of saggy-looking boobs in the media, we are all taught that there's only one way to be beautiful and that includes having super perky boobs ... If I had seen women with saggy boobs being glorified for their beauty, I wouldn't have developed a complex as a very young teenager," Eggerue wrote on her website last July. Thanks to you, sis, other women are less likely to develop that complex.
Rosie Kalina does glossy lids like you've never seen before. Her makeup looks are as unique as they come. Whether you're in the mood for a cutthroat cut crease or a soft blend of colours on the lid, Kalina's IG feed has got it all and more. But wait, are you more Halloween makeup than chic? She's got you covered as well. Last October, she added a glam touch to a scary event by creating a self-defined, "Skull Glam" look. Her Instagram page is basically a beautiful trap you won't ever escape from and won't ever want to. London Trieu is another makeup artist we highly recommend you follow, if you aren't already.
Inspirational Speaker, Los Angeles
You may have heard motivational speakers before, but you've probably never heard one quite like jstlbby. Also known as Amber Wagner, jstlbby lives in Los Angeles and uses the city's essence, her humour, and faith-driven themes, to inspire and motivate her followers. She's known especially for her video above and her Beyoncé call out video, and if you haven't been paying attention to her, start now. Last April she spoke with The Fader on why she made her videos and said: "I started doing [the videos] because I had some days where I was dead broke, didn't have no gas, and out the blue, God would just bless me with some funds. In random places, like in my glove box, I'd find ten dollars. Or lookin' in my shirt pocket I'd find some money. So I was just like, 'You know what, let me start telling people how good God is.'" And that is exactly what she does. Wagner can be seen emotionally singing along to gospel music, spreading the message of God to her followers, while also reminding women of the bad bitches they are.
Photographer, travels for work around Africa
Yagazie Emezi is a self-taught photographer from the city Aba, Nigeria. Emezi's stunning work has been featured in Vogue, Al-Jazeera, The New York Times, among other publications. The photo above is just a peek into the incredible art and documentary imagery that Emezi is best known for. Through her lens, she gives her followers a deeper view of Africa by introducing them to the people that live their daily lives in the motherland. Her work is especially striking due to her powerful ability to capture the highly melanated in a beautiful light. "Chronically bad lighting for black actors has been a problem ever since black actors first appeared on screen (and before that, to the era of blackface and minstrelsy)," The Guardian wrote last year. Emezi joins a slew of artists who have mastered this craft. Two more women photographers to follow are Nneka Julia and Lauren Eliza Dunn.
Artist and Founder of No Basic Girls Allowed, Los Angeles
Sarah Feingold is an artist and founder of the cultural news website, No Basic Girls Allowed. Her Instagram is a breath of fresh air. Whether you're looking for a fashion inspo, makeup inspo, hair inspo, or the perfect pose, Feingold has it all. As an artist, she captures the ease and edginess of women in movement. Her work with Nike, which starred Elizabeth and Victoria Lejonhjärta, showcased women in that light. Feingold has an incredible knack for understanding the women and people she captures on film and photography, including herself. Her makeup videos on Youtube are also top production. Most importantly, Feingold creates art that consistently features women from all backgrounds. Her platform is shared with women of all walks, so long as they are not basic.
Kosisochukwu Nnebe, also known as Coloured Conversations on Instagram, is a Nigerian artist whose work elicits discussion on the black and African identity. Her art has been shown in Canadian galleries including Studio Sixty Six in Ottawa, Ont., Sachiki Boutique in Montreal, QC, and in the United States at such locations as the Mohr Gallery in Mountain View, California. Nnebe's art highlights the complex nature of the black body. Coloured Conversations often draws out complex conversations from her followers. Nnebe speaks on blackness and all it encompasses, and explores its tie to her Nigerian heritage.