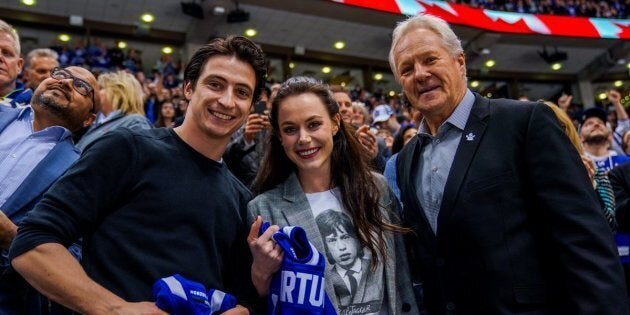 Canada's favourite couple ice dancers made an appearance at the Air Canada Centre on Saturday night to watch the Toronto Maple Leafs play.
Tessa Virtue and Scott Moir were honoured at the game for their outstanding performance at the 2018 Pyeongchang Winter Games, where they brought home two gold medals. The duo received a standing ovation during a first-period break.
"Tessa and Scott are the Olympics most decorated figure skaters and are the first skaters in history to own five Olympic medals," the game's announcer said as Leafs alumnus Darryl Sittler presented them with their own personalized jerseys.
This isn't the first time Moir has had fun with a Leafs jersey.
Other fans seemed pretty stoked too.
Fellow Olympian Penny Oleksiak was also in the house. Oleksiak, who won four medals at the 2016 Rio Summer Olympics, tweeted her enthusiasm about being in the same space as the ice dancers, and some mutual gushing ensued.
Are you here? Can we meet? We are HUGE fans!

— Tessa Virtue (@tessavirtue) March 11, 2018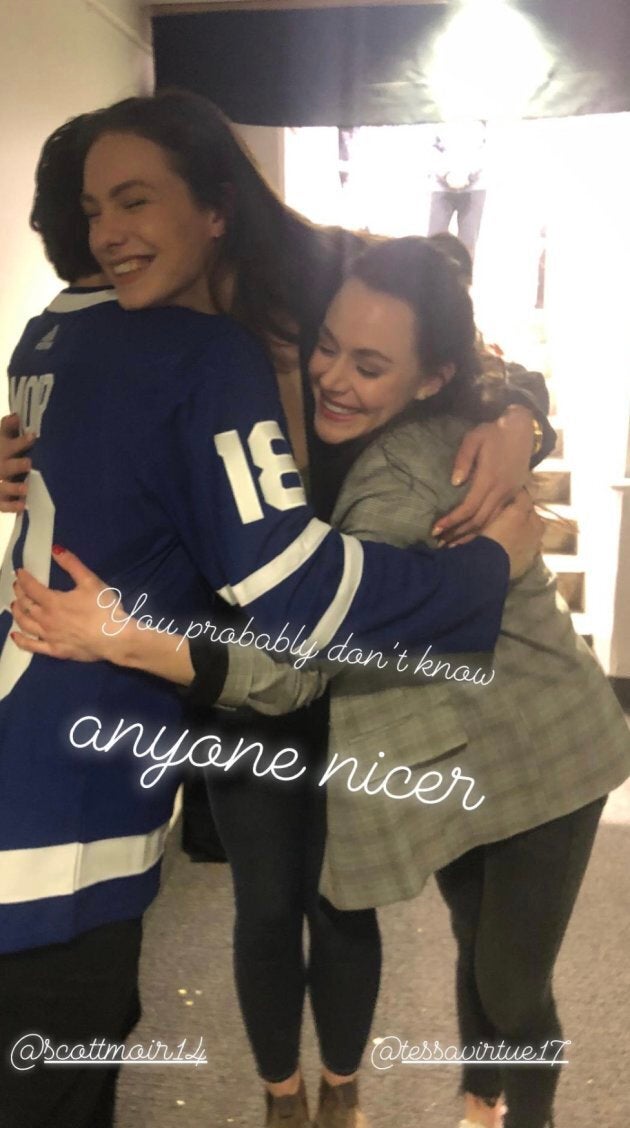 One eagle-eyed fan also spotted the swimmer coming over to Virtue and Moir, and she reported that the three athletes disappeared for a few minutes before returning to the game.
Oleksiak even took a moment to clarify that while her brother, Jamie, does play for the Pittsburgh Penguins, she was rooting for the Leafs to win — and they did.
Virtue and Moir also had the chance to meet Canadian astronaut Chris Hadfield. They apparently kept it cool publicly but nerded out about the experience afterwards.
"Thank you for taking the time to chat with us, Chris. You have been a longtime source of inspiration for us, and we are incredibly grateful for your thoughtful insight!" Virtue tweeted to the astronaut, after he posted a photo of them and called them "such good people." Earlier in the night, he said the meeting was "a treasure."
She followed up that tweet with a picture of their totally adorable reactions to meeting him.
"The Shape of Water" producer J. Miles Dale was also at the game and he brought along his shiny new Oscar trophy.
By the end of the night, Virtue came up with the best pitch yet, considering Moir's level of enthusiasm for hockey.
We wouldn't say no to that.