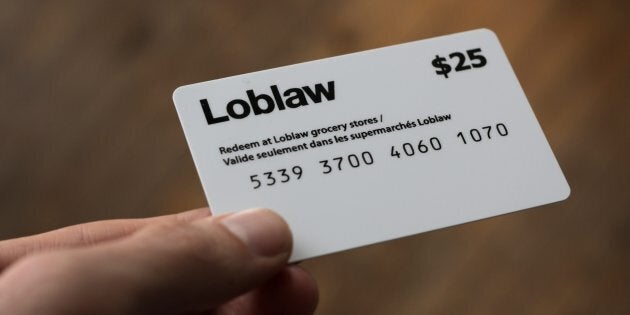 Registration for a $25 Loblaw gift card as compensation for years of bread price-fixing has opened up, and the process seems simple enough.
Customers are asked for their name, date of birth, and mailing and residential addresses to receive the card. Some people started getting them at the end of February.
But some people have reported Loblaw has been asking them to send a copy of their utility bill or their driver's license as well.
Others, confused by the request, took to Twitter to ask if it was a scam.
Although the gift card website says no additional documentation is required to complete the form, the "contact information" portion says Loblaw may "request more information about your registration form."
In a statement emailed to HuffPost Canada, Loblaw vice-president of corporate affairs and communications Kevin Groh said the information request is a "standard approach."
"We think it's sensible to have safeguards in place, and to make sure the interests of our customers are protected," Groh said.
Groh said the "vast majority" of registrations will be processed without the additional step.
"Those who are asked for ID can rest assured the process is secure and that their information will only be used for verification and then destroyed."
Customers still have until May 1 to sign up for the free gift card.