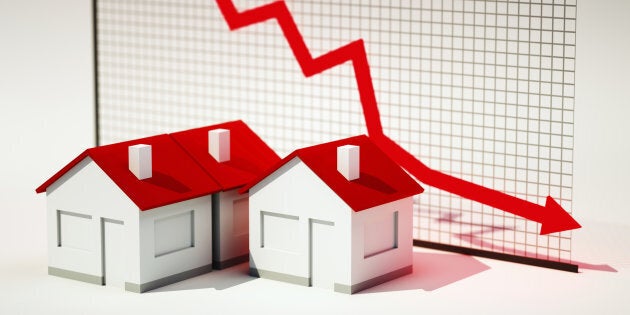 House prices decline in seven of 11 major cities
Toronto could see prolonged slowdown
Vancouver price pressures may 'fade out' in coming months
The impact of rising interest rates and Canada's new mortgage rules took a toll on the country's housing market in February, with prices falling in the vast majority of major cities.
The Teranet-National Bank house price index fell 0.1 per cent in February, the fourth time in six months it has fallen. It's down 1.9 per cent over the past half year, National Bank senior economist Marc Pinsonneault noted.
Prices fell last month in seven of 11 major markets covered in the index, including in once-hot Toronto.
"The renewed decline in house prices in February suggests that the housing market is in a price correction," wrote David Madani, senior Canada economist at Capital Economics.
"Tougher mortgage rules and recent increases in interest rates have negatively impacted home sales and this will continue to depress prices."
The index was still up 7.5 per cent from a year ago, Pinsonneault noted, but momentum is fading quickly. In January, the year-on-year number had been up 8.7 per cent.
Watch: Vancouver house in need of 'a little TLC' lists for nearly $7 million
While Vancouver's price index continued to rise in February, Pinsonneault said that's unlikely to last. According to the city's real estate board, single-family home sales fell 39.4 per cent in February, from the same month a year earlier. The condo market is holding up only somewhat better, with sales down 7.1 per cent.
"Therefore home price pressures may fade out in that area over the next few months, even if for the moment the home resale market remains tight," Pinsonneault wrote in a client note Wednesday.
In Toronto, Pinsonneault said the market has entered "balanced territory," with a three-month supply of housing available on the market. (As recently as a year ago, some neighbourhoods had only 10 or 15 days' worth of housing supply.)
But some experts say the city faces a prolonged correction in its housing market.
"All told, a long period of stagnation for GTA single-detached home prices might be setting in," Bank of Montreal senior economist Robert Kavcic wrote in a recent client note.
Kavcic noted that the downturn is the result of policy, namely the new mortgage rules and higher interest rates, and not the result of cyclical downturn — though one of those could be on its way.
"We're pushing the latter stages of the cycle, so while the policy-induced correction will likely run its course, a more typical cyclical downturn possibly lies not too far ahead."
The flipside of the slowdown in house prices over the past half year is improving affordability — a blessing for Canadian homebuyers faced with runaway home prices in recent years in the hottest markets.
That's the first time that has happened since the second quarter of 2015, National Bank said.
Economists at the bank credited the slowdown in Toronto's housing market, combined with strong wage growth recently, for the improvement.
"The countrywide fourth-quarter wage growth of 5.7 per cent annualized was the strongest in more than three years," they wrote.