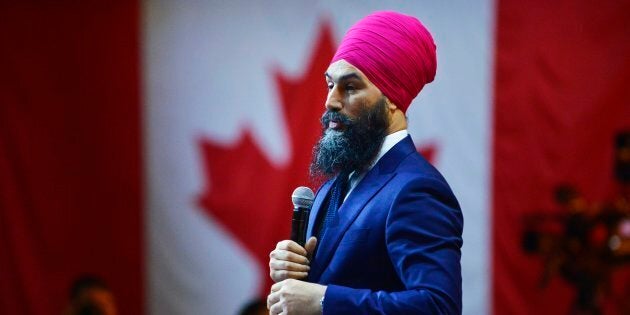 Federal NDP Leader Jagmeet Singh is shedding light on his appearance at a 2015 rally in San Francisco at which speakers reportedly called for an independent Sikh nation known as Khalistan and honoured a violent militant.
According to reporters Robert Fife and Steven Chase, Singh spoke on a stage that featured a poster of Jarnail Singh Bhindranwale, a violent religious leader killed during India's raid of the Golden Temple in 1984. Singh was a member of Ontario's legislature at the time.
Singh says he's focused on 'building a stronger Canada'
The report notes that while many Sikhs see Bhindranwale as a martyr, he is "believed to be responsible for numerous killings, including the murder of Sikhs who opposed the creation of a Sikh-based theocratic state."
"I am not a citizen of India or an Indian politician. Self-determination means respecting the views of people in whatever country to choose their own path," he said in his statement, adding he is focused on "building a stronger Canada."
The Globe reported that the NDP leader had not responded to questions on whether he supports an independent Sikh state or sees Bhindranwale as a freedom fighter.
Singh said in the release that the event in San Francisco commemorated the "Sikh Genocide of 1984," and that he was invited to speak as a human rights advocate. Singh noted that the Ontario legislature passed a motion in 2017 recognizing the deaths and disappearances of thousands of Sikhs at that time as genocide against a religious minority.
I have seen pain and anger and my approach has always been to give space to those feelings in order to work through them, but never to condone acts of violence.NDP Leader Jagmeet Singh
The trauma from those events, he said, has been passed down through generations.
"I have seen pain and anger and my approach has always been to give space to those feelings in order to work through them, but never to condone acts of violence."
Singh said his speech at the 2015 event centred on his path to learn more about his heritage and to better stand up for the marginalized.
"I encourage all those facing these tough questions not to fall prey to rage and violence, but rather to embrace your truth and move forward with love and courage. Admittedly, this is not a simple or easy process, but attempts to oversimplify these experiences will not advance the cause of reconciliation."
In a memorable interview with CBC's "Power & Politics" the day after he won the NDP leadership last October, journalist Terry Milewski noted that Singh has "long identified with the grievances of the Sikh community."
Milewski asked Singh if he felt some Canadian Sikhs go too far when they hang posters that venerate Talwinder Singh Parmar, the suspected mastermind of the 1985 Air India bombing, as a martyr.
Singh denounced violence but did not explicitly condemn Parmar. Despite repeated questions from Milewski, the NDP leader did not address if he felt such posters are inappropriate.
"The question, to me, was very troubling. He put that question forward with such an obvious response [expected]," he said.
Prime Minister Justin Trudeau has also faced questions about his views of the Sikh separatist movement, including during his much-maligned trip to India last month.
Trudeau told Amarinder Singh, the chief minister of Punjab, that Canada supports a united India. Amarinder Singh previously accused Defence Minister Harjit Sajjan and the other Sikh members of Trudeau's cabinet of being "Khalistani sympathizers."
However, controversy exploded after Jaspal Atwal, who was convicted of trying to kill an Indian cabinet minister in 1986, was invited to an official reception featuring the Trudeau. Though his invite was rescinded, Atwal did attend another event where he posed for photos with the prime minister's wife.
At a press conference in Vancouver last week, Atwal said that he has renounced terrorism and was "caught up" in the Sikh separatism movement nearly four decades ago.
"While nothing can excuse my conduct, I can only say that during that time in the early 1980s I reacted to the Indian army storming the Golden Temple ... in a way that has caused much pain to many individuals," Atwal said.
With files from The Canadian Press