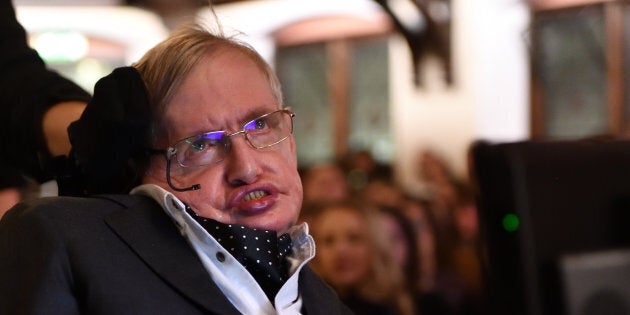 His achievements, to many, were a reminder of what Hawking accomplished with — not in spite of — his disability. The world-renowned physicist, often referred to as the smartest man in the world, died in his Cambridge home early Wednesday, at age 76. His death, however, has also sparked a discussion around ableism in the media.
Hawking is the author of numerous literary works, which include A Brief History of Time and The Theory of Everything. He has been referred to in popular culture, films, and television shows such as "The Big Bang Theory" and "The Simpsons."
At age 21, Hawking was diagnosed with Amyotrophic Lateral Sclerosis, or ALS. The #IceBucketChallenge raised money and awareness for the disease in 2014. ALS is a progressive neurodegenerative disease that affects nerve cells in the brain and spinal cord, the ALS Association described. It weakens motor neurons that run from the brain to the spinal cord to muscles in the body— this slowly takes away control over muscle movement, the ALS Association said.
Hawking was given a few years to live as a result of this diagnosis but defied the odds. His impeccable career is an inspiration for people with disabilities worldwide.
An op-ed posted Thursday on Teen Vogue expressed concerns over how Hawking's death was framed. "When I die, I hope that I am remembered for the work I have done. I hope that all of the times I have discussed ableism, joy, grief, sadness, and joy is what people remember," disability activist Keah Brown wrote.
People who are disabled are poorly represented in film, said Brown. They are portrayed as angry at their "disability and body," she said. In film, they wish for death and are granted it in the end, according to Brown.
"The fact of the matter is that Stephen did all of his amazing work with his disability — not in spite of it ... He did not need to be free of his disability and wheelchair to change the world, so why must he be freed of it now that he has passed on?" Brown wrote.
Many people online shared her concern.
The ALS Association reported that five per cent of ALS patients survived 20 years or more. North America's longest ALS survivor is Steven Wells — a Torontonian who was last reported at age 57 in 2016.
"I am proud of being the longest living 'ALS'er' in North America and quite possibly South America, as well. Part of my intentions are altruistic given that I am a nice story; that which inspires people, both 'ALS'ers' and not," Wells said to Fine Art Collector.