UPDATE: The bill passed second reading in Senate by a vote of 44 to 29 and is headed for more study at committee.
OTTAWA — Senate independents are scrambling to find out how many of their members will show up to a crucial vote Thursday on the Liberal government's cannabis legislation and how they plan to vote, if they do make it, HuffPost Canada has learned.
If few independent senators show up or a dozen vote with the Tories in opposing C-45, the marijuana legalization bill — and the Grits' election promise — will go up in smoke.
Early Wednesday morning, senators Raymonde Saint-Germain and Yuen Pau Woo wrote to their colleagues informing them that they had learned the Conservatives would call for a standing vote on second reading of C-45 Thursday.
Whatever your views may be on C45, Thursday's vote is very important, and we believe that we should have as many ISG [independent Senate group] members as possible in the chamber for that vote.Senators Raymonde Saint-Germain and Yuen Pau Woo
"Our sense is that they are willing to take the risk of having the bill defeated at Second Reading, and — in that event — to blame independent senators for failing to ensure its passage," the senators wrote.
"Whatever your views may be on C45, Thursday's vote is very important, and we believe that we should have as many ISG [independent Senate group] members as possible in the chamber for that vote.
"If you are planning to leave early on Thursday, please do what you can to adjust your travel so that you can stay till the end of the sitting.
"If you are currently away from Ottawa, please try your best to return for Thursday's sitting.
"In any event, please provide the Secretariat with an update on your availability for a vote on Thursday.
"The situation is volatile and may change yet again. However, our assessment at this stage is that we should prepare for an alternative scenario, hence this request, which we do not make lightly."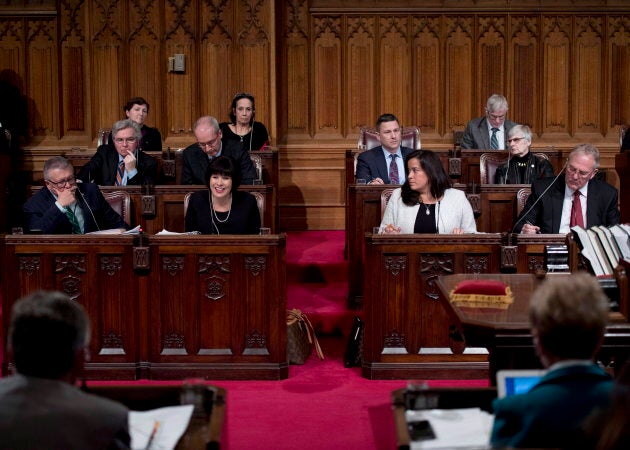 Later Wednesday, the secretariat of the independent Senate group sent out a survey asking two basic questions, noting the results would be anonymous.
1. Will you be present for the vote on Second Reading of C-45 on Thursday, March 22?

2. If you will be present, how do you intend to vote on the Second Reading of C-45?
Most Senate observers HuffPost spoke with expect the bill will survive second reading and head off to committee for further study. But one government source stated: "Accidents can happen.... We are a little worried."
Back in 2014, Liberal Leader Justin Trudeau kicked Liberal senators out of the Liberal caucus. He pledged to appoint only independent senators. A handful of Liberal senators insisted on still being called Liberals but neither the independents nor the Liberals caucus with Trudeau's MPs. Only the government's representative in the Senate has been appointed to do the government's bidding.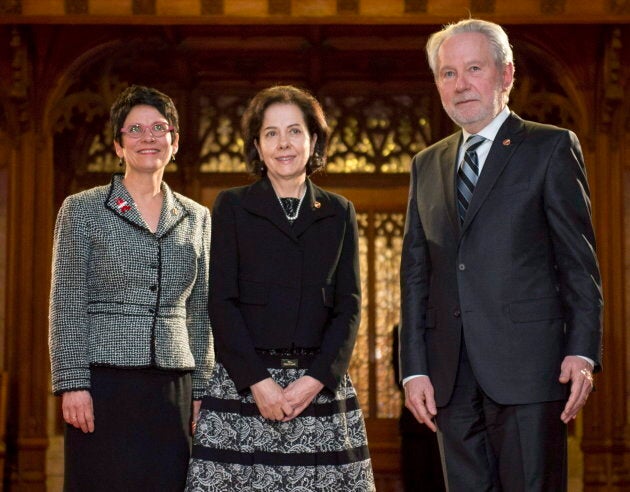 Earlier this week, that man, Peter Harder, seemed to plead with his Senate colleagues about the limits of their new roles.
"For an unelected Senate, legitimacy lies in the very sage use of great power. Legitimacy as an appointed body depends on understanding one's limits," Harder told the Government Relations and Public Affairs Practitioners Forum Tuesday.
"...the Senate's power to defeat government legislation has rarely been invoked, and only in the gravest of circumstances. Canadians expect, quite rightly, that their elected representatives have the last word," the Liberals' point man in the red chamber said. "The Senate's role in our democracy is not to defeat a bill that puts in place a duly elected government's electoral pledge."
During the 2015 election campaign, Trudeau ran on a promise to legalize cannabis.
The Conservatives know this but firmly oppose the plan. Harder is hoping some independents and, perhaps, even some of the Liberals in the upper house, will understand that it is not their job to defeat something Canadians supported at the polls.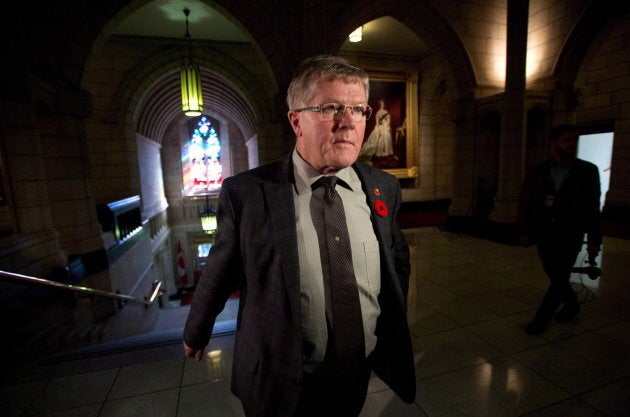 Conservative whip Don Plett refused to confirm whether the Tories are planning to request a rare standing vote — a way of placing on the record how each senator votes.
"We can't defeat this bill. We are only 33 members in the chamber. We can't defeat anything," he told HuffPost. But if the Independents don't show up, Plett said: "Then we haven't defeated it; they have defeated it themselves."
The independents have 43 members, more than any other group, Plett noted. "They are organized as a group, but they can't organize. And that, of course, is their problem, not ours."
Trudeau's desire for an independent Senate "is coming back to bite him," Plett suggested.
"Their problem is this: They cannot get straight answers from the Trudeau appointees because they are actually saying: 'You know, Justin Trudeau has told us so emphatically that we are independent' that some of them are starting to believe that."
The Senate is scheduled to meet at 1:30 pm Thursday. There are more than 11 speakers scheduled to speak on C-45, meaning the vote is likely to happen after 6 p.m.
Current standing in the Senate:
Independent Senators Group: 43
Conservative Party of Canada: 33
Liberal Party of Canada: 11