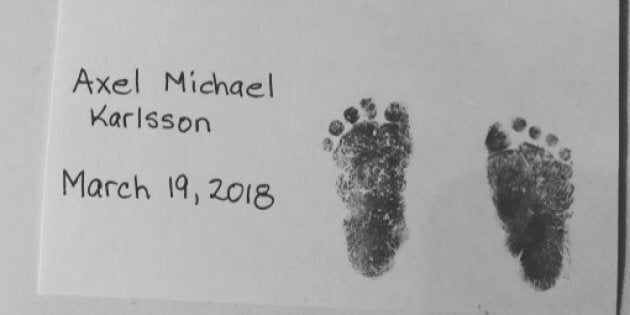 With two tiny footprints and a date, hockey star Erik Karlsson reminded us in the most heartbreaking way that stillbirth can happen to anyone, anywhere.
The Ottawa Senators announced Tuesday that their captain, Karlsson, and his wife, Melinda, had lost their unborn son. The couple had announced their pregnancy in November, with Karlsson calling it "the most exciting news" on Instagram. In February, Karlsson posted a photo with his hand on Melinda's stomach, writing "just me and my little family."
On Wednesday, the day after the Senators offered their thoughts and prayers for his loss, Karlsson posted a photo of baby Axel Michael Karlsson's footprints, a date of birth, and a message thanking people for their love and support.
"At this extremely difficult time it's hard to see the light at the end of the tunnel but we know one day we'll get there. We would like to thank everyone for the love and support we have received and also for respecting our privacy and the process we need to go through now," Karlsson wrote.
"We feel very lucky to be Axel's parents. Even though he was stillborn, we know we will hold him again one day under different circumstances and the joy he gave us will be with us forever."
Stillbirth is a small risk, but still a risk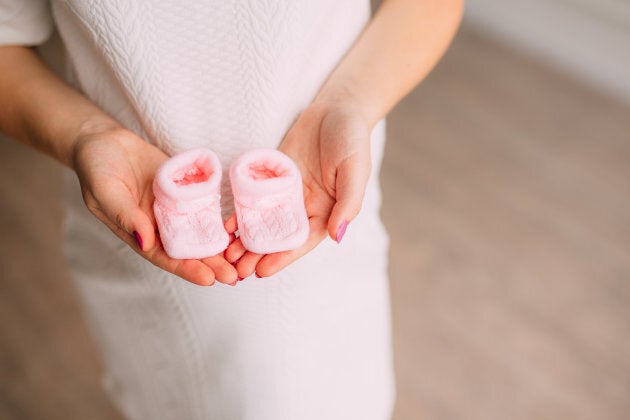 There are any number of reasons why a stillbirth may occur, including birth defects, umbilical cord problems, and physical trauma, the Toronto Star reported. But, as is often the case with miscarriage, many infant deaths that occur close to when a baby would have been due just can't be explained, Dr. Ashley Waddington, an assistant professor in the department of obstetrics and gynecology at Queen's University, told the Toronto Star in an interview unrelated to the Karlsson case.
But that doesn't stop grieving moms from thinking that, if only they had done something differently, their baby would have lived, Waddington said.
"That's definitely not true in the case of miscarriage, which is almost always a genetic problem, and definitely not true in the case of a stillbirth," Waddington said. "We can hardly ever identify a cause for this. It's never like, oh, you shouldn't have ridden your bike or taken a hot bath."
The impact of stillbirth on families can be similar to post-traumatic stress disorder, Michelle La Fontaine, program manager for the Pregnancy and Infant Loss Network of Ontario, told the Ottawa Citizen. This can include a phenomenon called "empty arms syndrome," where "your arms are aching to hold a baby," La Fontaine said.
"It is still something that is not talked about enough," La Fontaine said.
On Instagram, other families who have experienced infant loss offered their support to Karlsson and his family.
"You are both in our prayers. From one infant loss family to another. He will always be your son!" one woman wrote.
"Our daughter Evelyn was born still Jan 9th 2014. I am so sorry. It is absolutely devastating. Please know you guys are not alone," another wrote.