It's a soothing ritual, it's fun (bubbles! toys! splashing!), and it's a great way to scrub that day's grime off your children (berries! mud! how did they get dried snot in their hair?) before putting them in their pyjamas.
But now it turns out your kid's bath toys might be even dirtier than your kid.
"Environmental exposure to bacteria and fungi is not necessarily bad for human health and may indeed even strengthen the immune defence," the researchers noted in the study.
"Nevertheless, bath toys are typically used by children, who are potentially sensitive and vulnerable users. Squeezing water with chunks of biofilm into their faces (which is not unexpected behaviour for these users) may result in eye, ear, wound or even gastro-intestinal tract infections."
Researchers at the Swiss Federal Institute of Aquatic Science and Technology and the University of Illinois looked at a sample of 19 bath toys taken from five different households that had been used under real (bathing) conditions, plus a control group of six identical bath toys that they used in both clean and dirty bath water.
"The results were duck, duck, gross," Bruce Y. Lee, associate professor of international health at the Johns Hopkins Bloomberg School of Public Health, wrote in Forbes.
"While in many cases this biofilm was dark-coloured as a result of concurrent mould growth, a number of the biofilms were clear and transparent. There was lots of bacteria and fungi, as many as 75 million cells per square centimetre," Lee wrote.
They found fecal bacteria (poop, you guys! poop!) in 25 per cent of the sippy cups they tested, ABC reported.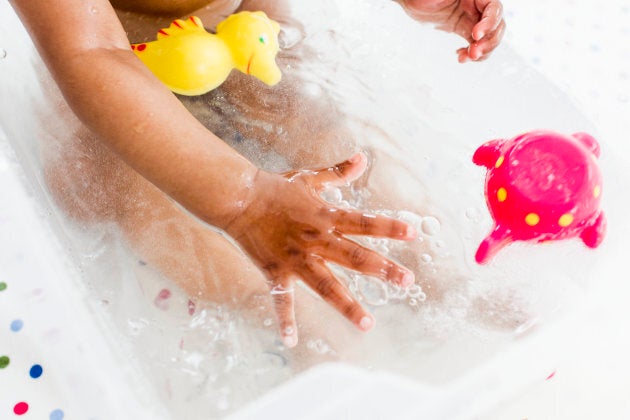 The good news is the researchers in this newest study emphasized that being exposed to bacteria and fungus isn't necessarily bad for your health (although they did note that children are more vulnerable).
And there are several ways to clean bath toys, including boiling them and making sure to squeeze all the water out after they're used, the researchers said. Martha Stewart recommends a monthly wash with 1/2 cup white vinegar per gallon of water, where you let the toys soak for 10 minutes, give them a scrub, squeeze and release the bath toys to suck the solution inside them, squeeze it all back out, and air dry.
"The easiest way to prevent children from being exposed to bath toy biofilms is to simply close the hole— but where is the fun in that?" the study's researchers said.