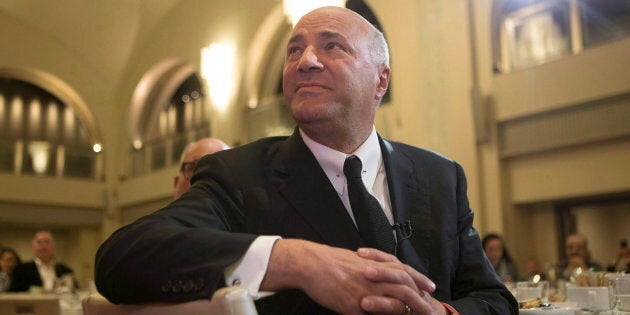 Casa Loma, an audacious 180,000-square-foot castle in Toronto built by a tycoon who died penniless, seemed the right place to talk about the burdens of big dreams.
But that wasn't Kevin O'Leary's focus as he worked the marble floors of its glass-domed conservatory Thursday night. Decades earlier, O'Leary had hoped to hold his wedding reception in this very room but couldn't afford it.
A little more than a year ago, the celebrity businessman made the stunning call to quit a federal Conservative leadership race he was in a good position to win. An investor best known as a reality TV star — first on CBC's Dragons' Den and then ABC's Shark Tank— O'Leary tried to pivot to kingmaker.
He endorsed stylish Quebec libertarian Maxime Bernier only to watch Saskatchewan's safe, steady Andrew Scheer win on the final ballot weeks later. And with that, O'Leary's strange, five-month sojourn into real-world politics — the headline-snagging outsider who, fairly or not, drew comparisons to Donald Trump — came to an end.
But there are still bills to pay.
So on the unusually brisk April night, O'Leary mingled with well-heeled people in expensive suits, fancy dresses, and rich-dude jeans drinking champagne and Johnnie Walker Gold Label Reserve to help pay down the roughly $530,000 debt left over from his Tory leadership bid.
As a violinist played and private school teens served as ushers, they munched on shrimp cocktails, sushi, and pieces of lamb. It was all a far cry from the rubber chicken circuit that would have awaited O'Leary as an Opposition leader.
More from HuffPost Canada:
While one imagines O'Leary could easily afford to square up with the vendors and caterers he used during the race, Elections Canada rules forbid leadership contestants from kicking in more than $25,000 to their own campaign.
To help draw a crowd, O'Leary convinced his Shark Tank co-stars, New York real estate mogul Barbara Corcoran and billionaire Dallas Mavericks owner Mark Cuban, to fly north for a casual chat about business. He dubbed the event, "Three Sharks in a Castle."
The tickets cost $2,000 but attendees will get a tax credit of $650. O'Leary pledged at the outset he'd match ticket sales with a donation to the Canadian Olympic Foundation, though attendees could direct their contribution to other charities.
The federal government will match donations to its fund to help develop Olympic and Paralympic athletes.
Many in the crowd said they were just there for a good time and were loathe to talk politics. Jonathan Edwards, a sharp-dressed, 25-year-old business student, conceded with a wink he hoped for a chance to ask O'Leary, Cuban, or Corcoran for career advice.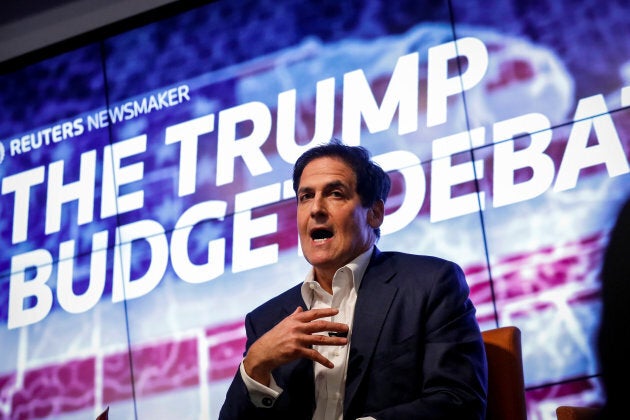 Yet with roughly 100 people in attendance, the event fell well shy of sellout. O'Leary's fundraising days aren't yet behind him.
Speaking in the grand library a little later, a bottle of Kevin O'Leary's Fine Wines strategically placed on stage beside him, the one-time Tory leadership frontrunner pledged to hold more events in other cities to raise money for budding Olympians.
"When you win gold, you brand Canada. And it's very, very cool," O'Leary said. "There's no politics in this. It's all about winning medals."
He danced around the edges of why he tapped the star power of Corcoran and Cuban and did not explicitly reference his bid for Tory leader.
"They didn't have to do this," O'Leary said of his famous friends.
"We didn't want to do it," Corcoran interjected, scoring laughs.
"I was on the set with them at Shark Tank and I said, 'Listen, I've got some problems and I need some help.'"
We'd be shooting Shark Tank and he'd be practicing his French. You've gotta really want this. You're trying to learn French.Mark Cuban on Kevin O'Leary
On stage, O'Leary asked Corcoran if she felt the #MeToo movement is helping or hurting young women in business. Corcoran offered that while some joviality between co-workers may suffer, the empowerment of young women in the workforce is the best thing to happen, from her perspective.
Corcoran later worked in another jab at O'Leary's expense after an audience member asked how to get her back to Toronto more often.
"Fours year from today, I think Kevin, if he doesn't repay his debts, is going to be in jail," she said. "We'll have to come back."
"There's a lot of truth to that joke, actually," O'Leary deadpanned.
With Cuban, the talk was mostly on Trump and his own possible 2020 presidential run. Cuban won the crowd over when he said the U.S. president often doesn't understand what he's talking about, whether the topic is trade deficits or economic theory.
"He must have understood the American people," O'Leary said. "He's the president of the United States now."
"You know what, he gets credit for that," Cuban replied before adding that the time was ripe for a non-politician to rise.
O'Leary pressed Cuban to share how seriously he is considering an independent bid for the White House.
"Well, I watched you, Kevin," Cuban replied. The room erupted in laughter and then applause when Cuban added he was proud of O'Leary for taking the leap.
"We'd be shooting Shark Tank and he'd be practicing his French," Cuban said, spurring more guffaws. "You've gotta really want this. You're trying to learn French."
O'Leary's inability to fluently speak French was considered perhaps his biggest liability as a prospective federal party leader. When he dropped out, O'Leary cited his lack of support in Quebec as something that could keep Tories from winning majority government in 2019.
"I hope every Canadian recognizes that your heart, your mind, and everything about you is in the right place," Cuban said.
'I don't do anything without the intent of winning'
Speaking the next morning, O'Leary laughed off the lingering notion in some circles that he was never really serious about becoming Tory leader and merely ran as an exercise in self-promotion.
"Ridiculous. Ridiculous," he said on a call from his Toronto office. "I don't do anything without the intent of winning. That's how I work."
The race was an exhaustive process, he said, and it meant a big sacrifice to his family and businesses.
"Anybody that says I wasn't serious... what I say to them is, you try it."
O'Leary said he was "pleasantly surprised" by the amount of money raised Thursday to chip away at his campaign debt.
"I was going to be happy if we got to $100,000. We're still getting cheques in so it looks like we'll close in on close to $200,000," he said.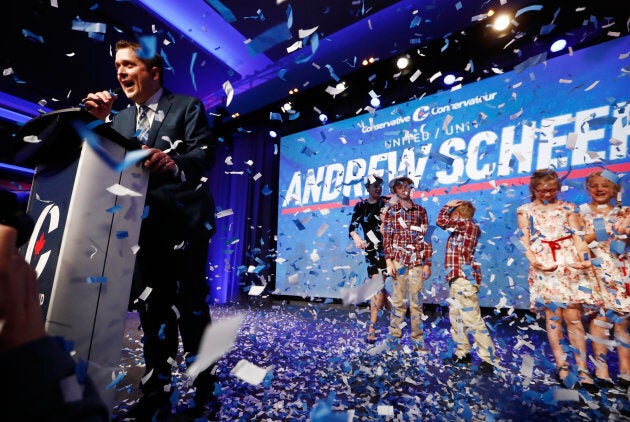 O'Leary said the lion's share of his donation will go to the Canadian Olympic Foundation because most attendees liked the idea of the feds matching those dollars.
Looking back at last year, O'Leary chalked up his time in the political arena as an "incredible" learning experience. He said he has no regrets about running.
"My assumptions were 100 per cent wrong about how the process works," he said. "It changed my perceptions about those who do serve."
O'Leary said he came to appreciate how MPs contribute in a parliamentary system and found new respect for the career politicians he used to "disdain" because they know how to get things done.
Yet he still believes about one-third of caucus members in any party are "completely incompetent" and would be fired in any "normal" organization.
O'Leary also maintained he would have stayed in the race if he thought he had a reasonable path to a majority mandate. He suggested he would have enjoyed taking on Prime Minister Justin Trudeau in the House of Commons.
'Not going to run' in 2019
"I wasn't planning on using the normal protocol in there. I was going to ask him on behalf of Canadians, what the hell are you doing?"
Now he plans to use his social media following to call out what he sees as political incompetence, starting by urging the defeat of the Ontario Liberal government of Kathleen Wynne this June.
"I admitted yesterday that I had voted for Doug Ford (in the Ontario PC leadership race). I'm going to vote for him again," O'Leary said. "Regardless of his style, his mandate is correct. Ontario's a disaster."
While he plans to be a "vocal agitator" against both Wynne and Trudeau, O'Leary basically closed the door on running for a seat in the 2019 federal election.
"I'm not going to run, I don't think. I never say never but I'm very busy right now," O'Leary said.
"And I'm in the process of paying back this half a million."