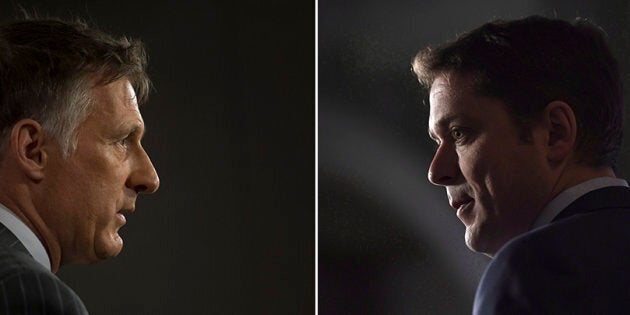 Months ahead of the release of his new book, "Doing Politics Differently: My Vision for Canada," Tory MP Maxime Bernier is apparently already delivering on the title.
On Tuesday, the publisher of the Beauce, Que. MP's upcoming book released a sneak preview with a chapter titled "Live or Die with Supply Management," a staple for Canada's dairy and poultry industry that Bernier has long advocated abolishing.
Bernier takes a similar stand in the chapter, but it's his comments on his boss' victory in the Tory leadership race last year that have caused waves within the Conservative party.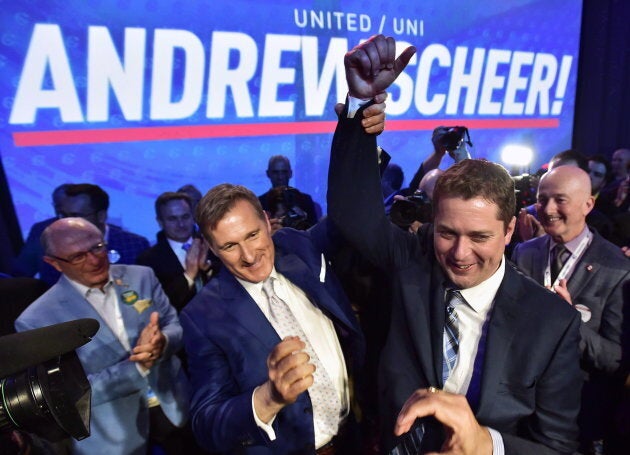 Bernier writes that in the last months of the Conservative leadership race, the supply-management lobby had started mobilizing after polls started showing he had a "real chance" at becoming the new leader.
As first reported Tuesday by The Globe and Mail, which had an embargoed copy of the chapter ahead of its release, Bernier claims that his leader Andrew Scheer was able to eventually take the Tory helm thanks to the support of "fake Conservatives" who signed up just to block the Quebec MP.
He did what he thought he had to do to get the most votes.Tory MP Maxime Bernier on Leader Andrew Scheer's victory
Scheer won on the 13th and final ballot at the May 27 leadership finale, capturing 50.95 per cent of the votes. Bernier came in a close second with 49.05 per cent.
Bernier also brings up Scheer's appearance at the Parliamentary Press Gallery's annual dinner in Gatineau, Que. shortly after his win. The Tory leader cracked a joke about supply management, which he supported during the leadership race, by saying he was not "beholden" to any segment in the party. He then took a swig of some wholesome two per cent milk.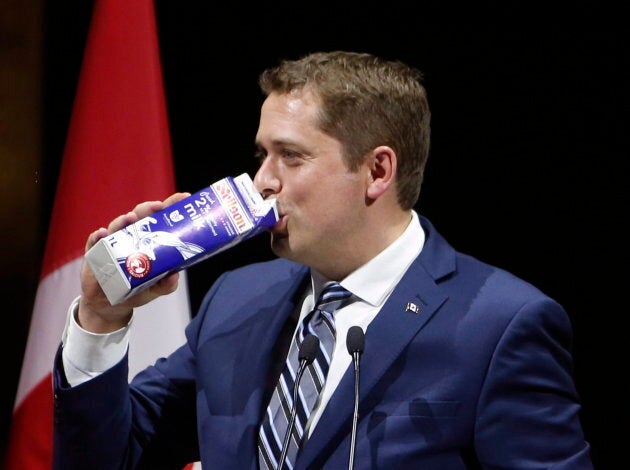 "Of course, it was so funny because everybody in the room knew that was precisely why he got elected," Bernier writes.
"He did what he thought he had to do to get the most votes, and that is fair game in a democratic system. But this also helps explain why so many people are so cynical about politics, and with good reason."
Asked if Scheer had any comments on Bernier's remarks, his spokesperson Jake Enwright declined to comment.
The release of the chapter has riled up some Tory MPs like Peter Kent, who told The Globe he was "terribly disappointed" with Bernier's remarks.
"Freelancing in this way is an unacceptable challenge to the caucus, to the leader," Kent said.
Ontario MP Larry Miller had a more direct rebuke.
"Andrew won. So, too bad, so sad, get over it," he told the paper.
Timing of remarks 'atrocious': MacDougall
Former party brass also took issue with Bernier's chapter.
Andrew MacDougall, who served as director of communications for former prime minister Stephen Harper, said in a piece for Maclean's Wednesday that Bernier was "peddling division" within the party with his comments. He dismissed the sneak-peek chapter as a mere ploy to see sales of his book "skyrocketing into the tens."
The timing of Bernier's remarks, MacDougall added, was "atrocious." After his now-infamous trip to India, several polls showed Prime Minister Justin Trudeau and his team slipping in popularity.
More recently, the federal government has found itself scrambling to act after Kinder Morgan Canada announced it would be halting all "non-essential" activities and spending on its Trans Mountain expansion — a project that Trudeau has repeatedly backed and promised would be built.
"In case Bernier missed it, the prime minister has finally been knocked off his polling pedestal and is now up to his neck in pipeline muck," MacDougall wrote.
Only one of Bernier's fellow leadership rivals has commented on his remarks so far. Tory MP Brad Trost, who placed fourth in last May's contest, tweeted out The Globe's story and told Bernier he knows "the feeling." Trost liked his own tweet.
HuffPost has reached out to the Saskatchewan MP to clarify what he meant in his message to Bernier.
Bernier's book, written in collaboration with Martin Masse, is slated for release in the fall.