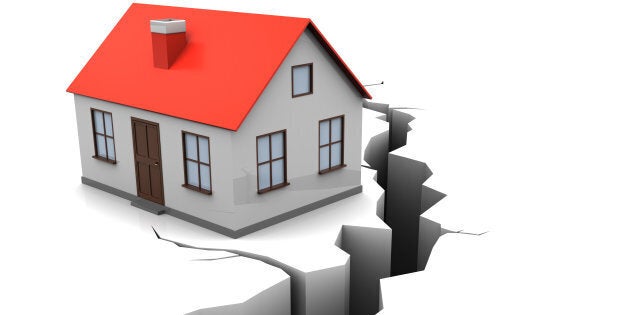 The Canadian Real Estate Association (CREA) wasted no time in pointing to the culprit.
"Recent changes to mortgage regulations are fueling demand for lower priced homes while shrinking the pool of qualified buyers for higher-priced homes," CREA chief economist Gregory Klump wrote in the group's monthly housing report.
"As a result, 'affordably priced' homes are becoming less affordable while mortgage financing for higher priced homes remains out of reach of many aspiring move-up homebuyers."
Watch: Canadian household debt is now worth more than the economy's entire output
You could be forgiven for thinking that the new mortgage rules have made a complete mess out of the housing market — and, frankly, it does look a little messy right now.
But that doesn't mean they are a bad idea. There is something larger at stake here. It's looking increasingly likely that, at some point during the housing boom over the past decade, Canadian households' borrowing spiraled out of control.
With household debt now at a record 171 per cent of average annual disposable income, the country faces the risk of a much worse sort of housing downturn: The kind caused by defaulting borrowers, leading to financially troubled banks, and inevitably, a recession.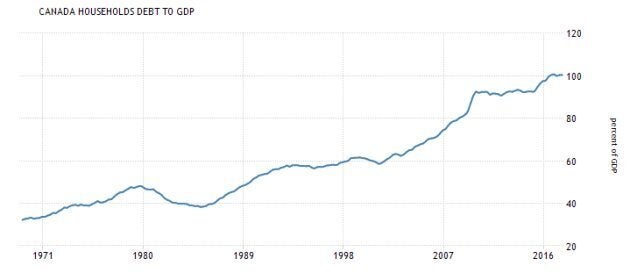 At these debt levels, it wouldn't take much to push many borrowers into financial difficulty. Interest rates have risen only slightly since last summer, but we're already seeing signs of stressed borrowers.
A Royal Bank of Canada credit analyst noted this week that the number of unpaid credit cards rolling over from being short-term delinquent to long-term delinquent has spiked to its highest level since 2008, when the global financial crisis was raging.
"Cracks are starting to show in more and more places," Vivek Selot wrote in a client note, as quoted at Bloomberg.
Meanwhile, questions are mounting about the quality of Canadians' mortgage debt. The latest chapter in this saga opened Friday, when — according to a report in the Globe and Mail — RCMP searched the offices of Toronto-area real estate developer Fortress, in connection to an investigation into "syndicated mortgage fraud."
No other details are available yet, but the case follows much-publicized allegations of mortgage fraud at lender Home Capital and, more recently, at Quebec's Laurentian Bank.
The problem may not be limited to alternative lenders and regional banks, either. In a report issued last month, the federal Financial Consumer Agency of Canada (FCAC) warned that Canada's big banks are prioritizing sales of financial products over protection of consumers. The banks' "mobile mortgage specialists" are paid entirely on commission, which "can lead to mis-selling," FCAC said.
Mortgage fraud, stressed borrowers, and rising interest rates. Is it any wonder that the Bank for International Settlements has repeatedly identified Canada as a top candidate for a banking crisis?
In this context, the new mortgage rules look like a much-needed antidote to the frenzy of borrowing Canada has seen in recent years. Yes, there will be pain in the housing market, but it's nothing compared to the calamity of a full-blown financial bust.
CORRECTION: An earlier version of this article referred to "mobile mortgage brokers" at the big banks. In fact, they are referred to as "mobile mortgage specialists."