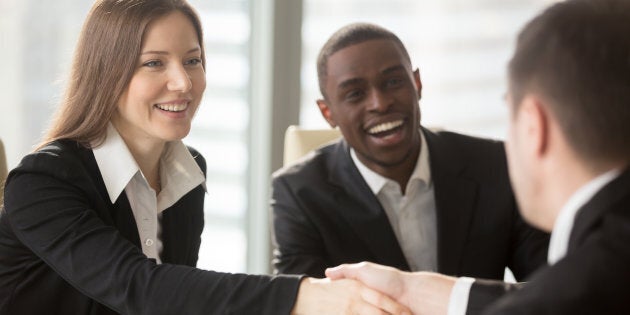 The experts have been saying that Canada's job market has slowed down in recent months, following a very impressive 2017. But two new reports suggest the good times may still be rolling, at least for now.
Statistics Canada reported Thursday that the number of Canadians receiving regular employment insurance benefits fell to the lowest level since at least 1997, when comparable data became available.
The number of Canadians on EI dropped by 11,300, or 2.3 per cent, in February, StatCan said. There were some 480,000 Canadians receiving benefits, down from a recent peak of more than 587,000 in the summer of 2016, in the wake of the oil price crash that sent jobless rates soaring on the Prairies.
It's a clear sign that Canada's economic momentum hasn't fizzled just yet, as some observers had feared. In another positive sign, human resources firm ADP Canada said payrolls across the country jumped by a very solid 42,800 jobs in March.
That's considerably stronger than Statistics Canada's estimate of 32,000 jobs added that month. That report showed Canada's unemployment rate at 5.8 per cent, matching the lowest on record in data going back to 1976.
"Overall, Canada experienced robust hiring in the month of March despite a tepid performance in some industries," ADP Research Institute vice-president Ahu Yildirmaz said in a statement.
"While there were losses in finance, information and education, they were outpaced by significant growth in the construction industry."
In fact, construction seems to have saved the job market from an otherwise unremarkable month. It accounted for 22,300 jobs, or more than half of those created in March.
But the country shed 9,600 finance and real estate jobs at the same time. That squares with other data showing that, while Canada's housing market has slowed down considerably, construction of new homes remains at elevated levels thanks to strong demand in Toronto, Vancouver and elsewhere.
Watch: Canada's best and worst cities for job hunters
The Bank of Canada said this week that after a soft patch in the first quarter of the year, it expects Canada's economy to pick up steam again in the second quarter.
"Growth in consumption remains robust, supported by strong labour income growth," the Bank said in announcing it's keeping its key lending rate at 1.25 per cent.
"Wages have continued to pick up as expected, even after factoring out recent minimum wage increases in Ontario and Alberta."
The Bank stressed it expects to continue raising interest rates as the economy heats up. The general consensus among analysts, following this week's decision, is for two more rate hikes from the Bank this year.