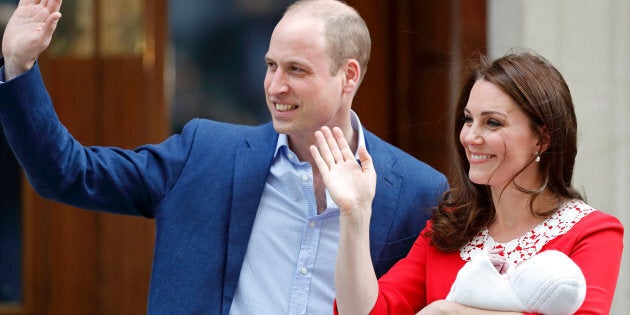 Hello magazine reporter Emily Nash and ABC News reporter James Longman both tweeted photos of the couple's reaction to the unexpected surprise.
Their surprised (and probably exhausted) expressions? Priceless.
On Twitter, some fans said that being photographed by the media would be their worst nightmare (especially right after giving birth). However, they appreciated that the photos showed what many new parents look like after welcoming a baby.
Others thought the moment would make a great story to tell their child in the future.
And some fantasized about the couple's infant and the third royal baby meeting again when they grow up.
The Duke and Duchess of Cambridge welcomed their baby boy yesterday at 11:01 a.m. BST. They then left the hospital roughly seven hours later, but not before this couple experienced what it's like to be in their shoes!
As Glamour noted, the archway with "Lindo Wing" etched in its stone has always been associated with royal babies. Not only is this where each of the duke and duchess' children have made their world debut, but also where Prince Charles and the late Princess Diana first showed off newborn princes William and Harry.