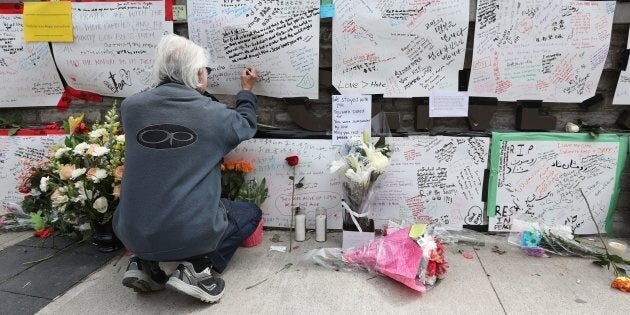 Here are a few ways that people can help and honour the victims of Monday's deadly attack.
Visit the makeshift memorial
A makeshift memorial for the victims has been growing at Yonge Street and Finch Avenue, the site of the attack. Grieving members of the community have been lighting candles, laying down flowers, and signing their condolences.
Some people are rolling up their sleeves to help the injured.
"We are closely monitoring the response effort in Toronto to ensure patients affected by the collision receive blood and blood products as needed. If you would like to donate blood to help patients, please visit blood.ca to book an appointment," Canadian Blood Services told HuffPost Canada in an emailed statement.
"Our hearts go out to those affected. Canadian Blood Services extends its deepest sympathies to the families and victims of this tragic incident."
Donate to a fundraising effort
A number of online fundraising efforts have popped up in the wake of the attacks, including one by Canada Zakat, a project of the not-for-profit organization DawaNet Canada. Last year, Canada Zakat helped raise over $800,000 for victims of the Quebec mosque attack, according to a GoFundMe page set up by the organization.
By Tuesday afternoon, people had donated more than $83,000 to help cover funeral expenses for victims of the attack.
"Our hearts go out to the families of the victims of today's tragedy. You are in our thoughts and prayers," Canada Zakat wrote on the page.
on a sad day today I took the subway home to east toronto

I saw

• people offer each other a seat

• strangers wish each other a good night

• a guy help a woman collect groceries that were spilling out of the bag at her feet

this is a city of good#toronto

— colin horgan (@cfhorgan) April 23, 2018
"We cannot as Canadians choose to live in fear every single day as we go about our daily business," Prime Minister Justin Trudeau said Tuesday morning in reaction to the attack.
Other political leaders, including NDP leader Jagmeet Singh, made similar statements. Singh urged Canadians not to let the attack "sow hate or division" among each other.
"Toronto, like Canada, is strong, diverse, loving and courageous, and this event will not change that," Singh said in a release. "We will come together, we will mourn, we will seek justice, and we will remain strong," he said.
Torontonians have been spreading kind deeds in the aftermath of Monday's attack, including handing out water to commuters and offering free rides, causing the hashtag #TorontoTheGood to trend on Twitter.
In a statement about victim Anne Marie D'Amico, her family said she "had a generous heart" and urged people to "fight with that same altruism, rather than hatred and anger," according to City News. ​​
CLARIFICATION - April 27, 2018: Previous reports from Toronto police stated that 14 people were injured in the Toronto van rampage. Officials have since updated that number to 16.
CORRECTION - April 24, 2018: An earlier version of this article described Canada Zakat as a national charity. It is actually a project of DawaNet Canada, a not-for-profit organization. This has been corrected in the text.