Kanye West's recent Twitter spree has led his wife, Kim Kardashian West, to fiercely defend him, and inspired President Donald Trump to express his gratitude.
The rapper tweeted on Wednesday that his wife had instructed him to make it "clear to everyone" that he doesn't "agree with everything Trump does."
He also said he doesn't "agree 100%" with anyone but himself.
West said shortly before, "You don't have to agree with trump but the mob can't make me not love him. We are both dragon energy. He is my brother. I love everyone."
To that, Trump quote-tweeted his gratitude, calling the praise "very cool":
West's tweets came amid a series of stream-of-consciousness thoughts he shared on social media Wednesday.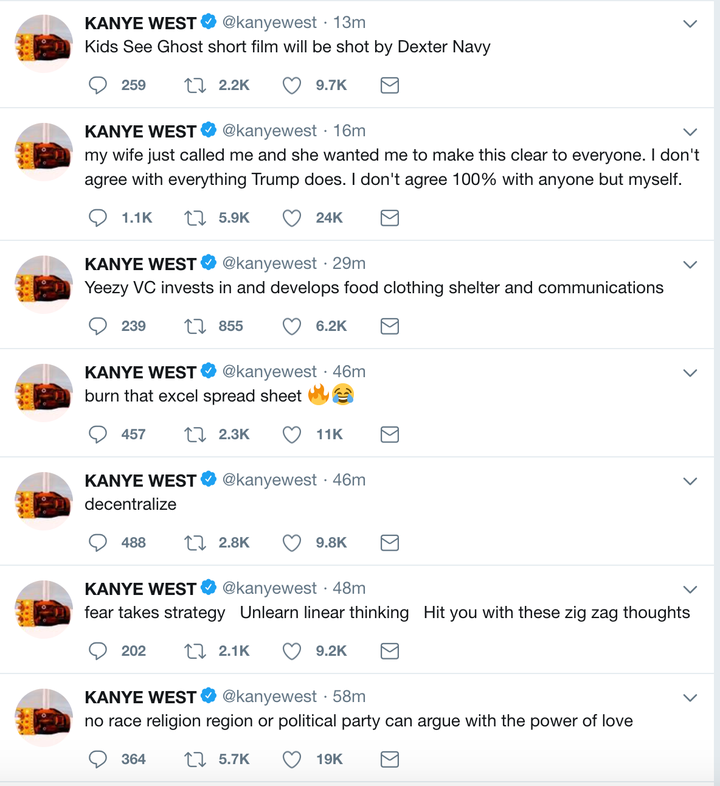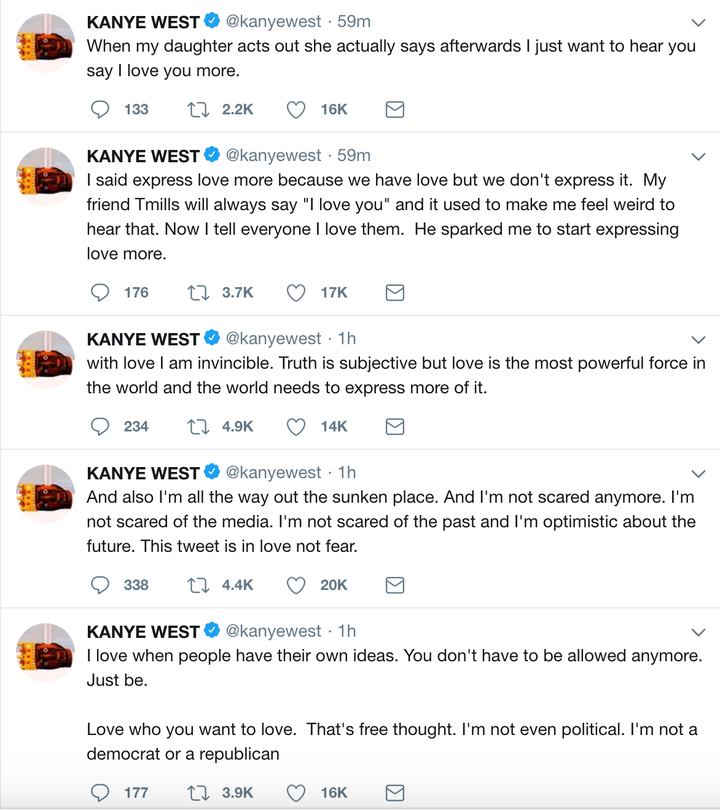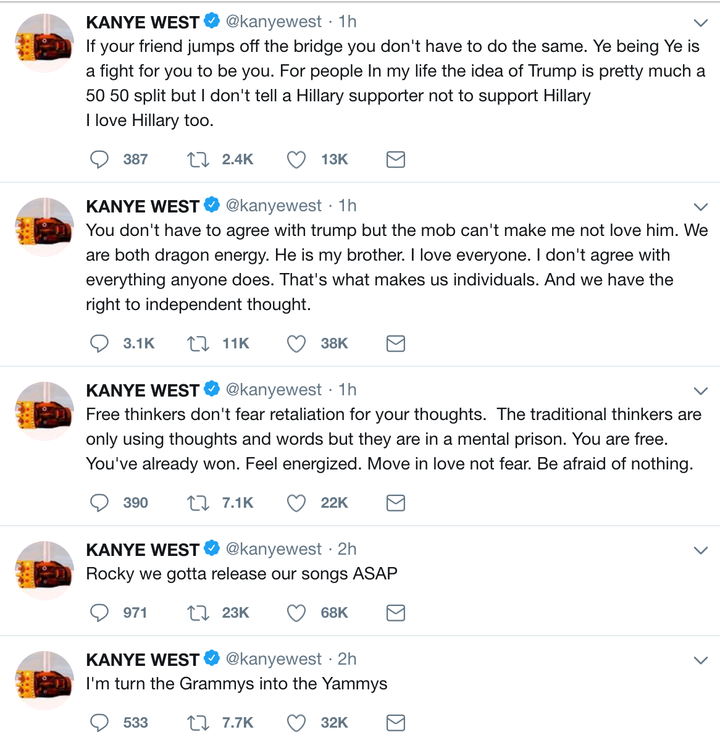 Last week, the "Famous" singer came back to Twitter after a long hiatus to announce new music with Kid Cudi, Nas and his G.O.O.D. Music labelmates. Since then, he's been sporadically sharing wisdom, snapshots of his upcoming Yeezy season, snapshots of his home, and his thoughts on Trump and Hillary Clinton.
Arguably the most alarming thing West has shared in the last few days has included recommendations to listen to right-wing activist Candace Owens and snippets of a 22-minute video by Scott Adams, the cartoonist behind "Dilbert" and an "alt-right hero" who has previously shared dismissive views about women.
This last behavior by West even prompted a tweet of support from InfoWars' Alex Jones.
Kardashian West has responded playfully to many of her huband's tweets, but hasn't commented on anything said about alt-right-affiliated figures. She also hasn't indicated whether or not she found her husband's effort to clarify his views sufficient.
However, she did respond to the media's reactions to West's tweets and fiercely defended his expressiveness:
As Kardashian West notes, there has been speculation that mental health issues were behind her husband's recent tweets. West was hospitalized in November 2016, reportedly for exhaustion and dehydration. According to TMZ, he was also battling depression and paranoia.
Fans and Twitter users alike have long tried to deduce what West's odd Twitter habits really mean. Some have even wondered if the musician is preparing to set his sights on the presidency. Thus far, there is no clear-cut reason, but perhaps The New Yorker summed it up the best:
Perhaps what we're actually learning is something we already knew: that people are complex and inconsistent.
This story has been updated to include Trump and Kardashian West's tweets.