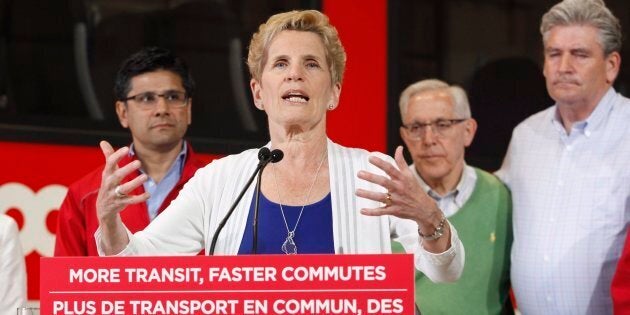 Ontario Liberal Leader Kathleen Wynne says that most people in her province "won't feel" a Tory promise to lower gas prices 10 cents per litre because of fluctuating global circumstances.
Wynne made the remark in Ottawa Thursday when asked about PC Leader Doug Ford's pledge to drivers that he says are "gouged" at the pumps.
Ford said he'd cut the provincial gas tax, currently 14.7 cents per litre for gasoline and 14.3 cents for diesel, to nine cents. An additional 4.3 cents per litre would be removed, Tories say, by scrapping the province's cap-and-trade program.
While taking both steps would remove billions in dollars from the province's coffers each year, Ford did not explain how he would recoup the lost revenue. He has not yet released a costed platform.
On Thursday, Wynne warned that cutting the provincial gas tax will mean that work on much-needed transit projects will grind to a halt.
"There's a direct connection between the ability to invest in transit and transportation and the gas tax," Wynne said. "That's a reality. That's where that money goes.
"I know (Ford's) saying that he'll take 10 cents out. We know that most people won't feel that. Won't feel that."
Ontario municipalities currently receive two cents per litre from the gas tax to be spent on transit, with that number expected to rise to four cents by 2021. Tories also promise to honour those commitments.
Wynne discusses the issue with reporters around the 10:45 mark in the video below:
PCs have wasted no time clipping Wynne's remark for a short, social video claiming she "backs higher gas prices.
The video omits the Liberal leader explaining the link between the gas tax and transit.
"The reality is that the prices fluctuate, the prices vacillate wildly. What he's doing is putting at risk transit projects that people need everyday in their lives that are long overdue," she said
When pressed by a reporter if she thought drivers wouldn't feel a difference between $1.27 per litre versus $1.37, Wynne suggested the promised break for drivers would be out of Ford's hands.
"I'm saying that there are global forces that are forcing gas prices up," she said. "And he's suggesting that taking money out of the gas tax to stop building transit projects is a good idea. I'm saying that's a really short-sighted, bad idea."
Some industry experts told The Canadian Press Wednesday that the rising price of crude oil could mean Ontario drivers won't feel much of a change if Ford carries through with the tax cut.
"It would be passed along eventually but consumers may not notice because gasoline prices tend to be very volatile and driven by short-term fluctuations that come from the price of crude oil as well as the pricing effects from the refineries," UBC economics professor Werner Antweiler said.
Ontario voters head to the polls on June 7.
With files from The Canadian Press