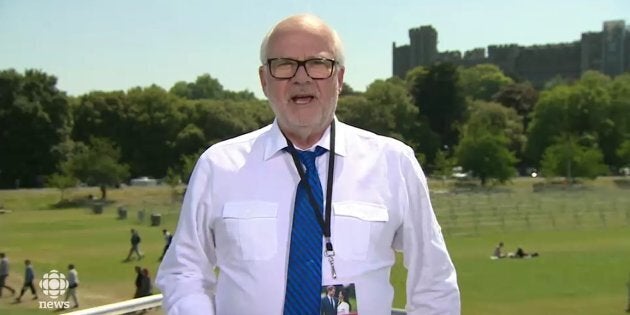 Meghan Markle and Prince Harry have officially tied the knot, and while some Canadians surely have royal wedding fatigue, one of the country's foremost storytellers believes this "story about love" is a great reason for the nation to come together.
During CBC's broadcast of the nuptials, semi-retired broadcaster Peter Mansbridge took the time to speak directly to the camera about why covering the royal wedding is newsworthy in terms of both time and money.
"Every once in a while, you want to show that there's more to our world than all the horrible things that happen," said Mansbridge, dividing his attention between the audience and The National co-anchor Adrienne Arsenault.
"It's a story about royalty and celebrity, and it was nice to watch, and it was nice to check out of the horrible things we see and cover so much of our lives, and to realize that nice things happen too."
One of these nice things also includes Mansbridge's return to TV — this time with a beard.
He made sure to stress the day's feel-good significance and place in history for his co-host and those at home.
"Here's why it's important, and especially important for you [Adrienne]. This is a person, this is a journalist who has covered some of the worst things we've seen in our world in the last 20 years. And you have those images burned into your mind and your soul, and you've tried to help us through by telling these stories. And they're an important part of what we do as journalists. But you know, they're not the only things that happen in this world."
"Fairy tales, well, you know, they may never come true or they may almost never come true," Mansbridge continued. "But it's nice to believe in them for a day."
At the end of their broadcast, Arsenault only had one way to thank Mansbridge for his remarks — with a heartfelt tweet.
Arsenault was one of many who showed their appreciation for what Mansbridge had to say, as his name became a trending topic throughout the network's coverage by virtue of what he shared or perhaps just because people were happy to see him back on television.
"Enjoy the weekend, it's a holiday weekend back home," said Mansbridge, referring to the Victoria Day holiday. "You know, make sure you get out and enjoy it, and I'm glad you caught this bit of history, because this was history."
"I'm Peter Mansbridge in Windsor, so long for now."
Watch the full video of Mansbridge's remarks about the royal wedding below.