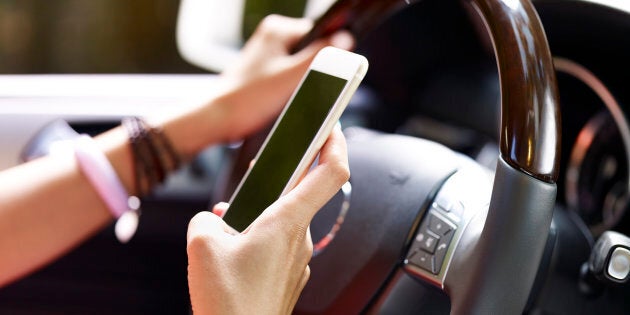 Anyone who has received one of the new Alert Ready emergency messages on your cellphone while the ringer was on will know they're hard to ignore.
But what if you're driving and forgot to turn your phone to silent, or it's not mounted in a bracket? The alert could indicate an looming natural disaster. Is it so wrong if you pick it up and check?
Holding or using your phone while behind the wheel is against the law in most parts of Canada, except in a few circumstances where it is used for GPS and is properly secured in the car and not blocking the driver's view.
But according to two legal professionals in B.C. and Ontario, checking an emergency alert could fall under an exemption in provincial traffic laws that allows drivers to contact emergency services.
"That would be the immediate thing I would think of as a defence," Toronto paralegal Frank Alfano, who fights traffic tickets, told HuffPost Canada.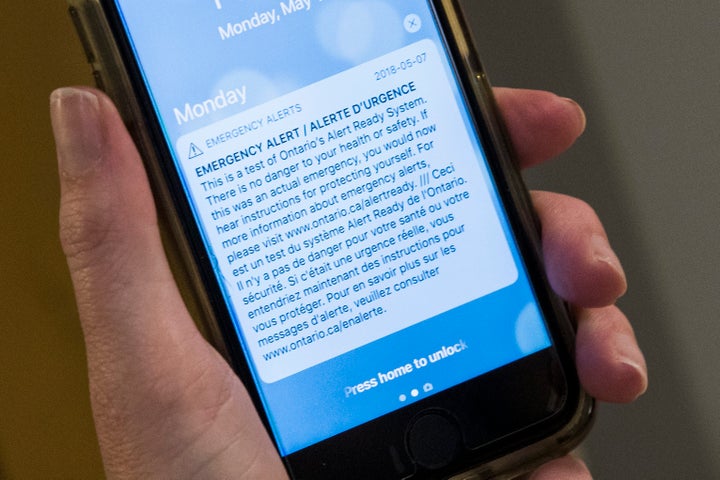 "Because it's not a message that would come from a friend or anyone else, it literally comes from a service that the government has initiated, and it's supposed to be reserved only for emergencies."
But he said he thinks it would depend on the nature of the alert — an Amber Alert for a missing child might not be seen the same way as a warning about imminent flooding, for example.
"I think it should be a successful defence, it hasn't been tested yet, and so it should result in acquittal, but I can imagine a prosecutor saying, 'well, no one understood the nature of the emergency, the emergency wasn't imminent.''
Ontario's Highway Traffic Act, as does legislation in all parts of Canada, save for the territories and Quebec, states that the ban on distracted driving doesn't apply if a driver uses their phone to contact emergency services, like police, fire services or an ambulance.
It absolutely is uncharted territory.B.C. lawyer Sarah E. Leamon
But a court has interpreted that exemption to include other, less direct ways of getting help.
In 2010, a woman in the Toronto area was driving when she started feeling sick, a symptom she associated with a serious, pre-existing heart condition. She used the cellphone to call her mother, partly to tell her how she was feeling and to ask her to call the doctor because she didn't know the number.
York Regional Police pulled her over and charged her with distracted driving. A justice of the peace later ruled that her situation constituted an exemption to the law.
A criminal lawyer in B.C. told HuffPost Canada she would also argue that checking an emergency alert constitutes an exemption. But Sarah Leamon said she doesn't know if that defence would succeed in court, because in this case, the driver is being contacted about an emergency instead of the other way around.
"There's going to be a lot for the courts to interpret in the future, because this is all new technology," she told HuffPost Canada.
"It absolutely is uncharted territory."
Pelmorex, which helped develop the Alert Ready technology, stresses that people should stay calm and pull over at their earliest opportunity to view the alert.
Liability of company, government also a possibility
Another lawyer made headlines a couple of weeks ago when he told The Canadian Press that it was possible that people who text those they know are driving could be liable if the driver got into an accident.
But Leamon doesn't think the parties who are involved with sending out the emergency alerts, including Pelmorex, governments and wireless providers, could be held responsible if one of the messages distracted a driver and caused a crash, because they have no way of knowing what the recipient is doing.
"My gut instinct would say that they probably wouldn't be able to be held liable, it would be up to the individual user to respond appropriately given their circumstances and where they are," she said.
...If they're overriding features of a phone and causing this alert to happen, then they're literally the causal link between the distraction and what caused it.Frank Alfano
But Alfano said he could see it happening.
"The [party] has got a duty of care to administer this system in a safe fashion, so if they're overriding features of a phone and causing this alert to happen, then they're literally the causal link between the distraction and what caused it," he said.
The Alert Ready messages are set to play at the volume of your phone, so if it's set to silent, no sound should accompany them, according to Pelmorex.
"However, this behaviour can differ depending on your wireless device and in some instances the alert sound may override your user settings," the website says.