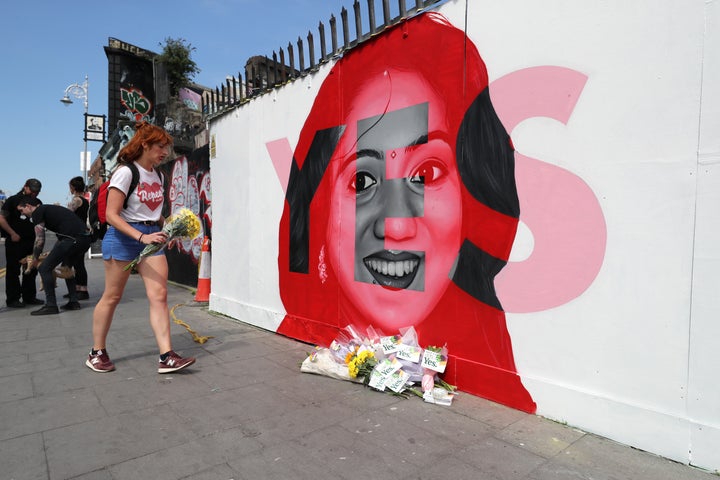 Ireland's historic referendum on liberalising its abortion laws is on course to be a landslide for the 'Yes' campaign, according to two exit polls.
Voting ended at 10pm, and minutes later the Irish Times published an exit poll projecting that 'Yes' was on course to get 68 per cent of the vote, and 'No' just 32 per cent.
An hour later, an exit poll conducted on behalf of Ireland's national broadcaster, RTE, also suggested victory for those campaigning to reform the state's abortion laws, with 69.4 per cent voting in favour.
A final result anywhere close to those would see the repeal of the Eighth Amendment of the state's constitution - which prohibits terminations unless a mother's life is in danger - pass convincingly.
Counting does not begin until Saturday morning, with the official result expected later in the day.
Four thousand voters were interviewed by Ipsos/MRBI for the Irish Times as they left polling stations on Friday.
Sampling began at 7am and was conducted at 160 locations across every constituency throughout the day. The margin of error is estimated at +/- 1.5 per cent, the newspaper said.
The Irish Times poll suggested a huge difference in the views held by young and old voters.
According to the paper, 87 per cent of people aged 18 to 24 voted Yes, while 83 per cent of those aged 25 to 34 also voted to repeal.
In stark contrast, the over 65 age group voted No – by 60 per cent to 40 per cent.
The Behaviour & Attitudes poll for RTE surveyed 3,800 people at 175 polling stations across the country.
With a margin of error of +/- 1.6 per cent, 69.4 per cent voted to repeal the contentious Eighth Amendment of the constitution while 30.6 per cent voted No.
Soon after the second exit poll came out, Taoiseach Leo Varadkar, who supported the campaign to liberalise Ireland's abortion laws, said: "It's looking like we will make history tomorrow."
He tweeted: "Thank you to everyone who voted today. Democracy in action."
At the headquarters for the official campaign for 'Yes', Together For Yes, there was "barely a dry eye".
Ireland's deputy premier, Simon Coveney, another Yes campaigner, tweeted: "Thank you to everybody who voted today – democracy can be so powerful on days like today – looks like a stunning result that will bring about a fundamental change for the better. Proud to be Irish tonight. Thank u to all at @Together4yes"
Senator Catherine Noone, chairwoman of an Oireachtas committee which recommended the abortion law changes, tweeted: "I'm feeling very emotional tonight – we are a great, compassionate people. So proud of us! #8thref #repealthe8th"
UK Minister for Women and Equalities Penny Mordaunt said it was a "historic & great day for Ireland, & a hopeful one for Northern Ireland".
She tweeted: "That hope must be met. #HomeToVote stories are a powerful and moving testimony as to why this had to happen and that understanding & empathy exists between generations. #trustwomen"
A breakdown of the Irish Times poll suggested 'Yes' was set for victory by most measures.
Scotland's First Minister Nicola Sturgeon tweeted that the exit poll projected 68 per cent had voted to repeal the Eighth Amendment, adding: "Hope this is right. #RepealThe8th"
Earlier Varadkar, a proponent of liberalising Ireland's strict abortion regime, predicted a high turnout would be good for those campaigning for change.
Thousands of Irish citizens living overseas have travelled home in droves to exercise their democratic right on the emotive issue.
Ireland's president and political leaders were among 3 million people expected to vote, with 6,500 polling stations open across the country.
The specific question people were asked was whether they wanted to see the Eighth Amendment replaced with wording in the constitution that would hand politicians the responsibility to set future laws on abortion, unhindered by constitutional strictures.
If the Yes vote is confirmed, the Irish Government intends to legislate by the end of the year to make it relatively easy for a woman to obtain the procedure in early pregnancy.
Ministers have promised to allow terminations within the first 12 weeks, subject to medical advice and a cooling-off period, and between 12 and 24 weeks in exceptional circumstances.