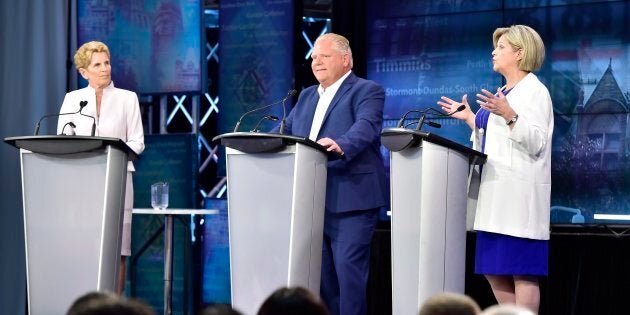 The final televised debate of the Ontario election campaign showcased an NDP leader on the offensive, a Progressive Conservative leader sticking to his game plan, and a Liberal leader energetically defending her record.
With polls suggesting the contest could be down to Doug Ford's PCs and Andrea Horwath's NDP, it was Liberal Leader Kathleen Wynne, the current premier of Canada's largest province, who had the first attention-grabbing moment at the event in Toronto Sunday night.
"Here's what I want to say about the last five years: sorry, not sorry," Wynne said in her opening remarks. "I'm really, genuinely sorry that more people don't like me but I am not sorry about all of the things that we are doing in Ontario to make life better."
Wynne touted how her government has, among other things, boosted the minimum wage and brought in free tuition for 235,000 university and college students. The moment — and a new ad released by Ontario Liberals that also acknowledges her personal unpopularity — suggested that if Wynne is going down, she is not going quietly.
The debate featured a number of other memorable moments (and a crowd that moderators seemed to have trouble keeping quiet):
Ford, Horwath scrap over numbers and plans
Ford spent most of the debate hammering away at Horwath's NDP as unprepared to govern. The Tory leader charged early that the NDP made "a $7-billion mistake" in their platform that throws the whole plan out the window.
"The NDP can't do math, obviously. And the Liberals are cooking the books," he said.
Horwath acknowledged last week that the party made a $1.4-billion costing error in the platform. Both Liberals and Tories say the mistake adds $7 billion to the NDP's estimated deficits.
Yet when Ford said the PCs "don't make mistakes in our budget," Horwath was quick to note that he hasn't even released a costed platform that will allow voters to evaluate how the Tories would spend money and where they might cut back. With advance polls already open, Horwath accused Ford of disrespecting Ontarians.
"We did admit that there was a mistake and we fixed it right away, it's nowhere near what Mr. Ford is talking about but there you go," Horwath said. "Inflating of numbers when we haven't even seen any numbers from Mr. Ford."
"If you had a plan, you would share it with the people of Ontario," Wynne told Ford at one point.
Ford, a former Toronto city councillor, also claimed more than once during the debate that he saved taxpayers in the city more than $1 billion. The claim, which dates back to former Toronto mayor Rob Ford in 2013, has been debunked by The Toronto Star.
Ford brings up Hitler meme controversy during #MeToo question
It's unsurprising that the PC leader was in a hurry to bring up a recent NDP campaign controversy. Toronto NDP candidate Tasleem Riaz has had to explain why a meme featuring Adolf Hitler appeared on her Facebook page years ago. Riaz said she doesn't know how the image was shared on her account and is devastated that it did.
Yet, in a curious turn, Ford opted to reference the controversy after each party leader was asked how they will tackle power imbalances at the root of sexual misconduct allegations that have rocked Canadian politics.
The Tory leader suggested that having a diverse slate of candidates was the answer, saying his team had the "best candidates" he'd ever seen. In contrast, he charged, the NDP was full of "radical" activists.
"Absolutely radical activists that get their inspiration from Adolf Hitler," Ford said, a quip that angered Horwath.
Ford did say that he would have zero tolerance for any PC MPPs behaving inappropriately, but his Hitler swipe drew a response from the NDP leader.
Horwath said that any memes featuring the Nazi leader are "absolutely abhorrent." She also suggested Ford's "tabloid mudslinging" against her candidates was rich given the questions over whether allegedly stolen 407 ETR customer data was used by some PC candidates in their nomination races.
Ford also repeatedly raised the ghost of Bob Rae, the first and only NDP premier of Ontario who served from 1990-1995. Ford noted that hundreds of thousands of jobs were lost in that time, but did not acknowledge the NDP took over ahead of a recession.
As she has said on the trail, Horwath said she was "no Bob Rae."
However, Wynne provided a bit of an assist when Ford asked viewers to go to their employer on Monday and "ask him one question from Doug Ford: what would happen to my job, God forbid, if the NDP ever got in?"
"What would happen to your school under a Doug Ford government?" asked Wynne. "What would happen to your hospital under a Doug Ford government? And what would happen to every service you depend on under a Doug Ford government?"
Wynne also worked in a question while criticizing Ford's child care plan.
"Have you ever been to a daycare?" she asked.
Watch that clip from CBC News:
Wynne says NDP 'beholden' to public sector unions
In another spirited moment, the Liberal leader also warned that an Ontario led by the NDP would either be "permanently on strike" or see the government spending big to keep public sector unions happy.
Wynne was targeting how Horwath said she could not envision using back-to-work legislation, as Liberals did last year to end a five-week strike by college faculty. Wynne said that public sector unions would know that a Horwath government won't say no.
"They can go on strike until they get absolutely everything that they've asked for," Wynne said.
Watch a clip of the exchange from Global News:
The NDP leader said she would work to prevent those kinds of labour disputes in the first place and accused Wynne of not truly believing in collective bargaining.
"You're beholden to the unions on this, I get that," Wynne said.
"That's really sad," Horwath replied.
'I get it, ladies' versus 'you're catching on'
Party war rooms were paying close attention to the way Ford expressed himself on stage with two female leaders.
On Sunday, Ontario Liberals pounced on Ford's use of the word "ladies" to describe Wynne and Horwath as the leaders told him, in an apparent moment of confusion, that it was his turn to weigh in on a topic.
"I get it, I get it, ladies," Ford said with a smile.
The Liberals wasted no time releasing a graphic on social media accusing Ford of showing his "sexist stripes."
Yet, PC spokeswoman Melissa Lantsman also took to Twitter to complain about a jab Horwath gave Ford shortly after the "ladies" remark. The moment happened when Horwath was tapped to ask a question of the leaders and chose Ford.
"I wouldn't expect any different," Ford said.
"That's good. You're catching on," Horwath responded.
Lantsman tweeted that the "public would lose their minds," if Ford had said something similar on stage.
Ontario voters head to the polls on June 7.
With files from The Canadian Press