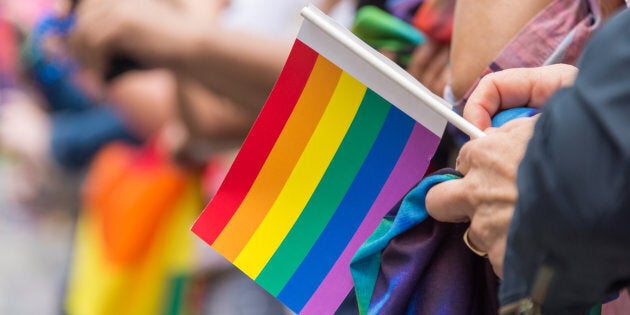 UPDATE: HuffPost Canada spoke to No Big Deal founder Lee Airton about the impact of their campaign.
"A common response that I hear or see is relief, as if people want to support and welcome transgender people into their lives and spaces, but weren't sure what to do or how to go about it," they said in an email.
The campaign has also had a positive effect on transgender and non-binary people.
"Our infographics offer ways to speak back to a lot of the erroneous arguments that trans people hear, particularly non-binary people, when we come out about our pronouns. When you aren't sure how to speak back, it can be hard to take a chance and get your needs met by others," they explained. "Also, the campaign affects trans people by making visible the support that is already out there for us and our pronouns, but that we can't always see."
Airton added that the campaign's resources and materials have helped parents and partners of trans people educate others by "offering a starting place to show and act on the support that they feel."
The No Big Deal (NBD) campaign aims to create a safe space for trans and gender non-conforming people by showing them: "I'll use your pronoun. It's no big deal."
The initiative encourages people to print, share, and post its slogan with the hashtag #nbdcampaign to not only show respect to this group of people, but also acceptance of who they are.
"It can make a world of difference when the correct pronoun is used, and when others begin to catch their own mistakes, say sorry, and just move on," NBD's website explains.
But more than that, Airton was inspired to start the campaign because of their own experience.
"What inspired me to create NBD were all of the people in my everyday life who just use my pronoun," the gender and sexuality studies professor explained in a new promo clip for the campaign. "It isn't a debate, they aren't necessarily experts on transgender people and issues, they might worry about making a mistake, but they try anyway."
"I just wanted to honour the intention and the effort that lots of people put in to just do this every day for transgender folks whose pronouns aren't necessarily familiar or obvious."
Airton briefly noted in the video that they have received positive responses in regards to the campaign. A quick look at social media proves this.
HuffPost Canada has reached out to Airton for further comment.
In June 2017, Canada's federal government passed Bill C-16 to extend legal protection to transgender and non-binary people.
"The purpose of this legislation is to ensure that everyone can live according to their gender identity and express their gender as they choose. It will protect people from discrimination, hate propaganda and hate crimes," the Honourable Jody Wilson-Raybould, attorney general of Canada, said in a statement at the time.
In 2016, Ryan Dyck, the director of research, policy, and development at advocacy group Egale, told Global News: "We know trans people are one of the most targeted groups. And they experience violence at a much higher rate than other people."
Trans youth in Canada are particularly affected. According to results from a 2017 University of B.C. survey, two-thirds of 923 trans youth aged 14 to 25 had experienced discrimination due to their gender identity, while 70 per cent had experienced sexual harassment.