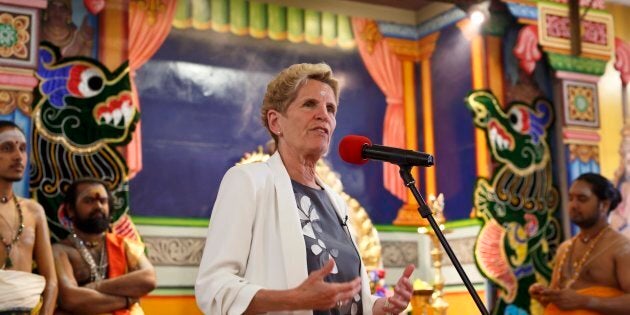 Days after a stunning admission that her time as Ontario's premier is almost over, Kathleen Wynne says she doesn't regret not quitting a year ago.
Wynne conceded Saturday that Ontario Liberals are going to lose government this week but urged voters to support enough local Liberal candidates to prevent a Progressive Conservative or NDP majority.
The unusual pitch was seen by some as a selfless move to help Liberal candidates anchored to an unpopular government, while others have likened it to abandoning ship.
Wynne shed more light on her decision in an interview with CBC's "Metro Morning" Monday. She said the fact that she did not receive a polling bump after the final leaders' debate confirmed that she needed to be honest about her prospects.
"I needed to get myself out of the way because people want to vote for their local candidates," she said. "I was getting in the way of that and I needed to remove myself."
But host Matt Galloway pressed Wynne on why she did not step down sooner, a move that would have paved the way for another Liberal premier to lead the party into the election. Liberals have been in power in Ontario for nearly 15 years.
Wynne said she doesn't feel remorse about her decision to stay on.
"I really believed that, a year ago, we had the plan that was going to allow us to form government again," she said.
"Knowing where you are now and knowing where this party is, which in some ways is facing what some people would say oblivion, do you regret not stepping aside a year ago?" Galloway asked.
"You can't know, in a particular moment, what you can't know. A year is a very long time in politics," Wynne said.
The Liberal leader also rejected the notion that she has thrown in the towel or betrayed those who opted to run under her party banner. Wynne said she told her candidates that this is going to help them when voters cast their ballots Thursday.
Wynne argued on the campaign trail that Horwath's admission that she could not envision using back-to-work legislation to end strikes would either lead to a province "permanently on strike" or unions getting whatever they want.
The premier told Galloway she regrets what she called the untrue "interpretation" that she waged a war on organized labour, as the NDP has suggested. She also confirmed that she will stay on as a MPP if she is re-elected in her home Toronto riding of Don Valley West.
Horwath has blasted Wynne for, in her words, abandoning the fight against Ford. She accused the Liberal leader of playing a "dangerous game," hoping to still hold on to power at Queen's Park in a minority government.
Wynne's Liberals won a majority government in 2014 but opinion polls suggested her personal popularity declined soon after.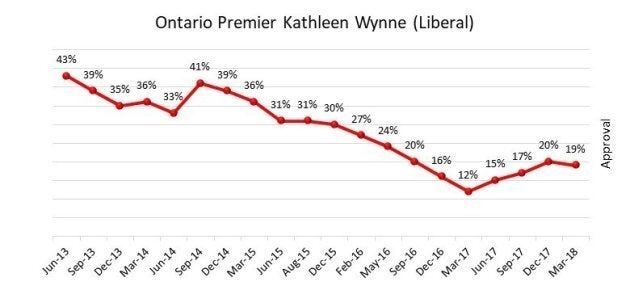 Around that time, former Ontario Liberal finance minister Greg Sorbara stated in an interview with TVO's Steve Paikin that it was time for Wynne to consider stepping down.
"The numbers do not lie and the ability to win the next election is in grave, grave doubt," Sorbara said at the time.
Ontario voters head to the polls Thursday.