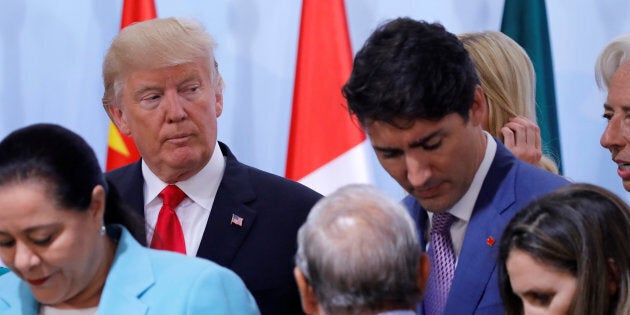 OTTAWA — Chrystia Freeland told reporters Wednesday that the prime minister and U.S. president have a "truly warm, personal relationship," despite reports Donald Trump invoked the War of 1812 during a recent call.
According to CNN, the two world leaders were discussing trade when Prime Minister Justin Trudeau asked for an explanation of how tariffs are considered a national security issue. Trump reportedly responded by saying, "Didn't you guys burn down the White House?" during the May 25 call.
Canada was not a country in 1812. It was a British colony. It's well documented that British troops torched the White House over 200 years ago.
The Trump administration announced its decision to impose a 25 per cent tariff on Canadian, Mexican and European Union aluminum and steel imports days later.
Watch: Tension Reportedly Builds Between Trump And Trudeau
The foreign affairs minister suggested the tense phone call doesn't reflect the nature of Trudeau and Trump's relationship. In French, she said the two are real friends.
"I have seen myself and many American officials and cabinet secretaries have confirmed to me that the prime minister and the president have a truly warm, personal relationship — and that's a good thing," Freeland said.
The Prime Minsiter's Office declined to comment on "details of their private conversations."
Trump administration's actions called 'illegal'
Last week, Canada proposed retaliatory tariffs effective July 1 on American imports, adding a 25 per cent tariff on aluminum and steel imports from the states.
A second set is aimed at adding a 10 per cent tariff on select American-made products including orange juice, peanut butter, lawn mowers and chocolate. The shortlist is designed to add political pressure on U.S. swing state districts with economies dependent on the export of goods to Canada.
Trump's surprise tariffs forced Canadian officials to adopt more blunt language while NAFTA talks between the U.S., Canada and Mexico continue.
Both Trudeau and Freeland have appeared on major American television networks in the past week to criticize the U.S. tariffs as "unacceptable" and "illegal."
With the G7 Summit set to begin Friday in Charlevoix, Que., Freeland also responded to reports that the U.S. is planning a new round of economic penalties against Canada.
She dismissed the speculation, saying she was in Washington earlier this week and hasn't received any formal or informal notice that the Americans are planning additional tariffs.
"We have heard nothing," she said. "Canada believes in hoping for the best and preparing for the worst. And we are absolutely prepared for really everything."