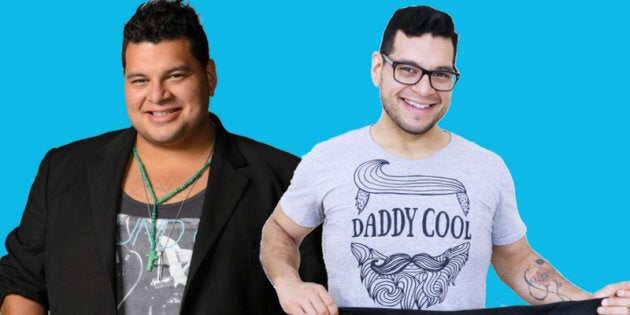 HuffPost Canada's Lost It series chronicles the stories of everyday Canadians who have struggled with their weight — and won. We talk to people about what they eat, how they exercise and generally, what their healthy lifestyle is to maintain their weight now that they've lost it.
The story:
I grew up big. I was always told by my mum to eat everything that was on my plate — even though it was adult-sized portions. Food is delicious!
The weight gain crept up on me. I had a bad break up in high school and I turned to food for comfort. Then I continued to turn to food when I had a bad day at work, when I was bored, when I just wanted to feel something. I was in massive denial about my state of happiness and contentment with my life.
I tried everything in the 10 years I spent yo-yo dieting: meal replacement shakes, low calorie diets, low fat, low carb, meals delivered to my door, Weight Watchers, Jenny Craig and Tony Ferguson. I was desperate to change, especially when I finally faced the scale and saw that I weighed 354 pounds. I had massively let myself down.
The final straw:
I was sitting in the doctor's office for a routine checkup and he told me that my blood pressure was through the roof. He told me that if I didn't change my bad habits I wouldn't live to see my kids' kids. That was my big wake-up call.
He suggested I have lap-band surgery to control my weight, but the prospect of surgery and all the complications that come with it scared me. I didn't want to give power to my condition by accepting surgery. Something in me said I had to fight for this naturally.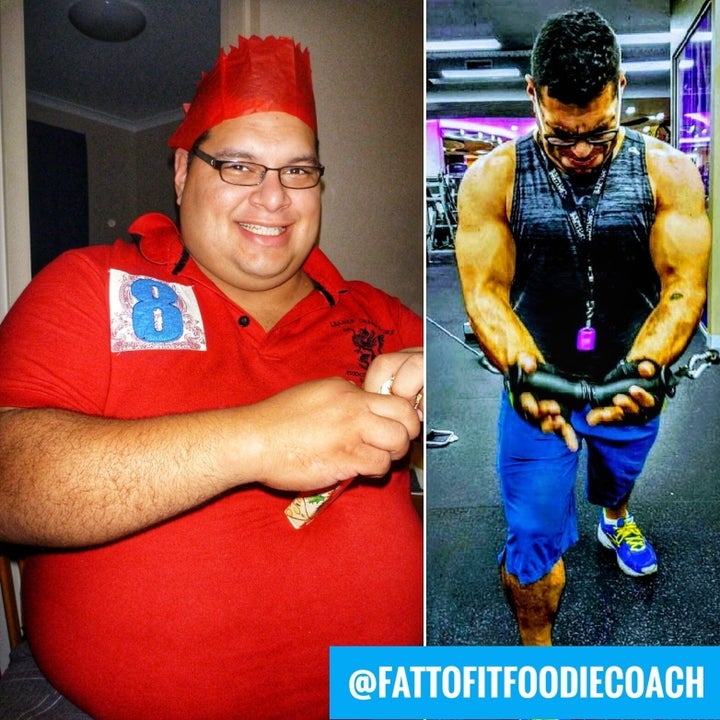 The plan of attack:
I started researching food, nutrition, exercise and the human body. What was it that my body actually needed?
It's easy to be duped by marketing tactics, like all the low fat, zero-calorie labels, but that only contributes to temporary weight loss, meaning that the yo-yo spiral continues. There is a huge difference between temporary weight loss and permanent weight loss.
The inspiration:
Arnold Schwarzenegger was one of my biggest fitness inspirations. I watched a video where he was passionately obsessed with lifting and how he learnt to embrace the pain. So I took his philosophies with me into the gym with each work out and I had to become a completely different person, from someone who was lazy and made excuses to someone who took control of his own destiny.
The hardest adjustment:
I remember sitting there, looking at my gigantic portion sizes which I needed to eat to lose weight. Every time I tried dieting it was salads and starving. Now I had to shift to eating lots of whole food — past the point of being full.
I had an existential moment where the very thing that led to my self-destruction was the only thing that could save me. I remember barely being able to breathe to eat the portions required. That was a crazy moment for me.
The food element:
I started eating whole foods and I stopped relying on fast foods or heavily processed meals. I stopped being lazy and used the mindset, "I'd rather die of starvation than put food in my body that would kill me." I took accountability. I turned to tacos as my go-to meal when I was time poor and pre-cooked chicken from the supermarket with a corn tortilla, some lime juice and yogurt.
My mantra is, "Eat more and exercise less" but you have to focus on quality. You need to know how much you're fuelling your body, just like when you fill up your car with petrol and go on a road trip. If you don't monitor the metre, then the car breaks down.
Check out more inspiring people: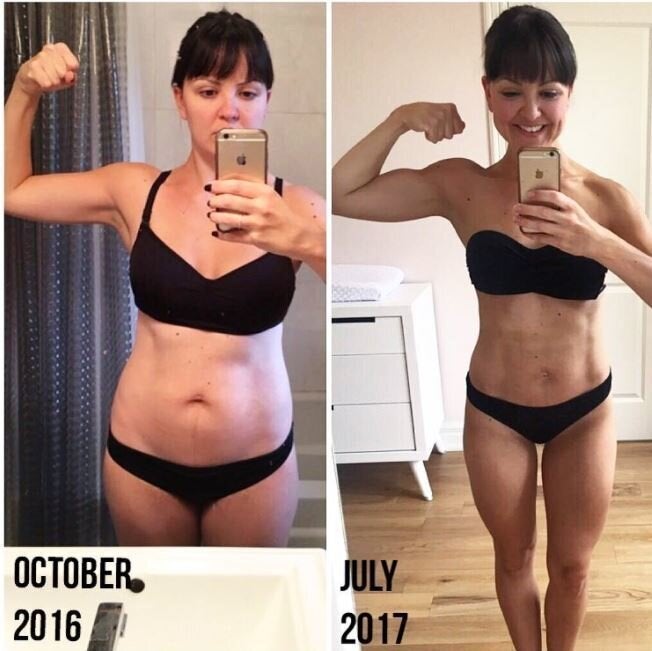 Inspiring Lifestyle Success Stories
I cut out things like chocolate bars, candy, chips, and crackers. I also cut out processed foods because they are calorie dense without the nutritional value so your body stores most of it as fat. These foods also damage your ability for your brain to tell you that you are full.
I still have a problem with some types of food — I can eat forever so I just avoid them. So while I eat healthy most of the time, I still enjoy things like pizza and ice cream because I've focused on building a strong metabolism.
The exercise element:
I joined a gym and I remained consistent. I worked with a couple of personal trainers, but in my experience some trainers aren't educated on what a morbidly obese frame can and can't do.
I ended up slipping two disks in my spine due to improper technique with deadlifts that was never corrected by this trainer. I'm living with chronic pain because of it, but it doesn't stop me from working out and working on my health.
Before I decided to get healthy, my fitness level was horrible! I'd be huffing and puffing just from a walk up the stairs! I'd try to breathe quietly so that no one could hear me. Poor health has a detrimental effect on the overall quality of life, so that's why I like spreading my message. Life is just so much better when you're healthy.
Currently, I do high-intensity interval training (HIIT) and weight training. I work out six days a week, for 20- to 45-minute workouts. It's always changing. You have to constantly push yourself outside of your comfort zone and get slightly better every week.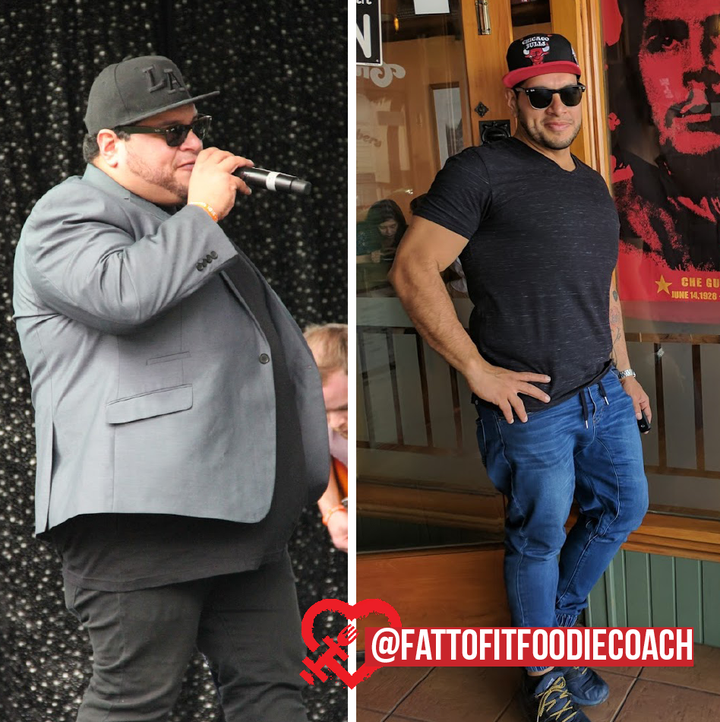 The day-to-day:
Currently I wake up at 5:30 a.m., eat a big and nutritious breakfast and then go to the gym. I have a smoothie (frozen banana, blueberries, some nuts, and protein powder) after my work out then get ready for the day.
I need at least seven hours of sleep a night. Sleep is necessary for peak performance. People think that by cutting out sleep they get more done but you are less productive during your awake hours due to fatigue.
What I'm most proud of:
Looking back, I'm most proud of the fact that I was able to do it without surgery. Weight loss is honestly a journey of personal growth. When you're obese, you kind of go to sleep in a way. You don't really see your own reflection in the mirror. You kind of look through yourself rather than at yourself.
I spent many times in front of the mirror asking myself who I wanted to become and if I was going to let anything stand in my way. Many people put all their weight back on after a diet and for me, knowing what I know and how I felt, that's a sad fact.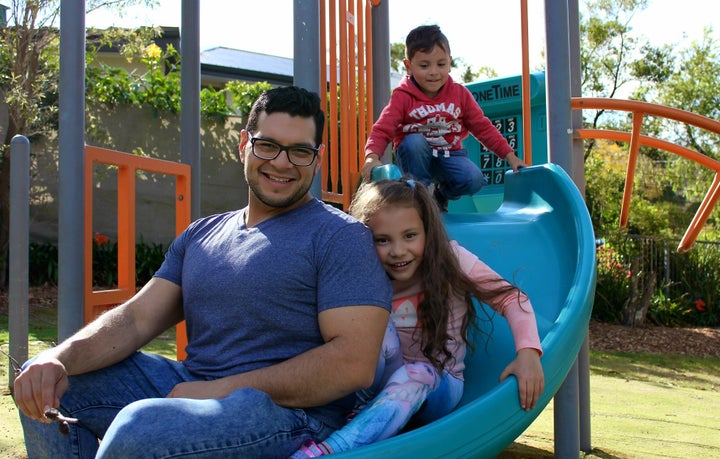 The regret:
I regret being asleep at the wheel of life for so long. The self-neglect has had detrimental effects on my health such as permanent back injury and lots of excess skin on my arms and stomach. It was hard to see my body changing. I believe that hardship develops character and I wouldn't be the person I am without going through all this hardship.
The advice:
My advice for people struggling with their weight is to stay away from temporary solutions. Ask yourself, can I continue this lifestyle forever? This means that low-carb foods, meal deliveries, weight loss shakes etc. don't work long term and in fact damage your metabolism, making you gain weight faster.
I actually have a free online class to help people that are struggling.
That people are horrible! One person wrote on a YouTube video of my performance, "Stupid Fat Family." I'd like to sit down for a cup of tea with that person and find out what makes them so bitter and resentful.
Other than that, I've learned that life is what you make it and "excuses" are a construct developed to protect someone's ego. Excuses are the reason people don't get anywhere in life.
That being said ...
I loved the whole "The Voice" experience and would go on it again. "The Voice" treats people with integrity unlike the other show that makes fun of people. All the people that went on my season are in a group together and we all chat from time to time. A wonderful, life changing experience that's for sure!
This interview has been edited and condensed for clarity.