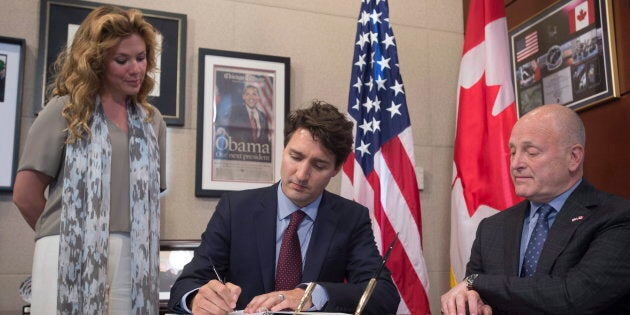 OTTAWA — Donald Trump is picking a fight with Justin Trudeau because he needs someone to blame for failing NAFTA talks, a former United States ambassador to Canada says.
Bruce Heyman, a former appointee of president Barack Obama, told HuffPost Canada on Monday that he believes this weekend's comments from the U.S. president and his senior advisers are part of an orchestrated campaign to move the goalpost on free trade talks.
The over-the-top remarks — from Trump's trade adviser Peter Navarro, who suggested on Fox News Sunday that there was a "special place in hell" for the prime minister, and from chief economic advisor Larry Kudlow, who told CNN that Trudeau had stabbed the president in the back by making him appear weak before his summit with North Korea's Kim Jong Un — came in between a series of angry tweets from Trump.
Trump, Navarro and Kudlow laid blame on Trudeau for telling reporters at the conclusion of the G7 that Canada would not be "pushed around" by the White House. Apparently upset by Trudeau's decision to retaliate with equivalent tariffs on steel and aluminum and on U.S. goods produced in key states, Trump suggested that on top of steel and aluminum, he would study tariffs on automobiles flooding the U.S. market.
Navarro also lashed out at Canada for what he warned would be "nothing short of an attack on our political system" as Canada raised prices on goods such as maple syrup.
"The Canadians are totally bungling our trade relationships and it is due to their leadership," Navarro declared.
"Take NAFTA for example. We'd have a deal, we'd have a great deal with NAFTA by now if the Canadians would spend more time at the bargaining table and less time lobbying Capitol Hill, and our press, and state governments here. They are just simply not playing fair. Dishonest, weak."
The Canadian government's trade strategy with the Trump administration has been to reach out to allies in state governments and in Congress, noting that millions of jobs depend on the bilateral trade that flows between the two countries.
Part of Canada's retaliatory measures include tariffs on goods produced in key farming states and potential swing states in an effort to encourage local representatives to lobby the White House on Canada's behalf. Canada is adding a 10 per cent tariff, for example, on whiskey from Kentucky, Senate Majority Leader Mitch McConnell's home state.
"They had constructed for a long time an argument that Mexico was bad, and that's why NAFTA wasn't going to work," Heyman said. "What [they] did this weekend is construct an argument that Canada is bad. Bad because of the prime minister and the way he treats us, and bad because of that dairy."
While Canada's supply management system is to blame for efforts to shut out cheaper U.S. products from flooding the market, the U.S. actually has a $333 million trade surplus with Canada on dairy and a $1.9 billion trade surplus in agriculture and agri-food.
"It is such an infinitely small portion of what we do together but that is not the point. You know what people are talking about in the United States in all my interviews? 'Hey! What about that dairy? 270 per cent?' [Trump] was so effective at what he did," Heyman said.
"He's a master at this media manipulation."
Heyman, who has dubbed himself "the-self-appointed-U.S.-ambassador-for-the- relationship-no-longer-representing-the-government," made the rounds on Canadian and American news shows Monday defending and explaining the bilateral relationship.
He demanded that Navarro formally and publicly apologize to Trudeau and the Canadian people for his "insulting and inappropriate remarks."
"I don't care who you are talking about, unless you are on the verge of some kind of military engagement or something, I don't think that's language that anyone would use with any friends at the bar," he explained.
Nicholas Burns, a former U.S. ambassador to NATO and George W. Bush appointee for Under Secretary of State for political affairs, echoed the comments, calling what Navarro had said "unacceptable."
"In any other Administration he would have apologized already or been fired," Burns tweeted.
On Tuesday, Navarro apologized.
Speaking at a Wall Street Journal conference in Washington, D.C., Navarro said his job over the weekend had been "to send a signal of strength."
"In conveying that message I used language that was inappropriate and basically lost the power of that message," he said, according to a report in Bloomberg. "I own that, that was my mistake, those were my words."
Kudlow suffered a mild heart attack Monday and the president tweeted he was recovering at the Walter Reed Medical Center
The Trump White House, according to Heyman, "is out of control."
"I've never seen anything like this. Then again, we've never had a president like this, where you wake up one day and you've literally gone hostile to your best friend and ally and you're doing a gaga media event with one of the world's most horrific dictators."
Trudeau is not only the leader of one of the most important developed nations in the world, but also the U.S.'s ally, and its largest, most effective trading partner — in a balanced way, Heyman noted.
It was to be disruptive — squeeze your friends and allies — and it was painful to watch.Bruce Heyman
The United States' top representative in Canada from 2014 to 2017, Heyman is currently serving as a special adviser to Canada 2020, a think tank with ties to the federal Liberals and the Prime Minister's Office.
He said he believes that Navarro's comments and those of Kudlow were part of an orchestrated campaign — "a setup" — to also ruin the G7.
"It was to be disruptive — squeeze your friends and allies — and it was painful to watch."
The U.S. embassy in Ottawa did not answer calls or a request for comment.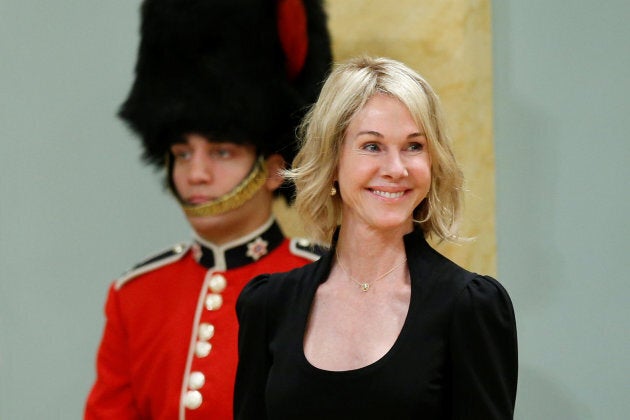 In a February speech at the Macdonald-Laurier Institute Canada-U.S. dinner, Trump's ambassador Kelly Craft said the U.S. has no relationship more special than with Canada.
She described it as siblings living next door: "affectionate, loyal ... maybe a little competitive."
"In the strongest — healthiest families — as siblings get older, they adapt to change by communicating clearly and being respectful," she said.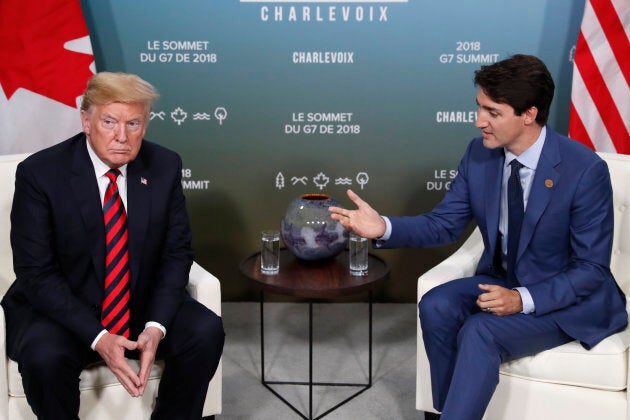 Trump and Trudeau were "first-term heads of government who are strong-willed and charismatic," Craft said, and noted that NAFTA discussions were sure to dominate with some "challenging moments" in the months ahead.
But she suggested that the relationship would remain "vibrant, co-operative and as respectful as ever, even when the signals coming from the media and thought leaders often suggest otherwise...
"When two siblings have a close relationship, built on a strong and trusting foundation, the success of one leads to the success of the other."
When Trump asked her to serve as U.S. ambassador, Craft said, he promised the job would be interesting and important.
"And yes, he does his part sometimes to keep it interesting," she said.