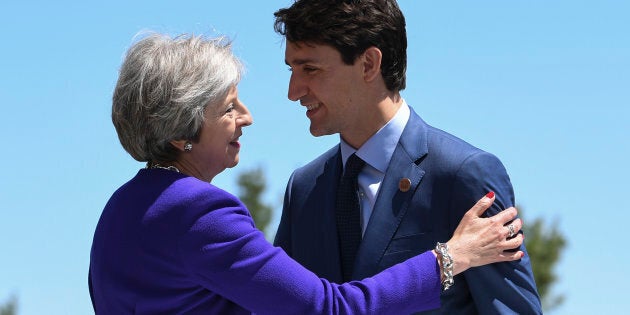 OTTAWA — A debate in the U.K. House of Commons was briefly interrupted with rollicking laughter Monday after Prime Minister Theresa May was asked: "Trudeau or Trump?"
The question was raised jokingly, and on the record, by senior Tory MP Crispin Blunt during a debate on whether the past week's G7 summit in Charlevoix was a success or failure.
"I'm not sure what activity he's asking me to undertake with either," quipped May.
In a effort to keep the laughs going, Speaker John Bercow picked on Crispin's grammar.
"If one were being really pedantic one would have to say that the honourable gentleman's question did not contain a main verb."
Labour MP Mary Creagh chimed in with a shorter one-liner: "It's certainly not 'Love Island,' is it Mr. Speaker?"
Eyes on U.S.-Canada relations
On this side of the Atlantic, the discord between Prime Minister Justin Trudeau and U.S. President Donald Trump has drawn significant attention on the future of U.S.-Canada relations.
After leaving the summit early on Saturday, Trump fired parting shots at Trudeau from Air Force One after the prime minister told reporters that Canada would not be "pushed around" on tariffs.
The following day, Trump's trade czar Peter Navarro made scathing comments about Trudeau during an appearance on Fox News.
"There is a special place in hell for any foreign leader that engages in bad-faith diplomacy with President Donald J. Trump, and then tries to stab him in the back on the way out the door," he said.
He explained to an audience at a Wall Street Journal event in Washington that he got caught up in his "mission" to convey a strong position and used "inappropriate" language and "basically lost the power of that message."
The audience did not laugh.
Watch: Trump Says Trudeau 'Probably Didn't Know' Air Force One has 20 Televisions