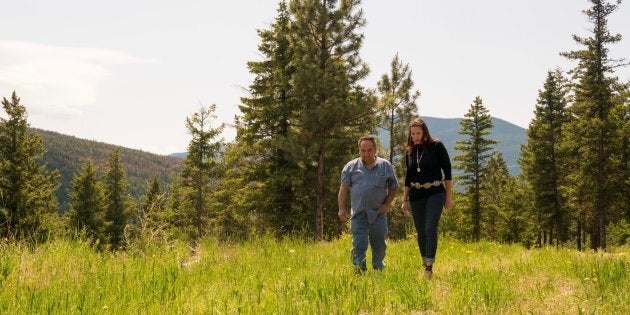 The dirt road leading to High Bar's reserve deep in the Fraser Canyon of B.C. is not for the faint heart. In seven sharp switchbacks, it catapults you from 1,400 metres above sea level down to 400. If your vehicle can handle it, the view down steep cliffs to the Fraser River is as staggering as it is heart-racing.
This reserve land was allocated to the community by the federal government in 1881. But in 1924, the government decided that the steep dry cliffs and the lack of access to water meant the reserve was in fact unlivable. The community has been trying to get land for their now 164 members to live on ever since.
"We haven't been able to live or occupy the land for over 125 years," says band manager Angie Kane.
The closest the nation has to a home is the white, two-storey house they renovated and re-purposed as their band office. The building and the 17 acres it sits on was bought from private landowners for $170,000 a few years ago, according to Kane. She says they had to borrow money to do it.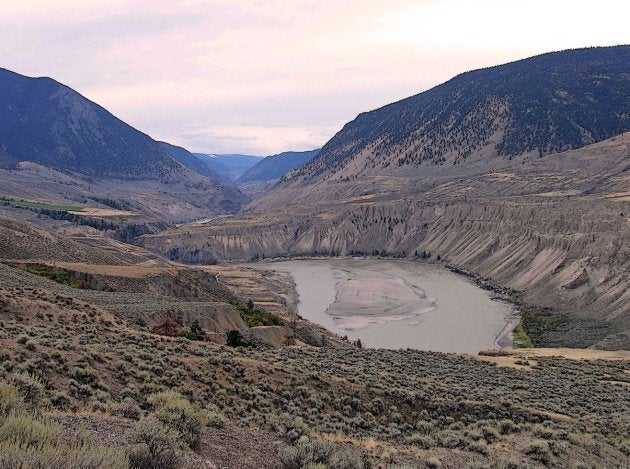 Without livable land, High Bar members have built their lives and homes across the province and beyond, as far as Alberta to the east and Washington to the south.
"Our members are scattered," says Kane. "So if a spill or disaster were to happen, how am I supposed to protect the wellbeing of my people?"
High Bar First Nation is an independent community within the broader Secwepemc nation, a traditionally self-governing people united by the Secwepemctsin language that continues to coordinate governance among 17 bands through associations and political alliances. The proposed Trans Mountain pipeline expansion goes through more than 500 kilometres of Secwepemc territory. That's almost half the total distance the project covers from Edmonton to B.C.'s south coast — making this territory and its communities the most heavily affected by the project.
No matter where that pipeline goes, they're still going to affect our members.Angie Kane
Technically, the pipeline does not cut through High Bar's land — the closest the pipeline comes to its traditional territory is about 50 km. Documents show the government determined that the impact to their lands and rights would be "negligible." But because they can't live on their land, their members are dispersed in areas that are directly impacted.
"No matter where that pipeline goes, they're still going to affect our members," says Kane. "Because we're unique we didn't fall within those guidelines ... we actually kind of fell through the cracks."
High Bar disagreed with the government's assessment. They hired a lawyer to try to force Kinder Morgan, the owner of the pipeline at the time, to consult with them in 2016, and the government awarded the band $13,000 later that year to cover the costs of attending meetings. But in the end, talks didn't go anywhere, says Kane. Their funding dried up, and the community decided it wasn't worth the fight.
"There's that huge disconnect between the utilization of the land, and letting people know what's happening with that land," she says.
According to Kane, they get roughly 70 referrals a year for access to their traditional lands from researchers, various industries and government — so they have other projects to worry about.
"I can only be in one place at one time, so it's kind of difficult to get to all of the meetings and things, and because they weren't willing to look at working with us, that I didn't feel the need to continue on trying to waste my time and my money and effort in trying to work with them," says Kane.
Now, Kane hopes the federal government's ownership of the pipeline can mend a broken relationship. After more than a century of being refused land, and refused meaningful consultation for projects that affect their members, Kane says members of High Bar First Nation are determined to rebuild their future.
Land and loss
High Bar elder Stewart Fletcher says they've always been known as "river people," who fished salmon in the western stretch of the Fraser River and herded cattle in the valleys between its steep canyons.
Their traditional territory is among the largest of the Secwepemc communities, stretching along the river in the Chilcotin region of B.C. They caught wild horses, broke them and sold them to earn a living when settler economies replaced traditional ones. "I tell people that our territory is bigger than some countries," says Stewart, with cedar trees in the east and grasslands to the west. "The only thing we don't have is ocean."
They were one of the largest bands in the central Secwepemc territory. With a rich bounty from the land supporting villages of up to 300 pit houses — hexagon-shaped structures built into the earth that housed multiple families.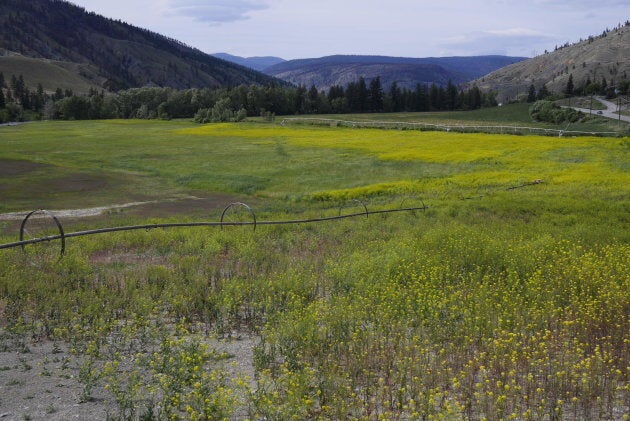 Between disease and displacement from the Gold Rush and other settlements, an estimated 90 per cent of High Bar's population was wiped out, according to Stewart's research. By the late 1970s, with the additional dispossession of Indian Act policies that stripped Indigenous mothers and children of their status if they could not confirm the Indigeneity of their father, the community dropped to just nine registered members.
Despite both parents' being First Nations, Stewart did not get his status until 1993, after discriminatory Indian Act policies were repealed. He's dedicated his life to piecing together his community's past through the records of European settlers like James Tait. But time is running out. "That's one of our problems is we have very few elders," Stewart says. "I'm turning 55 this year and they consider me an elder."
"There's only one person that's even lived at High Bar in her lifetime left now," he adds. "A good number of members haven't even seen the reserve."
A letter addressed to the government from an Indian agent in 1917 shows that after surveying the reserve, "it appears that the best available part of the land in this vicinity seems to have been left out of the reserve" and makes note of the very limited water supply. The letter also warns that "in a very short time they will be completely driven off their improved land which they are working."
There's only one person that's even lived at High Bar in her lifetime left now.Stewart Fletcher
When the government eventually deemed the land uninhabitable, Stewart says they were told that they wouldn't be given new reserve land because the government wasn't acquiring land for First Nations anymore. According to Stewart, ranchers and homesteaders "got all the best land out there."
So, without land on which to be together, traditional knowledge, culture and language were lost. "I can't even tell you the name of my reserve and my people, because I can't pronounce it," Stewart says. "One of our most important berries, a good number of our youth has never eaten them."
The struggle of living without land extends beyond culture and identity. Access to any kind of First Nations health, social and emergency supports revolve around reserve land.
"Without a land base, we don't really count because everything is based on the number of people living on reserve," says Stewart. Until recently, the chief and councillors of the First Nation didn't even draw a salary. Today, the band can afford to pay council between $300 and $600 a month, according to Kane.
Housing also presents a challenge. High Bar's chief, Larry Fletcher, has a home in the neighbouring village of Clinton. Like those of his relatives, it lies in complete disrepair. "There's no funding to support our elders for their homes, and upkeep and maintenance of their homes, because we can't access that because they're not on reserve," says Kane.
When asked what's being done to get High Bar First Nation land they can live on, Edith Pedneault, a representative from Indigenous Services Canada, said in an email they're "actively supporting High Bar First Nations Chief and Council in their application to create a new reserve through the Addition to Reserve process," adding it's in early stages.
'We're all connected'
Rebecca Spreng Fletcher, Stewart's cousin, is a vibrant, freckled mother of two. She says her kids love going to the reserve, but for them, it's just a place to visit. "They don't have the same ties that, say, my Dad does."
Standing in front of her aunt's home, with boarded up windows and an old Camaro in the yard, she says she wishes the elders they've lost got their wish to come home.
For now, she's learning a few words of the Secwepemctsín language alongside her kids at the local school in Clinton. "My hope for High Bar is, I want a community that we can live in that isn't just a reserve. I want a community that we can live that provides us with jobs, with healthy living."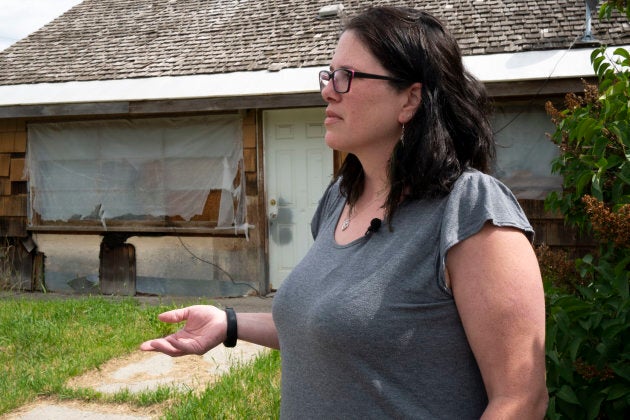 For band manager Angie Kane, she says she's proud to see Secwepemc community members working together in asserting their rights. Just last month, High Bar was among six bands that came together to orchestrate permitting for the rush of mushroom pickers to the area in search of the valuable morels that have sprung up following the unprecedented 2017 wildfire in nearby Elephant Hill. "I see a huge shift happening, in that there's more communication and more openness and willingness to work together," she says.
When it comes to Trans Mountain, Kane wants to make sure that, as the government moves forward, the concerns First Nations have are being heard. "My hopes are that we can continue to have those relationships, and that the government comes forward and does do their due diligence and proper consultation with us."
But acquiring land is always priority one, Kane says. "I'm looking at down the road when we do get our land, because we will get our land." She looks forward to a place where they can practice traditions together again "to create an area where we can be proud of, and that our people can come home and feel good about being home."
With files from Amber Bernard and Laurie Hamelin