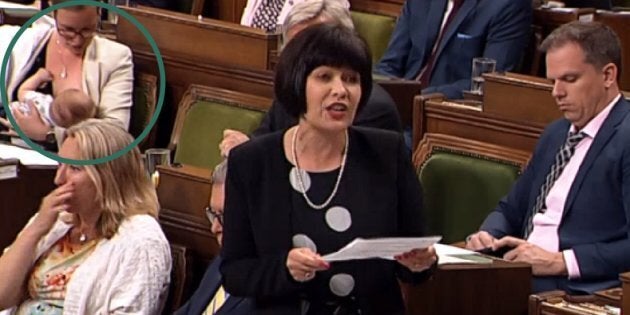 But on Tuesday, she had parents across the country cheering as she casually breastfed her new baby in the House of Commons during question period. She can be seen smiling and cooing at baby Oliver in the background as Health Minister Ginette Petitpas Taylor answered a question about marijuana legalization.
Gould gave birth to Oliver in March, and returned to work with baby in tow last month.
"As we join so many other Canadian parents who juggle the responsibilities of career and family, Alberto and I want to thank everyone for their kind words and support," Gould said in a statement announcing the birth of her son.
On Tuesday, several reporters noted that she had brought Oliver to question period.
"I'm glad I live in a country where this is normal and accepted (as it should be)," Canadian Press reporter Teresa Wright tweeted in reaction to seeing Gould breastfeed.
"She was hungry, and I wasn't expecting to speak, so I started feeding her," the MP for Iceland's Independence Party explained. "Then a representative asked a question about a proposal I had put forward, which I had to answer. I could choose to yank her off and leave her crying with another representative, or I could bring her with me and I thought that would be less disruptive."