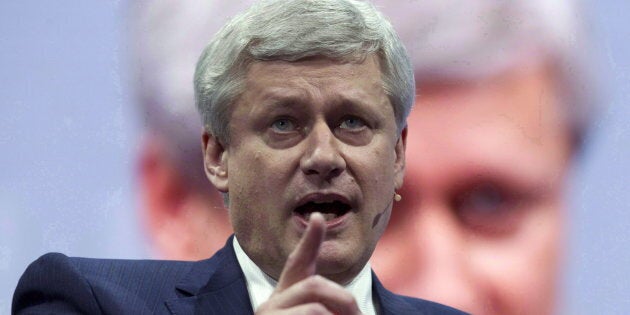 Former prime minister Stephen Harper is forecasting that Donald Trump's "America First" approach will outlive his presidency and that all countries must adapt to that possibility.
Harper made the remarks in London, UK Wednesday at an event hosted by the Policy Exchange think tank. He joined former Australian prime minister John Howard on a panel to discuss the Five Eyes security alliance between Canada, Australia, the United Kingdom, New Zealand, and the United States.
In clips posted online by the think tank and CTV News, Harper said he wanted to address the "elephant in the room," what he called the rapidly growing and unorthodox populist political movement across the world that is most "vividly" manifested in the Trump administration.
"Whether Donald Trump succeeds or not as president, ultimately, I do think that the realignment or the change of approach that he is bringing is to some degree, in my judgment, bound to outlast his presidency," Harper said.
Other leaders in Trump's wake may do things in more predictable ways, he said, but elements of the trend that sees the U.S. first looking after its own interests will likely continue.
While some may find the new reality frustrating or troubling, Harper said that it is of "paramount importance" that Canada retain its partnership with the U.S. because it has no other alternative.
"We can decry some of these changes in the U.S. approach but to a significant degree, I think we should be asking ourselves how it is we can properly adapt to it to make it still valuable for us," he said.
Earlier: Trudeau won't respond to Harper's NAFTA critique
But Harper also added later that "it would be a mistake for the United States to believe it does not need partners around the world."
His comments come days before Canada will impose tariffs on up to $16.6 billion worth of U.S. imports in retaliation for American levies on steel and aluminum. The full-fledged trade war with the U.S. is set to begin on Canada Day as Trump continues to mock Prime Minister Justin Trudeau and threatens to extend tariffs to automotive imports.
At a press conference in Ottawa Wednesday, Conservatives announced that seven Tory MPs will travel the country this summer to meet with those expected to be most hurt by Trump's tariffs. Tories say the so-called "Defend Local Jobs Tour" will start in July and run through August, and that other MPs in the party will be expected to host roundtables.
Deputy Tory Leader Lisa Raitt called it a "fact-finding mission" that is similar to what Tories did in government during the global financial crisis. Former finance minister Jim Flaherty and Harper told cabinet minister to hold meetings at the grassroots, she said, and many good ideas stemmed from there.
Raitt, who served in Harper's cabinet, referenced how her former boss said earlier that day that Trump's protectionism could outlast the current administration.
"So we have to be prepared for any eventuality and it's why it's important to understand how it impacts these small communities and these smaller businesses," she said.
Raitt and Quebec MP Gerard Deltell both said that while Tories are on "Team Canada" on this issue, the Liberal government hasn't prepared enough for Trump's "America First" approach. They cited the Liberals' deficit spending as something that has made it harder to respond to the new reality in the U.S.
Conservatives and New Democrats have both criticized the Liberal government for failing so far to offer measures to support Canadian workers affected by the tariffs.
Raitt said the government should be looking to a multi-year plan as the policies of the Trump administration become "embedded" in the way Americans see the world.
"It's not just necessarily a flash in the pan. Once one guy is no longer president, it's over and it's back to good times," she said. "It could be a long-term situation we're in."
With files from The Canadian Press