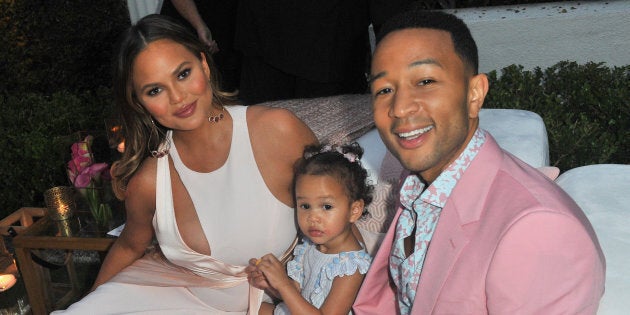 Chrissy Teigen is already a mom hero thanks to her frank and open comments about pregnancy, motherhood and postpartum life.
The TV host and mom-of-two has helped to normalize everything from grey hair and "buttholes" to pumping and mesh underwear one tweet or Instagram post at a time. And now, in the comments on a new photo she posted of her son Miles, Teigen is again extending her signature honesty to the world of infertility and IVF, defending a fan who got blasted by others for asking her about it.
"I know IVF was used for Luna was it used for baby brother also?" a commenter asked on the pic of Miles lying on a giraffe pillow in a giraffe onesie.
"Yep, he was on ice a smidge longer. Science and the human body are beautiful," Teigen, 32, replied.
When other commenters started bashing the Instagram user who posted the question — with one person calling it cringe-worthy — Teigen defended the fan.
"I wasn't offended by it — people are just curious and I think hearing success stories gives people hope. I'm all for talking about IVF," Teigen responded.
IVF is a type of assisted reproduction where the egg and sperm are put together outside the woman's body to produce an embryo that is then implanted in the woman's uterus to, hopefully, create a pregnancy, according to the Society of Obstetricians and Gynaecologists of Canada.
It can be an expensive, stressful, and heartbreaking experience for people trying to have babies. Multiple studies have shown the toll IVF can have on mental health, whether those attempts are successful or not.
"While the causes of infertility are overwhelmingly physiological, the resulting heartache — often exacerbated by the physical and emotional rigors of infertility treatment — may exact a huge psychological toll," Harvard Medical School notes in its research.
"When you go through IVF, it does feel like, 'Oh it's not fair I have to do all this,'" she said in an interview in The Cut in April.
"The first round I did of IVF, when it didn't work, I remember thinking, 'Oh, I was on my feet too much, and that's why.' You just look for anything to blame, especially yourself. I think hearing stories is just really important. You realize there's no right way to do it, or right way to react."
In her new Instagram post, other commenters thanked Teigen for sharing her story once again.
"My hubby and I have been trying with no luck 'the old fashioned' way. I always feel so much better about our situation when I hear stories like yours, thank you for being so open about it," one woman wrote.