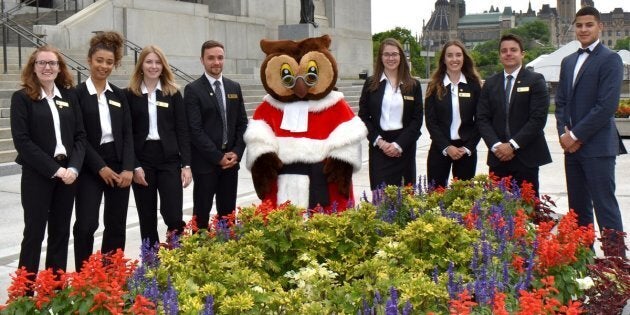 Anyone with even a cursory knowledge of the news knows that we're living in an age of anxiety. In internet parlance, it's safe to say the world is a garbage fire, at least a good part of the time. We all have to take joy wherever it comes to us these days.
On that note, I'd like to introduce you to Amicus, the Supreme Court of Canada's mascot. Yup, you read that right — the highest court in our country is represented in much the same way as a sports team trying to rile up crowds between innings at games. And he's an owl!
The mascot's name is Amicus, a Latin word for "friend" that has come to mean a neutral, impartial adviser in a legal case. Pretty appropriate for a pleasant little owl who wears the judge's fur-trimmed red robes. And have you noticed those spectacles?!
A Supreme Court communications officer told HuffPost Canada that Amicus' "birthday" was March 31, 2009, which means our favourite owl is a nine-year-old Aries. He's featured in a "youth activity book" the Supreme Court puts out to try to get kids interested in the law, which explains that the owl "is a good ambassador for the Supreme Court because it symbolizes wisdom and learning and because it is an animal that lives in Canada." Fair enough.
In true earnest-bordering-on-nerdy Canadian fashion, the Supreme Court is offering free tours on Canada Day, with the bonus offer to meet Amicus (!).
Twitter's response proved that our country clearly has some work to do in increasing Amicus' visibility.
And some Americans are pretty jealous. I mean, wouldn't you be?
Happy Canada Day to all, but especially to whoever is getting paid to fend off huge crowds while wearing a giant stuffed owl costume on one of the hottest days of the year. Truly, you deserve it.