Prime Minister Justin Trudeau says he's confident he did not behave inappropriately with a female reporter at a B.C. music festival 18 years ago, but concedes that she may feel differently about their interactions.
Speaking with reporters outside the Ontario legislature after meeting with Premier Doug Ford Thursday, Trudeau was pressed about a "groping" allegation in the Creston Valley Advance newspaper in 2000. The unsigned editorial, which resurfaced on social media in recent weeks and sparked international headlines, quotes a then-28-year-old Trudeau as apologizing for being "forward" with the journalist.
The prime minister's office had previously released a statement to media that he did not remember any "negative interactions" from that day, words that Trudeau reiterated over the weekend when asked about the claim.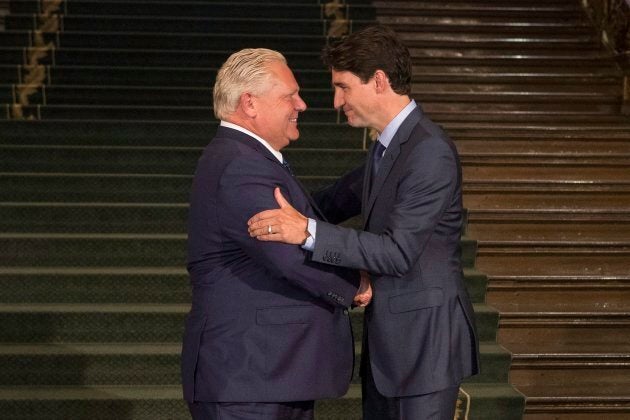 On Thursday, a reporter noted Trudeau has had a zero-tolerance approach to allegations of sexual misconduct in his Liberal party and asked if the prime minister would call an independent investigation into his own actions to put the matter to rest.
"This is a situation that has been very much on my mind over the past few weeks," Trudeau responded, before noting his advocacy work around issues of sexual assault as a young man.
"I've been reflecting very carefully on what I remember from that incident almost 20 years ago and again ... I feel I am confident that I did not act inappropriately. But part of this awakening that we're having as a society, a long-awaited realization, is that it's not just one side of the story that matters .... That the same interactions could be experienced very differently from one person to the next."
This is a situation that has been very much on my mind over the past few weeks.Prime Minister Justin Trudeau
Trudeau, whose globally lauded feminist credentials have been called into question, said he would not "presume to speak" for the woman at the heart of the story. According to media reports, she has declined to speak publicly about the matter.
"Like I said, I do not feel that I acted inappropriately in any way but I respect the fact that someone else might have experienced that differently," Trudeau said on Thursday. "And this is part of the reflections that we have to go through."
Reporters also pressed the PM about the apology he made 18 years ago.
"Again, I've been reflecting on the actual interaction and if I apologized later, then it would be because I sensed that she was not entirely comfortable with the interaction we had. Like I said, I've been working very hard to try and piece it together.
"And even when the original editorial came out, at the time, I was fairly confident ... I was very confident that I hadn't acted in a way that I felt was in any way inappropriate."
When asked if he would apologize to the woman now, Trudeau then said he "apologized in the moment." He said he has not reached out to the woman, nor has any member of his "team" because it would be inappropriate.
"So I'm responsible for my side of the interaction which certainly, as I said, I don't feel was in any way untoward, but at the same time this lesson that we are learning and I'll be blunt about it: often a man experiences an interaction as being benign or not inappropriate and a woman, particularly in a professional context, can experience it differently. And we have to respect that and reflect on that."
Tory MP calls groping allegation 'cherry on top'
Conservative MPs have been using the editorial in attempts to tar Trudeau's feminist badge in recent weeks, pressing the prime minister and his Liberal cabinet ministers to abide by the standards the party has set.
In 2014, as Liberal Party leader, Trudeau booted two MPs from caucus before the completion of independent investigations probing allegations of sexual harassment.
Trudeau's initial response to the groping allegation this week is the "cherry on top" of a record of pseudo-feminism, Calgary Nose Hill MP Michelle Rempel told HuffPost Canada on Wednesday.
Rempel said she believes sexual misconduct allegations should not be "litigated in the media" and must be met with due process — suggesting this case is an exception.
"But the reality of this is that there is a public account of this and you know the prime minister's response is not congruent with the framework that he's set out for others in his caucus," she said.
Rempel called the Liberals' brand of feminism "sanctimonious" in light of Liberal cabinet ministers' reluctance to publicly comment on the 18-year-old allegation.
Trudeau has cultivated an international image of being a champion of feminism, notably telling a United Nations commission on the status of women in 2016 that he'll continue calling himself a feminist "until it's met with a shrug."
Watch Trudeau's UN speech from 2016:
While a student at McGill University, Trudeau volunteered at the school's sexual assault centre. The experience shaped his zero-tolerance approach to sexual harassment and assault, he told CBC News in an interview earlier this year.
"This is something that I'm not new to," he said at the time.