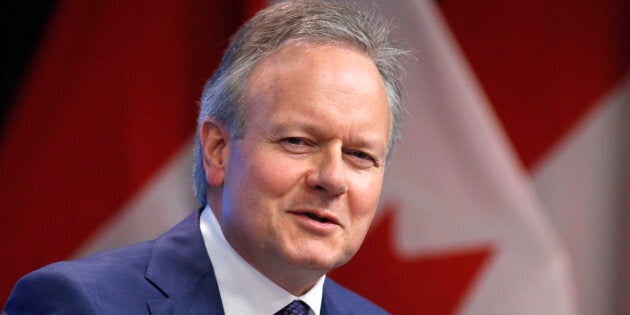 As expected, the Bank of Canada raised its key lending rate on Wednesday to 1.5 per cent, the fourth rate hike in roughly the past year.
The bank's key rate is directly linked to variable-rate mortgages and home equity lines of credit. The interest charged on this kind of debt typically goes up when the bank raises its rate.
And like clockwork, all of Canada's major banks announced Wednesday they are raising their prime lending rate, to 3.7 per cent from 3.45 per cent.
Video: What a Bank of Canada interest rate hike means for you
The bank said the country's economy is operating "close to capacity," implying that it expects to see inflation rise in the future. Inflation ran at a 2.2-per-cent pace in May, slightly above the bank's target of 2 per cent.
The bank sees inflation rising to around 2.5 per cent this year, thanks to temporary factors like higher gas prices, but sees it settling down to around 2 per cent by 2019.
But the bank's fight against inflation will mean higher costs for some borrowers, specifically those who have variable-rate mortgages and lines of credit. According to calculations from mortgage site Ratehub, a quarter-point rate hike on a $400,000, 25-year variable mortgage would see interest payments rise by $600 per year.
That mortgage would now be $205 more expensive per month, or $2,460 more expensive per year, than it was before the bank began hiking interest rates last year, Ratehub estimated.
The bank noted that its previous interest rate hikes have had an effect on consumers.
"Household spending is being dampened by higher interest rates and tighter mortgage lending guidelines," the bank said in a statement issued Wednesday.
"Recent data suggest housing markets are beginning to stabilize following a weak start to 2018."
The bank painted a positive picture of the global and Canadian economies, noting that the U.S. economy is "proving stronger than expected."
Nonetheless, it noted potential clouds on the horizon, particularly the breakout of trade wars between the U.S. and some of its largest trading partners.
"The possibility of more trade protectionism is the most important threat to global prospects," the bank noted.
The bank suggested that the tariffs Canada and the U.S. have slapped on each other's good will have a limited impact on the economy.
"Although there will be difficult adjustments for some industries and their workers, the effect of these measures on Canadian growth and inflation is expected to be modest," the bank said.
In early reactions to the bank's move, analysts and economists said there were few surprises in the rate hike announcement, noting that the bank retained language predicting gradually higher interest rates to come.