Toronto police announced midday Thursday that they've identified a potential risk to the Greater Toronto Area — but they aren't saying what the risk is, where it's focused, or what they're looking for.
Police said that they had increased their presence throughout Toronto Thursday due to "an unconfirmed, uncorroborated piece of information."
Media outlets including CTV and the Toronto Sun reported that officers received a draft memo, stating that the force had received "credible information regarding a potential vehicle ramming attack in the area of the CN Tower."
Toronto police said in a tweet later on Thursday that the memo was a "draft operational plan never approved. Our officers were provided with most up to date/accurate info this morning, as was public."
Officers appeared to be concentrated in the tourist-heavy areas near the CN Tower, Ripley's Aquarium, and the Rogers Centre. Emergency task force officers were spotted circling the downtown core.
Police in the York region also upped their presence due to the risk.
At a press conference at Bobbie Rosenfeld Park, steps away from the CN Tower, acting Supt. Michael Barsky remained tight-lipped about the potential threat, although he stressed that the city is still safe.
Businesses in the area are all still open, he said, and the Foo Fighters concert at the Rogers Centre on Thursday night will go on as planned — although the venue will be heavily monitored by police.
"Absolutely, people can go up and enjoy the CN Tower, and every venue in this quarter," Barsky said. The increased police presence "is simply to ensure the public can enjoy" downtown, and "can come down to this area without any worry."
If we could provide more specifics, we would be forthwith with that.Acting Supt. Michael Barsky
At least one office building on Bremner Blvd., just past the park where police held their press conference, told its employees to leave for the day due to the safety risk.
The risk appears to be "ongoing," and police hope people will report any activity that appears suspicious.
"We'd like them to do their due diligence," Barsky said. "Without the eyes of the community, we won't succeed." But he refused to give any specifics about what constituted suspicious activity, and would not say if investigators were looking for any particular people or vehicles.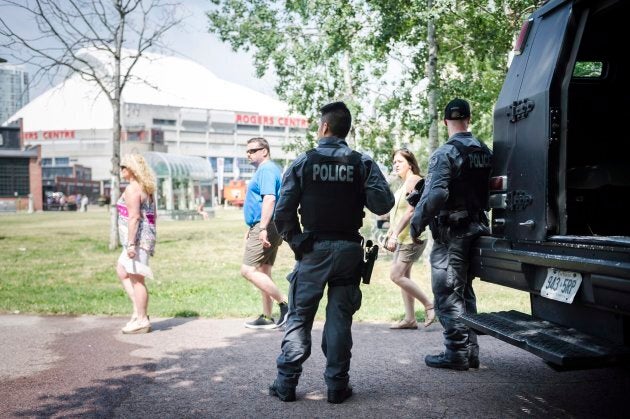 Barsky acknowledged the seemingly contradictory nature of the police statements, but did not stray from his message. "If we could provide more specifics, we would be forthwith with that," he said.
The vague nature of the message appeared to irritate several people at the press conference, as well as those following the news.
Barsky ended the press conference by saying that an increased police presence is not particularly unusual, and that there have been more uniformed officers in that area since the end of the basketball playoffs in the spring.
"Toronto is one of the safest cities in the world," he added.