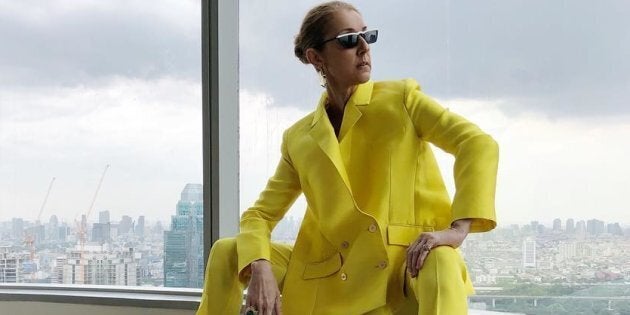 Céline Dion has always been a sharp dresser, but her latest outfit is certified internet-breaking.
The Canadian pop diva stepped up her fashion game for summer, rocking couture candids and power suits as bombastic as her power ballads on her Instagram account.
It was on the Bangkok leg of her Asia-Pacific tour that Dion revealed her latest and greatest social media masterpiece: a striking canary yellow pantsuit courtesy of Lebanese designer Maison Rabih Kayrouz.
It quickly captured the imaginations of Twitter once filmmaker Matthew A. Cherry kicked off speculation, asking "What's the name of this mixtape?"
Her song titles got the joke treatment.
Fellow Canadian royalty Drake got a shout-out.
Nods were made to Dion's mother tongue and home province.
POUTINE ON DA RITZ

— YOUR NAME HERE (@TeddyBurnsEsq) July 24, 2018
Even the prime minister wasn't immune.
Obviously, Canadian cliches weren't off-limits.
Although it's unknown if the singer is aware of Twitter's musical aspirations for her, someone from her team definitely approves. Stylist Sydney Lopez, who took the original photo of Dion, shared a screenshot of a fan's tweet with a "Big Dion Energy" stamp of approval.