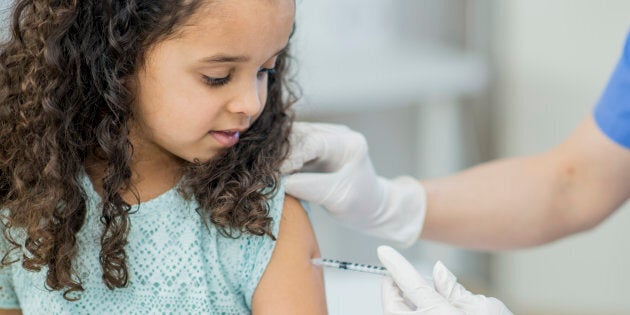 Watching your child get a needle or vaccination can be way more painful than the shot itself.
Most kids are afraid of needles, so when they see a doctor or nurse wielding a syringe it can bring on tears, tantrums, and — in older kids and teens — downright refusal, leaving them at an increased risk of acquiring and spreading disease.
But it doesn't need to be this way, says a University of Toronto children's pain expert who's working on how to reduce needle fear in youth. And now Anna Taddio has just received more than $1 million from the Canadian Institutes of Health Research (CIHR) to support her research.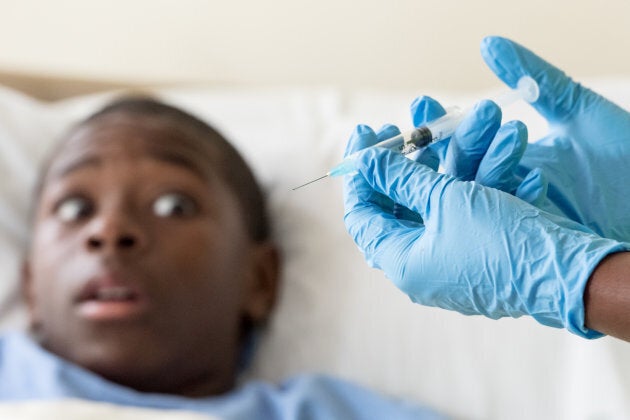 "My vision is to make children all over the world healthier by improving their experiences during needle procedures," Taddio, a professor at the University of Toronto's Leslie Dan Faculty of Pharmacy and a senior associate scientist at SickKids hospital, said in a news release.
"Not managing pain and fear can have serious long-term consequences, including less uptake of vaccines and avoidance of health care throughout life."
Needle fear and phobia are both quite common
Previous Canadian research has found that 63 per cent of children (and 24 per cent of adults) report a fear of needles. And researchers believe that anywhere between one in 10 and one in 20 kids have a needle phobia, which is a fear so great and intense that it can cause fainting, and stops someone from getting needles at all, according to the Children's Hospital of Eastern Ontario in Ottawa.
In Taddio's own research, up to 20 per cent of unvaccinated youth aged six to 18 refuse vaccination due to fear of needle-related pain.
"Vaccine refusal makes people vulnerable and it can also spiral beyond an individual's health when disease is spread in the broader community," she said.
Involve kids in the process
There are two key ways to help make needles hurt less, Taddio said. The first is to identify best-practices for injection techniques, and the next is to work with the kids themselves.
"We typically don't involve youth in a meaningful way in these procedures," Taddio said. "We decide what to do and we don't give them choices. But they are often the best sources for what strategies will work best. Engaging youth in their own health care is also empowering and builds trust."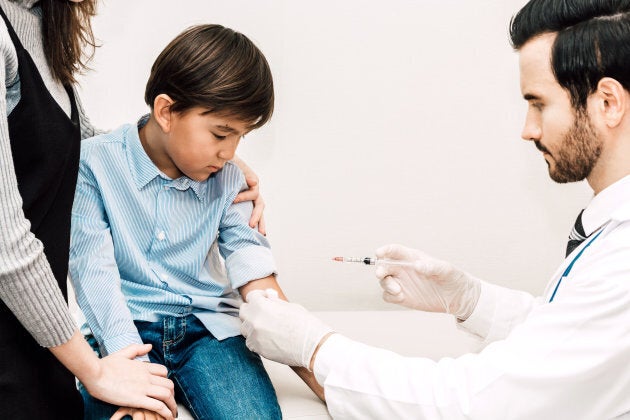 Taddio has seen success over the last few years by implementing a protocol developed by youth known as CARD (Comfort, Ask, Relax, Distract), she said. It's a game where kids can choose interventions to play from each category, such as "asking" to get their needle in a private place, or "distracting" themselves with a tablet.
The CIHR grant will help Taddio expand the program across schools in Ontario and Alberta, with the aim of creating a national standard.
"School-based vaccines occur at a time in life when kids start to make their own decisions about their health and health care. If they have a good experience with vaccinations and public health they will bring that into adulthood," Taddio said.
How else to help kids with needle fear
With kids over age four, explain to them what's going to happen, how it will feel ("a pinch" and "some pushing"), how you will help them manage (holding them or distracting them), and what your child can do (such as choosing a toy to bring with them), CMA explained.
Your own state of mind plays a role, too, and parents should be careful to use a calm voice before, during, and after their child's needle.
"Acknowledge your child's pain but don't use words that focus your child's attention on the needle and the pain," CMA said.