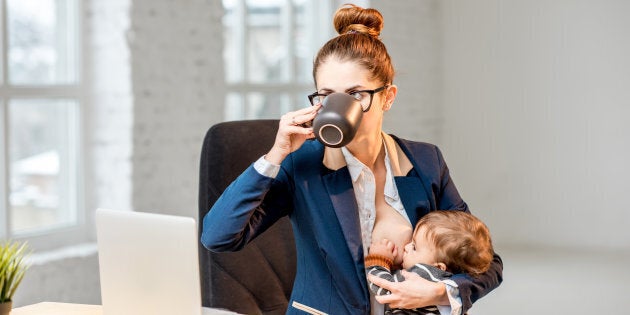 It's World Breastfeeding Week and parents, public figures, and organizations around the globe are taking to social media — many of them, we assume, while holding babies to their chests — to celebrate.
(There's nothing like feeding a child from your own body every few hours for months, or even years, to make you very good at multi-tasking. We're looking at you, mamas currently reading this article on their phones with one hand, wrangling a milk-drunk baby in the other, and also somehow ordering this week's groceries on Amazon and booking your entire family's dentist appointments before switching boobs).
World Breastfeeding Week, which is coordinated by the World Alliance for Breastfeeding Action, is from August 1 to 7 every year. Its purpose is to inform people about breastfeeding's health and economic benefits, anchor breastfeeding as "the foundation of life," engage with people and organizations for bigger impact, and galvanize action to "advance breastfeeding as a part of good nutrition, food security and poverty reduction," according to the WBW website.
For a lot of moms who took to social media, World Breastfeeding Week is an opportunity to get real about what modern breastfeeding can look like. And the photos are stunning, hilarious, real, and impressive.
Remember what we said about multitasking?
It was also an opportunity to talk about the challenges of breastfeeding — including pain and pumping — and how it isn't "easy" or "natural" for everyone.
And the Canadian Paediatric Society, Canadian Association of Midwives, and La Leche League Canada took to Twitter to point out the health benefits of breastfeeding.
But the best posts come from ordinary moms going about their ordinary days, helping to normalize breastfeeding one beautiful photo at a time.