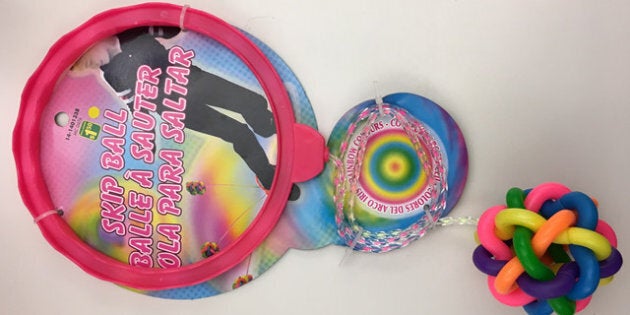 Dollarama has issued a recall for a colourful toy called the "Skip Ball" that may contain high levels of chemicals linked to reproductive and developmental abnormalities in young children.
The "Skip Ball" toy consists of a pink ankle loop and a multi-coloured ball, attached by a plastic cord. The affected toys have the product number 14-1401338 on the upper front part of the packaging and the UPC 667888025213 on the back, Health Canada notes.
Over 500,000 of the affected toys were sold in Canada between January 2012 and July 27, 2018. As of July 27, Dollarama has not received any reports of injuries or incidents related to the "Skip Ball" toy.
"The Skip Ball toy may contain levels of phthalates that exceed the allowable limit. Studies suggest that certain phthalates, including DEHP, may cause reproductive and developmental abnormalities in young children when soft vinyl products containing phthalates are sucked or chewed for extended periods," Health Canada notes on its website.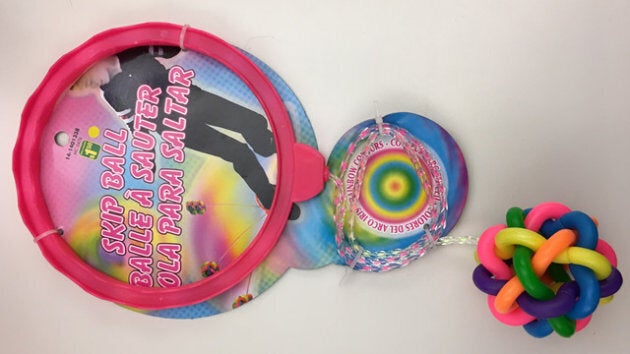 "Consumers should take the recalled toys away from children and either dispose of them or return to the store to obtain a refund (no receipt required)."
The toys were manufactured in China.
Phthalates pose no risks at current levels of exposure: Health Canada
Phthalates are a family of chemicals often found in soft and flexible vinyl plastic, Health Canada explains.
The Government of Canada has restricted the use of six phthalates in children's toys and care items such as bath toys, baby bibs and teethers since 2010. Among the phthalates restricted in children's toys is DEHP, which has been found to be harmful to human health, according to Health Canada.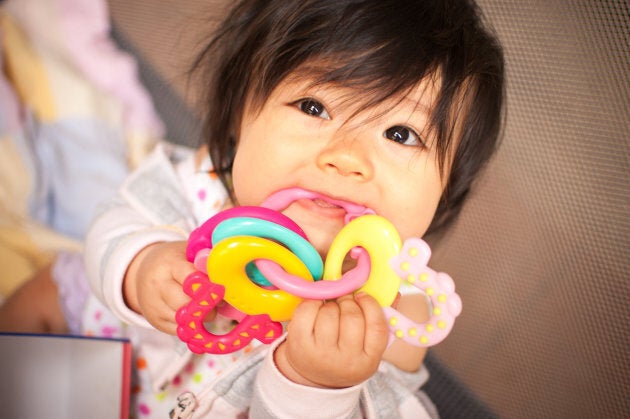 Health Canada has also banned DEHP use in cosmetics and manages its use in medical devices.
"In general phthalates pose no health risk at current levels of exposure," the agency notes.
Environmental groups such as Environmental Defence and Ecojustice have called on the government to take stronger action to restrict phthalates in Canada and promote the use of "safer alternatives."
"People are exposed to these harmful chemicals every day through plastics, scented products, and fast food packaging. Our laws must be modernized to better recognize and address the dangers of these exposures and promote the use of safer alternatives," Dr. Elaine MacDonald, program director with Ecojustice, said in a 2017 press release.