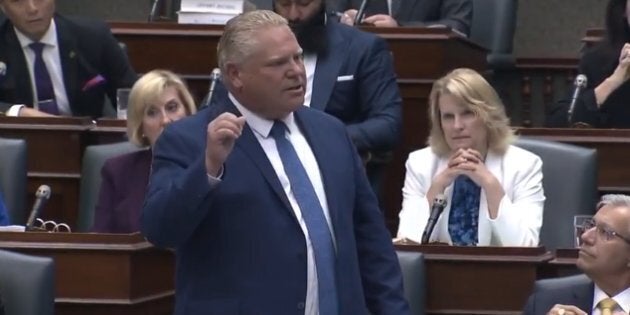 OTTAWA — Ontario Premier Doug Ford sidestepped a question about his government's decision to cancel a basic income pilot project by accusing an NDP MPP of making a threat to hurl an explosive in Queen's Park on Thursday.
NDP MPP Judith Monteith-Farrell had asked the premier in question period when participants of the now-cancelled project were informed of the project's end and if they were told when the last income supplement cheques would be issued.
But the premier did not directly answer Monteith-Farrell's question, opting to take aim at NDP MPP Taras Natyshak by raising a "serious issue."
"We have one of the members from Essex just tell us he's going to throw a landmine and blow this place up," Ford said. "I think the cheese has slipped off the cracker with this guy."
More than 4,000 participants were enrolled in the pilot since its April 2017 launch. Individuals qualified if their annual income fell below $34,000; and $48,000 for couples.
The pilot was intended to explore if raising low-income earners' financial floor would improve mental and physical health and what the impact on health, education, and social service systems would be.
I think the cheese has slipped off the cracker with this guy.Ontario Premier Doug Ford
Natyshak, who did not sit in his regular seat in the second row, was seated in NDP Leader Andrea Horwath's seat — directly across from the premier.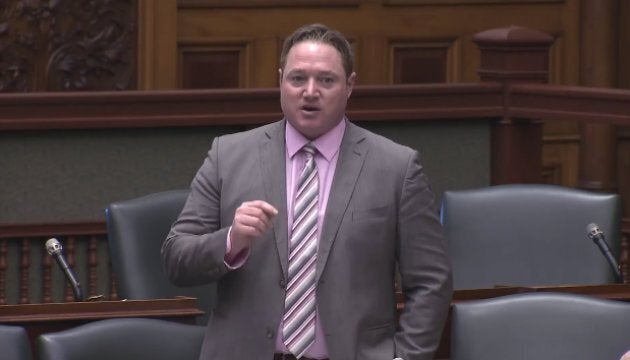 Social Services Minister Lisa MacLeod later picked up the basic income question, repeating an explanation from the day before that former participants would be given a "lengthy and compassionate runway." She had described the $150-million research project to be "failing."
MacLeod did not confirm when participants were notified of the program's cancellation.
NDP MPP says working with Ford government has been '
challenging'
Natyshak did not rise on a point of order to correct Ford or challenge the premier's accusation. But his regular seatmate in the second row, Algoma—Manitoulin MPP Michael Mantha said he didn't hear his colleague make any threat about bringing a landmine into the legislature.
"My bigger concern is that this is the second attempt by the premier in regards to making allegations against a couple of our caucus members," Mantha told HuffPost Canada in an interview.
Ford accused veteran opposition MPP Gilles Bisson of being "disgusting" for mocking the accent of a PC member. Horwath defended her House leader and accused the premier of lying, saying Bisson did not make the offensive comment.
Watch how Ontario's basic income was 'a blessing' to these small business owners
Mantha spoke on how the premier's allegations against members fuel raucous chamber behaviour in the legislature, which he said has "definitely been challenging to say the least."
"However this is the protocol that this government has decided to put forward," he said. "You're not going to enjoy the normalcy of what this government is putting forward."
Requests for comment to Natyshak and Health Minister Christine Elliott, who sat across from the NDP MPP and next to Ford, were not returned before publication.
When asked if the premier either has sharp ears or is making things up, Mantha left things open ended.
"I'm not going to speak for Mr. Ford. Mr. Ford has been hearing lots of things," he said.
With a file from Emma Paling