A video showing a forceful intervention by public transit officers in Montreal is being investigated by police.
The footage, filmed at a downtown Montreal subway station last Friday, shows two Société de transport de Montréal (STM) inspectors attempting to subdue a man on the ground, while another blocks a young woman who is trying to intervene.
Facebook user Greg Ory filmed the interaction and posted it on Facebook. "I didn't panic, but I was like 'Whoa, whoa, whoa, you need to stop.' I mean, what if this guy had a medical condition or something?" he told HuffPost Canada in an interview.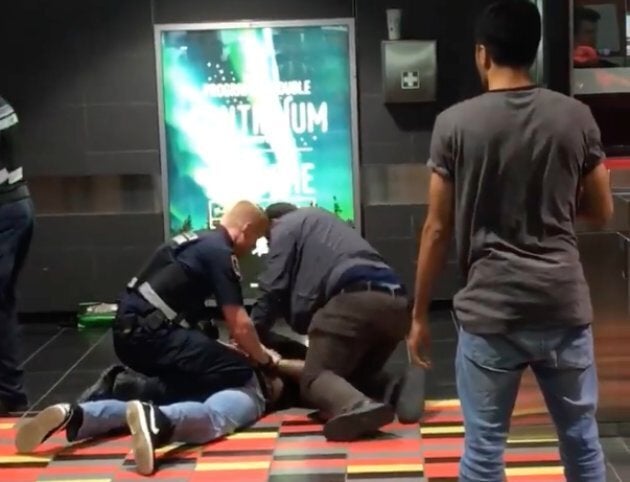 The man in the video was apparently stopped for using a public transit pass that wasn't his own. The video does not show what provoked the violence, but the description of the Facebook video states that the inspectors "choked [the man] into near unconsciousness."
The police have since opened an investigation.
All this for a fare. We're in Canada. It's ridiculous that something like this would happen.Greg Ory, witness
Ory said a few other people filmed the scene and that many passersby saw what happened.
He said several people contacted him after he posted the footage on Facebook, telling him, "'It's happened to my daughter' or 'it's happened to one of my friends.'"
"It's one thing to hear about it and you see it more often in the United States," he said. "But to see it actually happening in front of you, you wonder what's going on. All this for a fare. We're in Canada. It's ridiculous that something like this would happen."
Transit agency reviewing video
Amélie Régis, STM corporate advisor for public affairs, stated that in general, inspectors "use force based on the degree of co-operation and behaviour of the person, as well as based on safe techniques." The staff in the video work in conjunction with the subway police unit.
She said that the video had been brought to the attention of the leadership team and that they "will be able to take appropriate action if they feel it's necessary."
With files from Michelle Butterfield