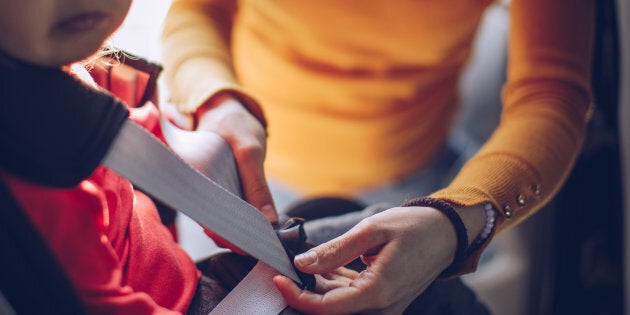 The Calgary boy had just turned six and thought he would graduate from his car seat to a booster seat, just like his older siblings. When his mother Onai Petra Abote tried to explain that he didn't meet the height and weight requirements, "he wasn't having it," Abote said on Twitter Friday.
"To get him off my back, I said I'd ask the police," Abote wrote.
Now Calgarians and sympathetic parents (who hasn't been there?) are applauding them for making a big difference with just a little gesture.
After Abote reached out Const. Mark Smith, Digital Communications Manager with the Calgary Police Service, Smith wrote Joshua a letter and sent the boy a "police helper" badge "as a small gift of thank you and for listening to your mother and staying safe."
"Unfortunately, so as not to get your mother in trouble with Police, you have to help her out by using your big car seat," Smith wrote in the letter, which Abote shared on Twitter.
"Perhaps one day you may be a police officer or firefighter and therefore it's important to remain safe when travelling in a vehicle. We all need to be safe and I need you to be a police helper."
Story continues below video:
On Friday, Abote tweeted that Smith convinced Joshua.
"It's done! The young man has committed to stay put in his current car seat. You really really made his day," she wrote.
Both Smith and the Calgary Police Service tweeted that were proud of Joshua and happy to have him on board as a helper. And people responded with both pride for their city and police, and sympathy for the car seat struggle with kids.
Thank you. My 6 year old is also still in a 5 point car seat. Too small for most rides at Stampede, too small for a booster. Age means nothing.

— Estorve (@estorve) September 9, 2018
My twin boys are on the small side. They were in 5 point seats until 7 1/2 and would have been there longer, but a vomit in the carseat incident required new seats. They went to high back boosters. Turn 11 years old on the 12th and they still use boosters. 👍

— Lisa (@BlueRaveFinn) September 9, 2018
While Joshua's internal struggle and the eventual solution are adorable, the issue of proper car seat use is serious. Motor vehicle collisions are the leading cause of death of Canadian children, the Canadian Paediatric Society (CPS) said in 2008 report. But child safety seats, when used correctly, reduce the risk of "fatal injury" by 71 per cent, and the risk of "serious injury" by 67 per cent, CPS noted.
Most provinces require that children weighing less than 40 pounds ride in a car seat, according to legislation gathered by Canadian safety advocacy group Parachute. In Manitoba, the requirement is 50 pounds, and the Yukon requires children to ride in a car seat until they're a minimum of 48 pounds.