Senior citizens were handcuffed and escorted out of the Queen's Park public gallery by peace officers on Wednesday after shouting down Premier Doug Ford.
"This is our place. This is our province. This is our city," one woman yelled. Others shouted that Ford is a "bully" and yelled "shame." Many singled out Attorney General Caroline Mulroney, shouting "Caroline, you know better," and "Mulroney you should be ashamed of yourself."
Members of the public are not allowed to clap or shout while watching question period. Their protest started with a loud, long series of coughs, an apparent attempt to get around the rules, while the premier was speaking. Things then devolved into shouts and jeers. Officers asked everyone to leave and those who refused were put in handcuffs.
"I am 77 and a half years old. And I hate the destruction of democracy," yelled York University professor Ester Reiter as she was escorted away from the gallery.
Earlier Wednesday, Reiter told HuffPost Canada that she came to "witness the shredding of democracy."
"How could we not be here?" she said.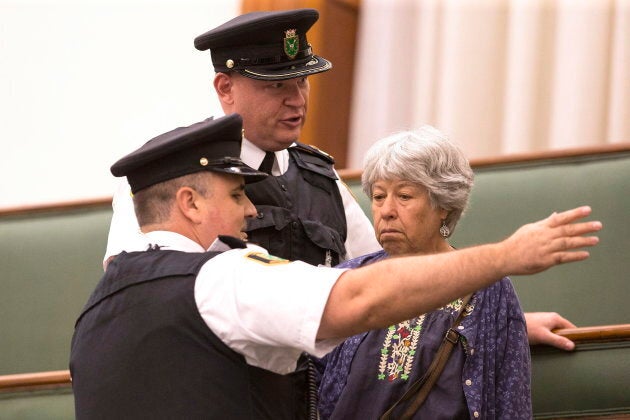 Opposition leader Andrea Horwath was asked after question period whether her party had anything to do with those "grandmas and grandpas" making a scene.
"Insofar as people wanting to get passes to the galleries, absolutely," the NDP leader said. "We are happy to provide anybody with a pass to get into the gallery. Did we take on the organizing of this? Absolutely not. But I'm proud that people believe they have a right, because they do, to come into this chamber and show their displeasure."
Protesters are angry that the premier plans to use the notwithstanding clause of the Charter of Rights and Freedoms to protect legislation from constitutional review.
A Superior Court judge called the Better Local Government Act, Ford's first attempt at reducing Toronto council, unconstitutional because it was introduced in the middle of a municipal election. The act violated voters' right to effective representation and candidates' right to freedom of expression.
These fundamental rights are protected by the charter. The notwithstanding clause lets Ford protect the law from charter challenges for five years.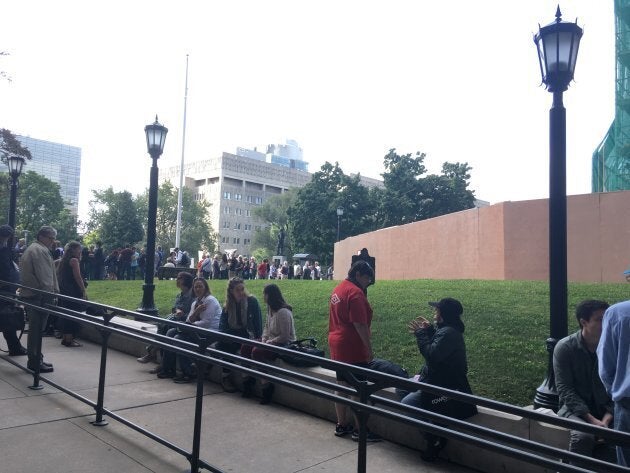 No other members of the public were allowed into the gallery after officers cleared people out. There had been dozens of people lined up to enter the gallery but most of them were never let inside.
Cathy Lloyd, who previously volunteered for former Liberal premier Kathleen Wynne, said Ford is "delighting in ripping apart everything she's done."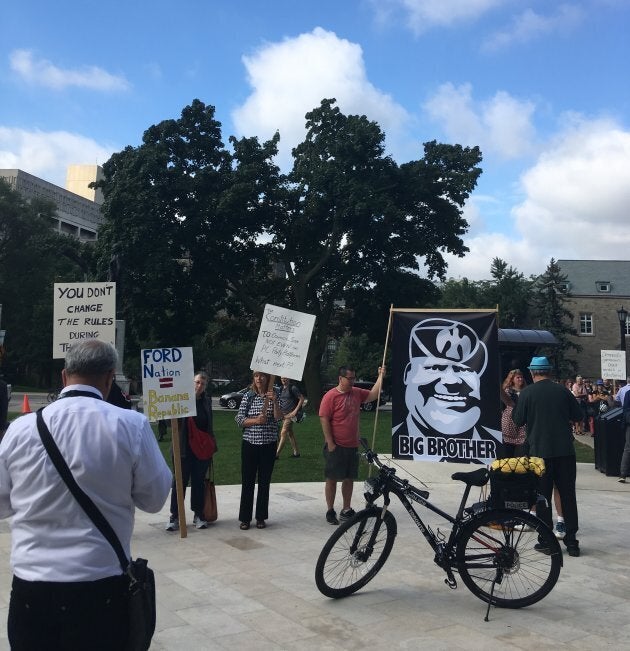 Caroline Mulroney faces criticism
Lloyd called Ford's use of the notwithstanding clause "appalling." She also said she was interested to see how Mulroney responds to Ford's actions.
Mulroney's father, former prime minister Brian Mulroney, once said the notwithstanding clause means that Canada's constitution is not worth the paper it's written on. The former PM said this week, however, that while he's no fan of the clause, it is not an illegitimate tool for governments.
Lloyd and her friend Charnie Guettel, both in their 60s, said they were heartened to see young people in the lineup Wednesday morning.
"I'm very proud of people's response," Guettel said. "This is going to raise consciousness very quickly."