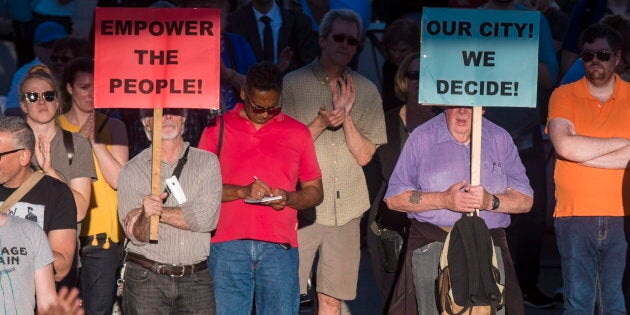 Human rights group Amnesty International called on Ontario's government to withdraw its use of the charter's notwithstanding clause in a strongly-worded statement Wednesday.
"No government in Canada should take the contemptuous step of disregard for the Charter of Rights that the notwithstanding clause offers them," Amnesty International Canada's secretary general Alex Neve said in a press release. "To do so in a case involving the fundamental freedom of expression in a context in which core principles around elections and the underpinnings of our democracy are at stake is particularly disgraceful."
Premier Doug Ford's government cited Section 33 of the Charter of Rights and Freedoms for the first time in Ontario history on Wednesday. Known as the notwithstanding clause, the government invoked it because a judge struck down legislation to cut the size of Toronto city council on constitutional grounds.
New legislation to cut council uses the clause to side-step charter review.
"This invocation of section 33 by Premier Ford's government should be withdrawn immediately," Amnesty International's statement said. "Questions about the interpretation and application of the Charter should be pursued through appeals and left to judges to determine."
Ford's office told HuffPost Canada that the bill was constitutional.
"Virtually every single legal expert agreed that that bill was completely constitutional and within the legal power of the province to enact," spokesman Simon Jefferies said by email Thursday. "Premier Ford believes the judge's decision is deeply concerning, and the result is unacceptable to the people of Ontario."
The premier said previously that he is protecting "the will of the people," because his government supports the legislation and they won a majority in the June election.
It's "scary" and "disturbing" that a court can overrule an elected government, Ford told reporters on Monday after the ruling was released.
"There was an election," he said. "This is a democracy."