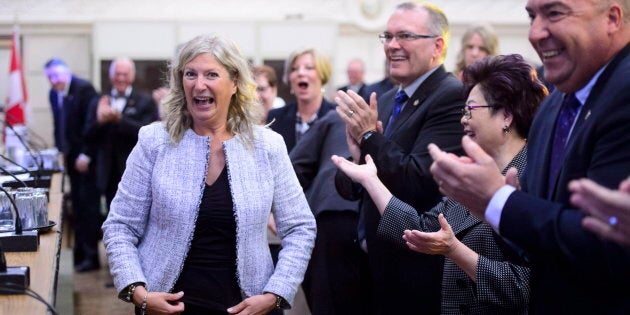 The newest Conservative MP lambasted Prime Minister Justin Trudeau Wednesday as someone who merely plays the part of a leader, even though she heaped praise on his leadership mere weeks ago.
Alleslev said she has been overwhelmed by the support from her constituents in Aurora-Oak Ridges-Richmond Hill and "Canadians who voted for the Liberals in the last election but are frustrated, as I was, that they have not delivered on the real change they promised."
Echoing earlier remarks, the retired air force captain said the country needs new leadership because the world has changed "dramatically" since the last federal election.
"Leadership is more than just saying what you think people want to hear. It's more than just acting in a position," she said, with emphasis on the word acting. "Leadership is a vision with courageous action and it is doing what is right, not what is easy."
But Alleslev has faced her own accusations of playing a role in the weeks before her defection — that of a happy Liberal warrior.
On the day she left the Grits and later charged in question period that Trudeau's leadership was diminishing Canada's standing in the world, much was made of a tweet Alleslev posted this summer that painted a different picture.
On July 20, she shared a photo welcoming Trudeau to an event in Aurora to celebrate "all that we have accomplished since forming government" and said she was "proud to be part of this team as we head into 2019." In media interviews since she crossed the floor, Alleslev suggested her enthusiasm that day was more about the prime minister visiting her riding.
CBC News ramped things up Tuesday by sharing an audio recording of her remarks at a fundraiser that summer evening. The MP lauded Trudeau's recent performance at the NATO summit in Brussels. Alleslev, who cited disagreements on foreign policy and defence issues as key reasons she left the Liberal fold, was part of Canada's delegation to the summit.
"You would have been truly amazed, proud, overcome with the power of the remarks that this prime minister made," she said, adding he "set the example of what our NATO allies and what other countries can become."
In an email sent to Foreign Affairs Minister Chrystia Freeland shortly after the summit and later obtained by HuffPost Canada, Alleslev complimented Freeland, Trudeau, and Defence Minister Harjit Sajjan for their "truly awesome" work.
"This is not only who we are as Canadians — but also who we are as global citizens — and that was on full display today," she wrote.
But on Wednesday, Alleslev told her new colleagues to pay those past words no mind.
"Ever since I joined this team my friends and colleagues across the aisle have used past emails and recordings to try to discredit me," she said. "It is unfortunate that they have chosen these tactics but that is not my style and I will not engage in that approach."
The remark yielded a standing ovation.
Alleslev said there are good people of all political stripes in the House of Commons.
"And I truly believe my former Liberal colleagues want what is best for Canada," she said.
Scheer marked the occasion by presenting Alleslev with her membership card to the Conservative Party of Canada.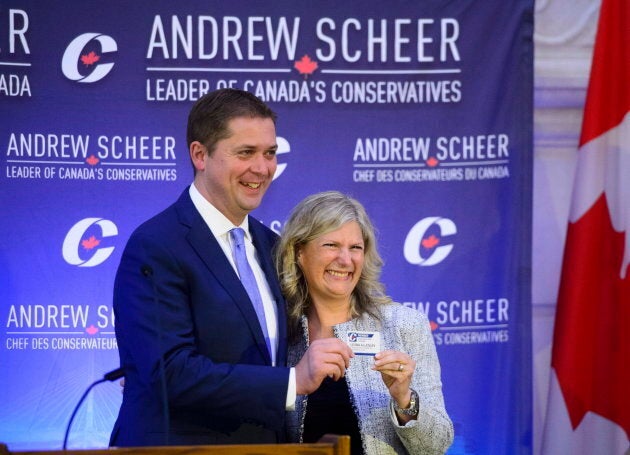 With a file from Althia Raj